The views and opinions expressed are those of the author and do not necessarily reflect the official policy or position of The Point. Letters to the editor and opinion columns are subject to editing for length, taste, grammar and clarity. Any content provided by our op-ed contributors are of their opinion and are not intended to malign any religion, ethnic group, club, organization, company or individual.
March 5, 11:15 a.m. Two hours after being told I can no longer leave my room, I was delivered a PLNU classic: undercooked chicken. Another quarantined friend in my hall thought it was tough fish. Now don't get me wrong, I appreciate all the caf workers do to serve us food and deliver it to those in quarantine. But something at a higher level needs to change in regards to the food delivery system. Under normal circumstances, I would laugh about how you can never trust the chicken, throw it away and grab a burger, but this was not an option. 
Other highlights from PLNU quarantine included dry pork, formerly frozen then overcooked fish and chicken that was not pink — served cut in half as proof, touché caf — but bone dry. There were a total of two meals that I would call "good" but aside from that the others required proper mental preparation to be eaten. The tragic part is that there was better food almost always available, but we could not choose it. How hard would it be to pay someone a few thousand dollars to make a bare bones app for quarantined students to select their meal options daily from one of the four or five meal stations in operation? Charge everyone an extra $10 for their meal plan and there's the funding.
I was "exposed" to COVID-19 earlier that week on Wednesday, March 3, and got the call two days later. Why "exposed?" Well, the person I came in "close contact" with ran with me outside on the track. We didn't have our masks on, but we also weren't close to each other and kept proper social distance during the walk back.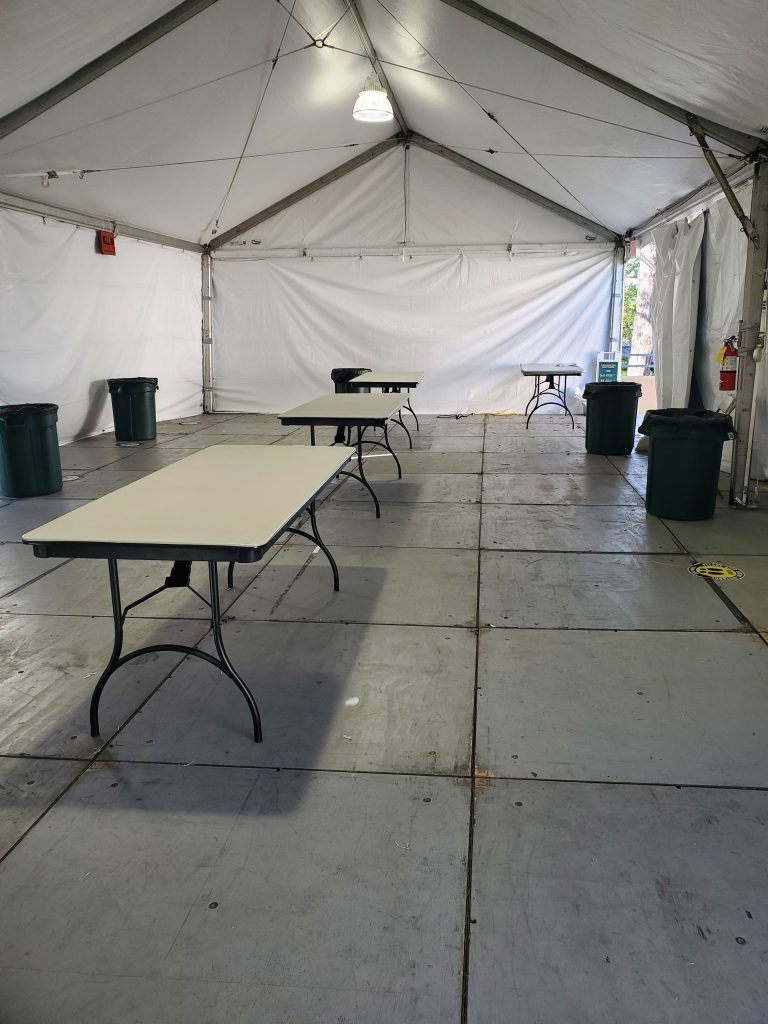 "That sucks," I told the Wellness Center employee who called me. She laughed and agreed. How bad will this suck? It means five days in quarantine and then after a negative test, a week of modified quarantine where the mask doesn't come off around people at all, meals by myself and always staying six feet apart. I'm sure there are other rules too, but I'll worry about those if I actually get COVID-19.
March 8, 8:55 a.m. I've been stuck inside my room for three days, choking down whatever the caf feels like sending me, waiting for this moment to be tested. The testing tent outside Ryan Library is completely desolate except for three empty tables. My mouth is brimming with saliva I've been saving so I can dump it all in the tube and go on with my day. My scheduled COVID-19 test, which I'm 99% sure will be negative, is five minutes away.
March 8, 8:56 a.m. No signs of life. I swallow and call the Wellness Center. After expressing my concern that there's no one in sight and my test is in five minutes, I was told my scheduled test never made it in their system. Can I wait a few minutes while they send someone up? This means more time out of my room, so I guess so.
---
Being in my room for five days wasn't all that bad. I decided to kill time by working out and doing as much homework as possible. Sadly, going into the second week of classes means little to no homework for a journalism major, not to mention sit-ups and leg raises get boring — and start to hurt — after 150 of each. So, I laid in my bed and was on my phone for ungodly amounts of time during these days. YouTube clips of "Pawn Stars" became a new obsession.
You ever get in a fight with a sibling and your parent doesn't know who started it so they just punish you both? That's Point Loma Nazarene University's way of handling COVID-19. If you were even possibly exposed but haven't felt symptoms, there's no way to get a test right then to prove your innocence. You are at the mercy of the Wellness Center. In fact, Garrett Dennis, who was exposed to the same person as I, was never even asked about testing by the Wellness Center. They straight up forgot about him. If you're not scheduled to get tested, there's no way to walk in and get tested unless you have symptoms. SDSU on the other hand, has a testing center open for appointments Monday through Friday 8:30 a.m.-4:00 p.m. If I was a student there, I could have booked an appointment that same day, gotten the negative result by Sunday and be back to normal by Wednesday, a week after my exposure.
PLNU insists they are properly following the CDC guidelines by adhering to "modified quarantine" to reduce the risk of spreading the virus, which is true to an extent. According to an email from Johnny Gomez, Wellness Center COVID-19 nurse, "There is still about a 10% possibility that you end up turning positive later in the quarantine even if you have tested negative."
This was accompanied by a link which had no mention of this statistic at all. After doing my own digging, I found that the CDC says "quarantine can end after Day 7 if a diagnostic specimen tests negative and if no symptoms were reported during daily monitoring. The specimen may be collected and tested within 48 hours before the time of planned quarantine discontinuation, but quarantine cannot be discontinued earlier than after Day 7."
The CDC's data also states there's a 5%-12% chance you may transmit the virus after only one week of quarantine even after testing negative. Other than that, it sounds like after seven days it's back to normal for people who test negative. However, PLNU says otherwise and makes us follow their absurd rules for modified quarantine and continues to plague our inboxes with check-ins from Gomez.
As someone who has done his time in quarantine, I can say with confidence that it sucks. PLNU only adds to the already rough times with a broken testing system, unnecessary rules and terrible food. This needs to be fixed. The caf chicken will never be fully cooked, ASB board never got their Director of Diversity and Inclusion, but maybe, just maybe, we can make a change in PLNU's broken quarantine system.
By: Noah Harrel