On Friday May 21, PLNU's student radio program Point Radio hosted a concert "Groovin' At The Point" featuring bands Los Shadows and Velvet Starlings. Hosted on the Sunset Deck on Caf Lane from 6-8 p.m., Groovin'At The Point was a welcome return to normalcy and a sign that the desire for live music is still alive after the pandemic.
For the first time in more than a year, I saw students dancing and laughing together in a crowd larger than six people. Students wandered around enjoying the free vegan donuts and Yerba Mate offered by Point Radio and dancing to the chill music of Los Shadows and the explosive Velvet Starlings. Thanks to an increase in vaccinations and the open air setting of the concert, it felt nostalgic and sentimental rather than worrisome and daunting to experience live music again. That sentiment seemed mutual due to the large turnout and the palpable energy of the crowd. Throngs of masked and unmasked students rubbed elbows and head banged while the sunset faded behind the bands.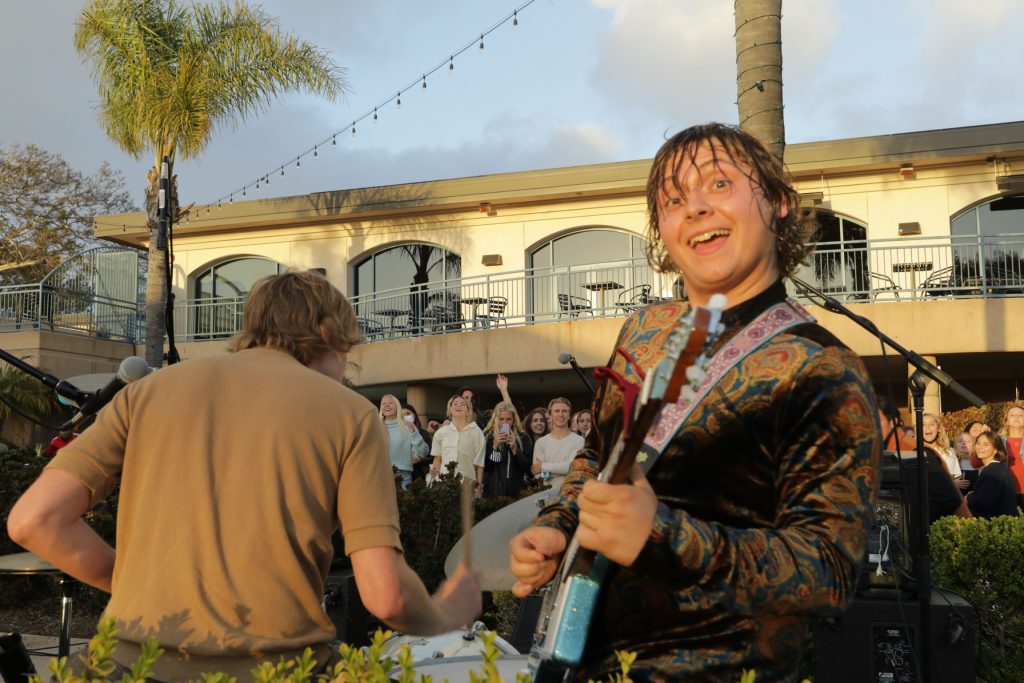 Hana Strickfaden, the Event Manager at Point Radio, said via email, "Due to the pandemic, live music has been put on pause. As soon as we were given the OK to put on a live show we were so excited to bring music back onto campus. I wanted a night for students to have fun with their friends, enjoy good food and dance their hearts out to live music. I think we were able to accomplish that with this concert. My team and I wanted to find fun alternative rock/surf bands that fit the vibe of Loma. This was the first concert that we were able to host with off-campus bands so it was very exciting."
Los Shadows, a Latin funk and rock band, went on first. Their set was dynamic and creative and the atmosphere of an early show made the set feel very laid back. They were followed by the loud and feedback-heavy Velvet Starlings, whose front man's excitement and presence became contagious — especially with his antics of repeatedly rushing into the crowd and back to the front of the stage. Despite a few microphone and sound difficulties due to errors at the soundboard, the band brushed it off and persevered.
With the semester winding down and finals on the horizon, Groovin' At The Point felt not only like a celebratory way to bring the year to a close, but was also a sign of what post-pandemic life will be like next year at PLNU.
By: Tony Le Calvez