In the past year, very few people attended PLNU sporting events. Although PLNU sports returned at the beginning of 2021, spectators were not allowed to attend at first. PLNU now allows spectators to return to the stands in a limited capacity for outdoor events, but with restricted attendance, viewing live streams of the game has become popular for players' families and fans.
However, two individuals have exclusive access and front row seats at games, and their reputation grew when fans watched online and listened as they called games. Those two individuals are Callan McClurg and Alexander Naveja, the commentators for PLNU games this year.
Each of these men have a long, winding journey of sports broadcasting that ends at PLNU. McClurg and Naveja both love sports and talking about sports and this passion is evident when they call a game.
McClurg has worked in the sports media industry for 12 years and has spent six years working with PLNU. His journey began when he worked with a student-run television station in high school and now he announces games, does play-by-play, works as a public address announcer and does some freelance writing when he has time. He even had the chance to announce San Diego Gulls preseason games in the Honda Center.
Naveja took a longer, more convoluted path to play-by-play broadcasting at PLNU. At Cerritos College, he ventured into the sports broadcasting realm and continued to pursue opportunities with sports media there as a sports editor. At Long Beach State University, he worked in a variety of positions, spending time as a basketball analyst, calling different games on side streams, working as a public address announcer for the United Premier Soccer League and calling games for the National Independent Soccer Association. He has done play-by-play for four years now but only started calling PLNU games this year.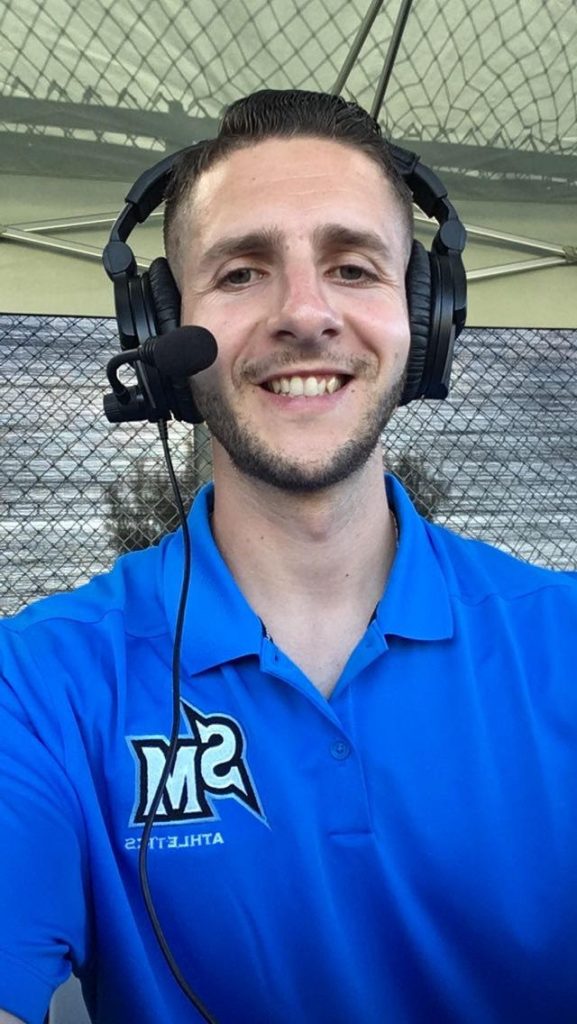 Without fans, McClurg and Naveja get a very different viewing experience, one that presents exciting new opportunities for the broadcasters as sports fans but also leaves them missing the energy fans bring to a game.
"The cool parts have been that you get to hear a lot of the sounds that you don't necessarily hear when there is a crowd, mainly the players and coaches communicating with each other," McClurg said. "The weird part is not having spectators, and the ambient crowd noise is nothing compared to having people at the game."
"The fans are a big part of sports, and it affects not only the athletes but [also] us broadcasters as well," Naveja said. "The energy of the fans also energizes us, pumps us up and gets us excited for the broadcast. However, the cool part to broadcasting during a pandemic is that you get to hear the game more: the crack of the bat, the sound of the basketball going through the net and the smack of the volleyball."
As sports junkies, both Naveja and McClurg avidly watch games in their free time. When these two watch sports that they aren't calling, they not only pay attention to the action but also take note of what they can add to their craft as broadcasters.
"When I watch a game, I listen to everything the broadcaster is saying, and I listen to the different synonyms they use, so I can incorporate those same ones to my arsenal," Naveja said.
All broadcasters discover their own voice and style, but McClurg seconds Naveja's approach as he constantly looks for things he can add to his own calls when he watches professional games.
Though he cited his love for many famous broadcasters, one of McClurg's idols in sports broadcasting is Dick Enberg, who he met at the 2016 MLB All-Star Game festivities.
"[Enberg's] advice was to 'Never say no to whatever assignment you're given, wherever the assignment is at and no matter how much you're being paid for the assignment,'" McClurg recounted.
Naveja also met one of his broadcasting heroes, Jorge Jarrin, when he interviewed Jarrin on his podcast.
"I was starstruck, and I didn't know how I was going to keep my composure during the episode, but I did," Naveja said.
He also looks up to Spanish broadcasters like Jaime Jarrin, Adrian Garcia Marquez and Ernesto Jerez as well as the great Dodgers broadcaster Vin Scully.
McClurg and Naveja join a long list of voices who impact how viewers watch a game. As the latest to call games at PLNU, it's time to get to know the sounds of their voices as you will likely hear them on the call for a long time.
By: Andrew Hansen