With the cancellation of fall sports seasons at PLNU, each athletic team will play its season in the spring semester, albeit with severely shortened seasons. In the first set of seasons, the men's and women's soccer teams played short spring seasons without the possibility of a postseason while the men's and women's basketball teams played half their normal allotment of games, and the men qualified for the West regional.
Here is a rundown and recap of the return of PLNU sports.
Men's basketball
The men's basketball team finished its season 8-3 but fell to Northwest Nazarene University 85-73 in the first round of the West regional last Thursday. After falling behind early, the Sea Lions tried to battle back led by Brock Mackenzie's 20 points, but they could not overcome NNU's hot shooting.
"I'm really proud of the way our guys have handled themselves and done whatever it's taken to compete to the best of our ability," said Coach Matt Logie. "I'm very excited about where our program is at and what we are building on the Point."
Although the Sea Lions lost two starters this season, Kaden Anderson returned to lead the Sea Lions all year and was named the PacWest Player of the Year. He averaged 19.1 points and 8.1 rebounds per game.
"[We had a lot of success] because of how unselfish we are," Anderson said. "We play together, and we are ready for whatever is thrown at us."
Mackenzie was another returner to help the team make it to their third straight West regional and was named first-team all-conference. Newcomers like transfer Myles Franklin, another first-team selection, and first-year Luke Haupt were valuable additions to the team and meshed with the returning players well despite the strange offseason.
"The transition was made easy because of the team dynamic and our culture," Haupt said. "I have amazing teammates that have helped prepare me to help out the team [this year]."
Women's basketball
The women's basketball team finished an up-and-down year with a record of 8-6. Leading the team was senior Cara Liggins, who averaged 14.9 points and 7.3 rebounds and was named to the PacWest all-conference team.
"Originally it was very challenging not knowing what our schedule would look like or if we would even have a season," Coach Lisa Faulkner said. "They adapted really well to so many uncertainties. In my opinion, the highlight of the season was being able to be together, [having] the ability to play games and be around the people that we love."
Men's soccer
In a short season, the men's soccer team finished the spring with confidence as they went 5-0 in a tough SoCal pod. Led by a stout defense that only allowed two goals in five games, PLNU had a shutout streak of 246 minutes to finish the season. On the offensive side, junior Parker Scalzo led the squad with three goals and one assist, and the Sea Lions finished the season ranked eighth.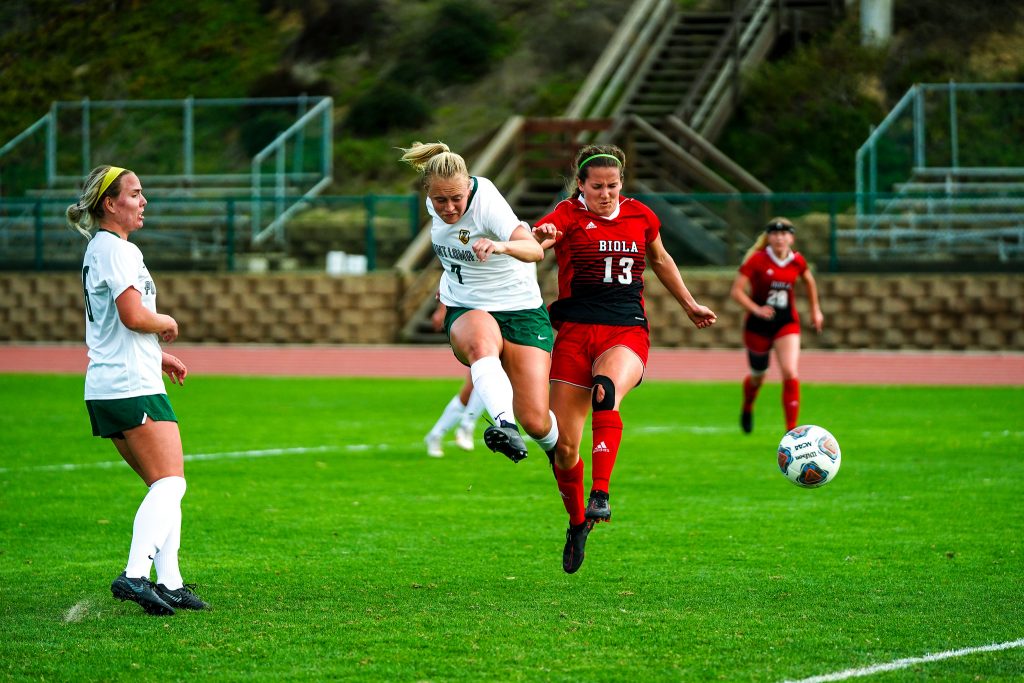 Women's soccer
The women's soccer team continued its run of dominance in the PacWest and across Southern California, winning all four games this spring. As a result, they finished the season by earning a number ten ranking. They conceded only one goal and scored seven, led by freshman Kourtney Kessler who scored three goals in three games and senior Ashlee Watkins who scored two goals and added one assist. Coach Kristi Kiely pointed to the team's depth as key to their success.
"The group responded very well to a two-week quarantine, and we played very well against Concordia," Kiely said. "We have been pleased, impressed and inspired by this group's resilience, joy and motivation, and they worked hard in the face of uncertainty and enjoyed some success because of it."
By: Andrew Hansen