Some things in life just don't go together: a global pandemic and the American economy, Top Ramen and filet mignon, broke college students and buying a car. But what if college students could find a mode of transportation at a reasonable price without breaking the bank? Lincoln Gillette, junior mechanical engineering physics major at Point Loma Nazarene University, is living proof that finding a car that fits your needs for less than $5000 is possible.
After three weeks of searching online, seven test drives and a few lessons along the way, Gillette found his red 2000 Nissan Xterra, named Red Ned Redemption, for $3000. Buying a car involved "a lot of anguish," according to Gillette, but he walked away a wiser man and with three pieces of advice to pass on to those hoping to buy a car at a bargain price.
The first piece of advice: Don't do it.
"It's a rough world out there man," Gillette said.
These were words I needed to hear before buying my car a few years ago. While the 2000 Toyota Corolla I was hoping to buy was at the mechanic for the final inspection before I decided to purchase it, it quickly went from a decent looking sedan to a bit of a fixer-upper.
"You see those shiny things in the tires?" the mechanic asked, pointing at the car suspended in the air.
"Uh-huh," 16-year-old me said.
"Those are nails man…you're gonna wanna get that taken care of," the mechanic said, shaking his head then rattling off a few more minor mechanical issues.
This is how my car earned the name Job (pronounced Jobe) before I even bought it. Job was a biblical character known for enduring an absurd amount of hardships as a test of faith from God. It seemed fitting that this car, which I later learned had been totaled in a car accident and then (mostly) repaired, should share the name.
The issue is you never quite know what you're going to get when buying a car from a private seller at a cheap price. Consumer Reports has an entire article dedicated to inspecting a used car. You can tell quite a bit about a car and its previous owner just by looking at the tires. Check for wear across the entire surface to see if the owner kept up with rotating the tires. Consumer Reports also mentions that aggressive drivers tend to wear out the outside shoulder of the front tires faster than the rest of it. Also, take a quick peek on the inside of the wheel well. Is there rust? Look for shiny things in the tires, apparently those are nails.
Now why would I even consider buying this car? Because it was a generally reliable car with only 73k miles on it and was in great condition looking past the messed up alignment and a few nails.
Was this the smartest purchase? Debatable. Job the car did live up to his name and despite having been through a lot remained faithful. For just $2000, and another thousand over the next few years to get the car in nearly perfect working order, I now have a stylish car that will serve me for years to come.
In order to find a car that will run long enough to make the purchase worthwhile, Gillette, as his second piece of advice, recommends to research and verify. Going into his car hunt, Gillette had exactly the type of car he was looking for in mind: an SUV or truck that was four wheel or all wheel drive, could seat five people, was made by a reliable brand and wouldn't cost too much to fix. If you aren't sure what you're looking for or which cars are reliable, Forbes put together a list of best used cars for less than $5000, which could be a good starting point. The three brands that appeared the most on this list are Toyota, Scion and Honda. The article also explains buying a 10-year-old car can be worthwhile since it's "at or near the bottom of their depreciation curve, the time when a car is too old to be considered new but too young to be a 'classic.'"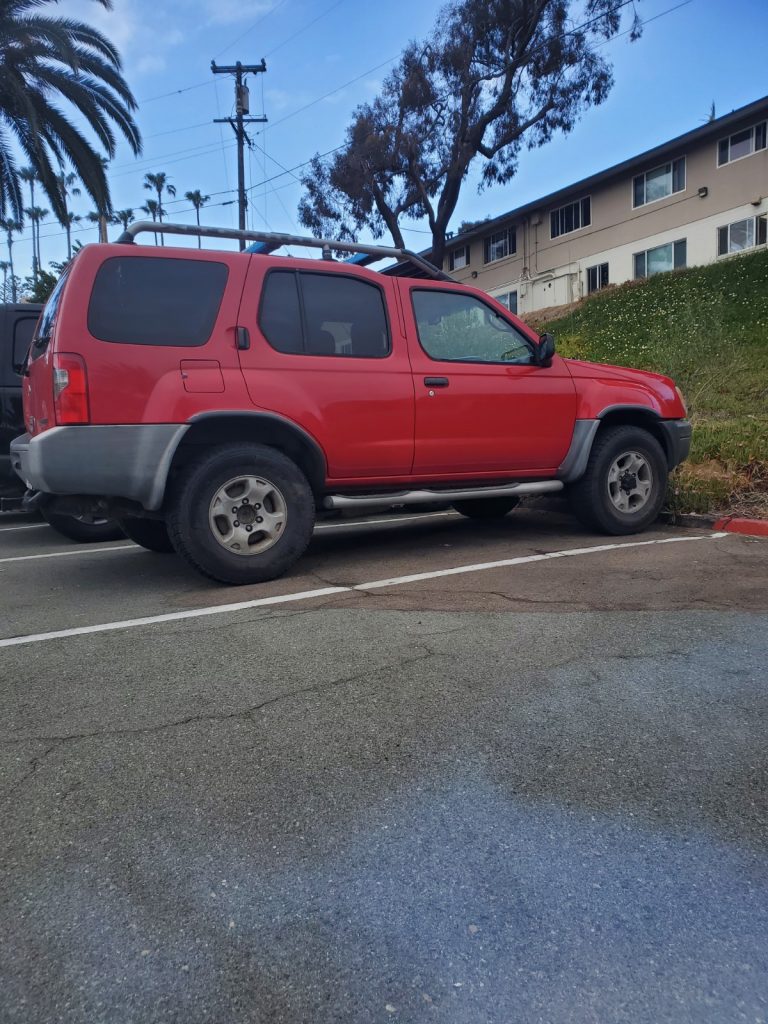 Before buying his car, Gillette did some research on the Nissan Xterra to see if there were any catastrophic issues common to that model. He also looked through all the service records on the car he could find to verify the repairs the seller claimed had been done actually happened.
"Really the parenthetical to verify is don't believe anything the owner tells you," Gillette said, "Pay the money for the Carfax. It's like $40 per check but it's so worth it, look at all the service records, make sure they have them, look at the title and test drive it."
Gillete's final piece of advice is to be patient. He described the process of searching on Craigslist, Facebook Marketplace and OfferUp every day as a part-time job. Gillette also had to deal with sellers who wouldn't respond to messages in a timely manner, lied on their listing and everything in between.
"It takes a lot of time. Plan for it to be a long haul," Gillette said.
For $5000 or less, standards may have to be lowered and sacrifices may have to be made. In order to fit my budget, I opted for a car in less than ideal condition knowing I could fix it up. Gillette isn't a fan of Red Ned's color and says the gas mileage is atrocious. Despite all of that, the pride of having a car that's your own almost makes it all worth it.
After a few days of owning the car and getting the feel for it, Gillette said, "I like it fulfills the role of being janky but functional. It's fairly capable…in some respects at least."
By: Noah Harrel