As summer peers right around the corner, the San Diego-based band Sun Room provides all the sun-soaked sounds and beach vibes Point Loma Nazarene University students know and love.
Luke Asgian, creator of Sun Room, attended our very own Point Loma Nazarene University, yet is on an academic pause as his band is touring their music across North America and now Europe – opening for Louis Tomlinson and Inhaler Band.
A variety of serendipitous factors brought Sun Room to the stage it shines on now.
"I started Sun Room when COVID-19 hit so I got kicked out of Young [Hall] as a sophomore. Then I was stuck at home, super bored, and just wanted to start a band from scratch," Asgian explained.
Beginning as a quarantine fix, Sun Room's songs exploded on Asgian's personal Tik Tok account in 2020 and got onto the popular Netflix show, Outerbanks, soundtrack, exposing the band's music all across the country, even gaining listeners from other countries.
With Luke Asgian on lead vocals and Ashton Minnich on guitar, Max Pinamonti on bass and Gibson Anderson on drums, the band explained how their surf rock genre reflects their lifestyles growing up in southern California.
"We definitely are a product of our environment in terms of sound since all of our songs are about life at home, the beach, summertime and fun. I'm from Long Beach, Ashton is from San Clemente and Max and Gibby are from Carlsbad. These are all beach towns so we pretty much did all the same things growing up whether it was surfing, skating, going to the beach with our friends, or playing music in our garages all day," said Asgian.
While effortlessly bringing the energy and "the sound of fun" they find in their everyday lives, the band is a mixture of each member's vast music taste.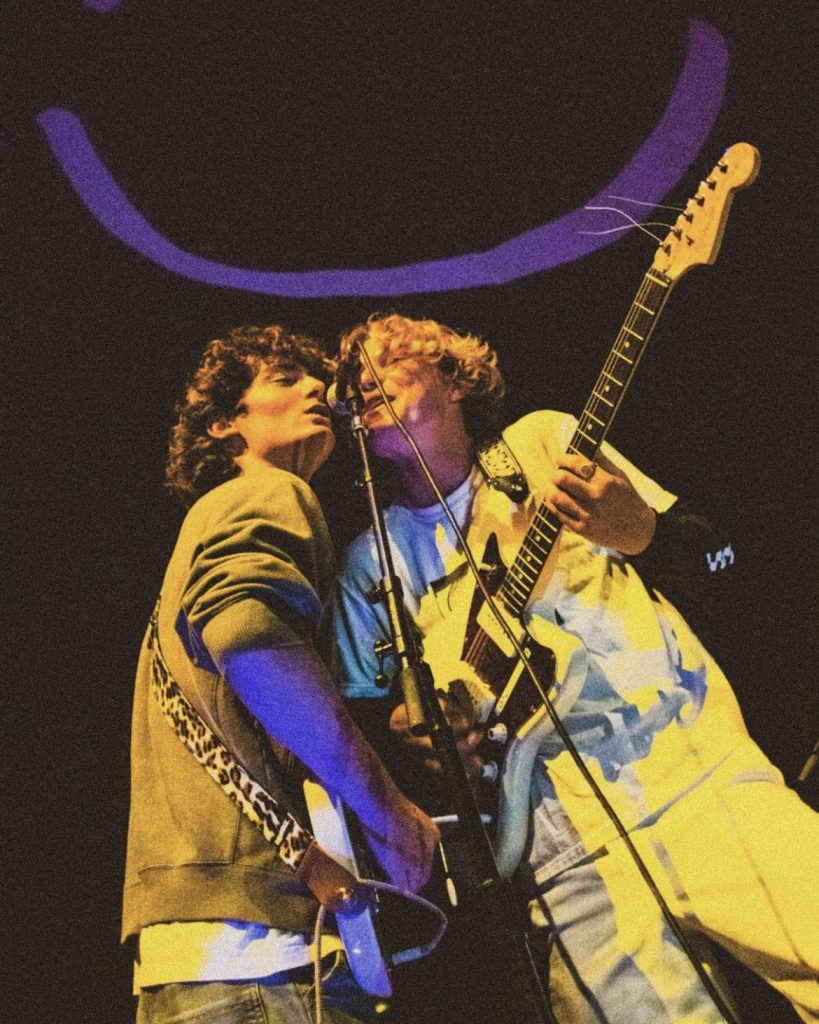 "Luke is like super surf rock intensive and holds the vision but we all add little grooves. We each have a different music niche that brings a new and exciting flavor than other surf rock bands," said Pinamonti.
Currently in Europe touring with Inhaler Band this April and May, Anderson shared his favorite parts about touring, including everything from waking up in a different city every day to talking to new people and learning new languages.
With constant new experiences also come the struggles and reality of being on tour.
"I've learned how to take naps in a lot of weird places. One time we slept on a hardwood floor for a week straight. I've also learned how to pack. Never thought that would be an issue," said Anderson.
Minnich expressed his newfound appreciation for home after seeing the majority of North America and Europe, yet still claiming southern California as one of the most exciting places to live.
Pinamonti touches on the most valuable lessons learned while touring with irish rock band, Inhaler, being a huge fan of the band himself.
"When the headline act is supportive of the opening act, like how Inhaler is always stoking us out, it makes all the difference. As simple as it sounds, I've learned the importance of being kind to everyone you meet and how it goes a long way," said Pinamonti.
With much growth occurring among the members of Sun Room, their hopes for the future are expanding.
"Within the next 5 years, I would love to be doing worldwide tours, headlining and doing bigger shows. We just want to further our boundaries and put out music that stands the test of time and people will be listening to for generations to come," Asgian said.
With plans of buying a new skate ramp, winning a grammy, and some Yerba Mates in the mix, the four boys' goal after tour is to spend the summer staying back at home where they receive their foundation of inspiration.
Amidst a rapid rise to fame at every new show, Sun Room stays intentional on sticking to their roots.
"We have a headline show on June 24 at North Park Observatory in San Diego when we're back, but also are going to do some backyard house shows throughout the summer just for the homies for old times sake," Asgian promised.