Our initial thoughts on pumpkins: Spooky season is in full swing and chances are you've experienced some kind of seasonal pumpkin treat. After the debut of the pumpkin spice latte in 2003, Americans adopted a new appreciation for pumpkins and pumpkin flavors outside of its usual pie form. A stroll through Trader Joe's in the month of October highlights just how many different ways pumpkin and pumpkin spice can be used. But has America gone too far with their obsession of all things pumpkin during fall?
Lauren O'Brien: I think it has. It's not that I have a personal vendetta against pumpkin — pumpkin is indeed a phenomenal winter squash. But that does not mean pumpkin and pumpkin spice should suddenly become their own major food group for the duration of October. Employees at the Trader Joe's on Truxton Road said the pumpkin spice campaign is all about selling products. Customers get excited for the PSL season, and they buy while they can. The business model works, but at what cost?
Noah Harrel: Heck no! Press on! Many cultures have their own variations of pumpkin dishes, both sweet and savory. Sankaya is a popular Thai pumpkin dessert featuring a custard steamed inside a hollowed out pumpkin. In Italy, pumpkins and cheese have made their way into raviolis. Shrimp and pork soups are often accompanied by pumpkin in Vietnam. Maybe the U.S. is just experimenting with their own pumpkin themed dishes. Who's to say these should be discounted as too extreme just because it hasn't been done yet? Maybe classic consumerism and capitalism is just what we need to determine which pumpkin product we should adopt as our own contribution to the pumpkin offerings available around the world.
The only way to know for sure was to traverse the pumpkin-filled aisles of Trader Joe's and taste these products for ourselves.
Pumpkin Joe-Joe's
LO: I would buy these for myself again. If pumpkin belongs anywhere, it's in the Joe-Joe's. I'll admit I was thinking so hard about pumpkin flavors that I wondered if I was imagining the pumpkin spice or if these were the real deal. After eating several cookies, I cAN confirm they are truly pumpkin spice-infused. However I would say there is really no need to limit their availability in-store to the month of October. That extra dimension of flavor from the cinnamon and nutmeg is a level of cookie sophistication I'd enjoy year-round.
NH: During the first bite, I was hit with a very mild pumpkin flavor with cinnamon coming through, which was not necessarily impressive when it comes to how the pumpkin was incorporated into the cookie. The Joe-Joe cookie itself remained the star of the show while the pumpkin and spice were just present enough to remind you these are not your typical Joe-Joe's. As good as these were, I agree with Lauren that the pumpkin marketing did not live up to the hype as these cookies could reasonably be enjoyed — a whole box at a time while watching Netflix — any time of the year, not just during fall.
Pumpkin Spice Ginger Brew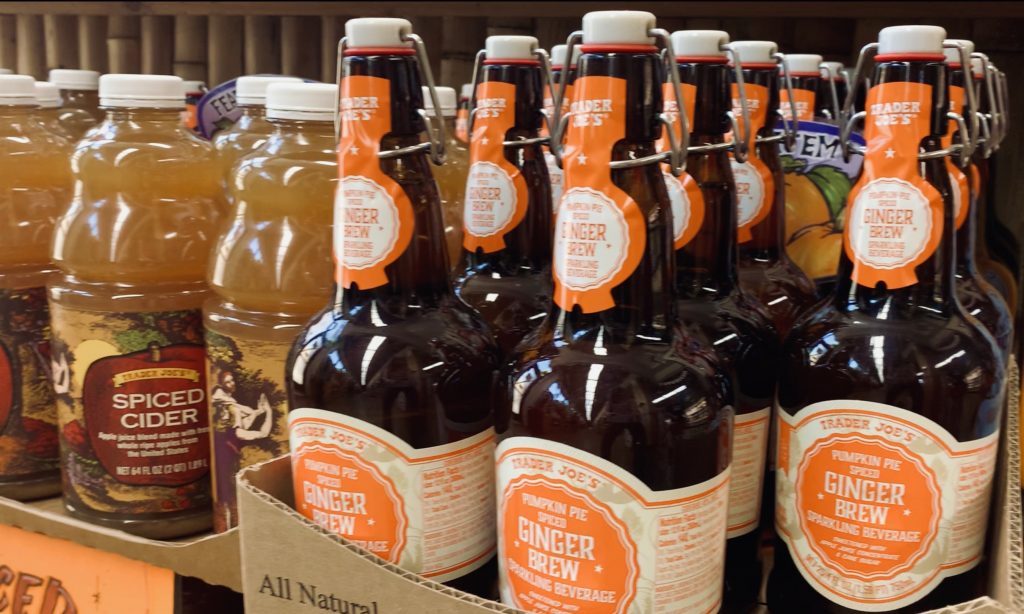 LO: As someone in a deeply passionate love affair with kombucha and ginger beer, this product stirred up the most fear in me. I was not particularly afraid of the taste (I expected it to taste quite good, actually); I was afraid of disappointment. I faced my fear when I popped open the top of the brew, and the disappointment ensued. The drink itself was too sweet for my preferences, and slightly spicy, but mostly from the ginger. I had to concentrate in order to taste the pumpkin spices, and when I did taste them, I wanted them gone. They didn't belong there, and the disappointment I felt was equal to that of a mom discovering her teenage daughter's secret tattoo.
NH: I tasted nothing. Why was this a thing? Ginger is a palette cleanser.
Pumpkin Butter
LO: This is a can of pureed pumpkin with sugar and lemon juice added, subsequently packed into a fancy container. Absolutely nothing will change my mind. It wasn't pleasant, nor was it necessary. I can appreciate the sheer amount of squash in this product though, which was more than any of the other pumpkin products were able to deliver.
NH: I see this as a welcome addition to the fall festivities. Throw some of this next to the cranberry sauce as a sweet topping for turkey, or save some for the day after for those leftover cold turkey and stuffing sandwiches. That being said, this is much more of a novelty than what should become a staple in American households.
Pumpkin Tortilla Chips and Fall Harvest Salsa
LO: When I loosed the lid on Trader Joe's Fall Harvest Salsa, I was hit with a familiar scent: classic Tostitos Chunky Salsa. I know it from the Super Bowl block parties I attended as a kid, but those happen in February, not October, so my senses were completely thrown off guard. I was even more confused as I read the ingredient list and saw pumpkin, butternut squash and apples as the main ingredients. I'll admit the taste test was bearable — actually, it was borderline enjoyable — even though I was still confused by the 2009 Super Bowl flashbacks I experienced with every bite. While I wouldn't repurchase the salsa, the chips were a winner. They screamed, "PUMPKIN PUREE IS MY SECOND INGREDIENT," which is what I hoped for. The cinnamon and nutmeg came through at the end too, which exceeded my expectations.
NH: The chips themselves feature pumpkin puree, pumpkin seeds, cinnamon and nutmeg. Whether you get to experience those flavors varies from chip to chip. Some are bursting with fall vibes, while others, like this fall semester, leave much to be desired. The pumpkin does deliver in the salsa as a fun, new texture with a smoother mouth feel than your typical chunky salsa. I had the brief thought, "Ooh I hope that wasn't a bad tomato." But after realizing that "bad tomato" was actually the pumpkin flavor, I was pleasantly surprised.
Pumpkin Samosas
LO: This is madness. I felt a little deceived as the box advertised pumpkin samosas, yet sweet potatoes were the first ingredient. If Trader Joe doesn't trust the pumpkin to pull through in this situation, how can I?
NH: It's as if whoever made this couldn't decide whether to make it sweet or savory and tried to hedge their bets by doing both. As I took the samosas out of the microwave, a nice churro-like aroma hit me. Sadly, it tasted nothing like that at all. Sweet potatoes and pumpkin were used as the orange filling and gave it a thick stew-like texture which wants to be savory, but then dull spice flavors creep up and ruin everything. I believe the main chef who created this decided halfway through it could not be done and quit. Some poor sous chef was left to salvage some sort of working recipe from what was already there and this was the result. Truly disappointing all around.
A Homemade Endeavor: Pumpkin Empanadas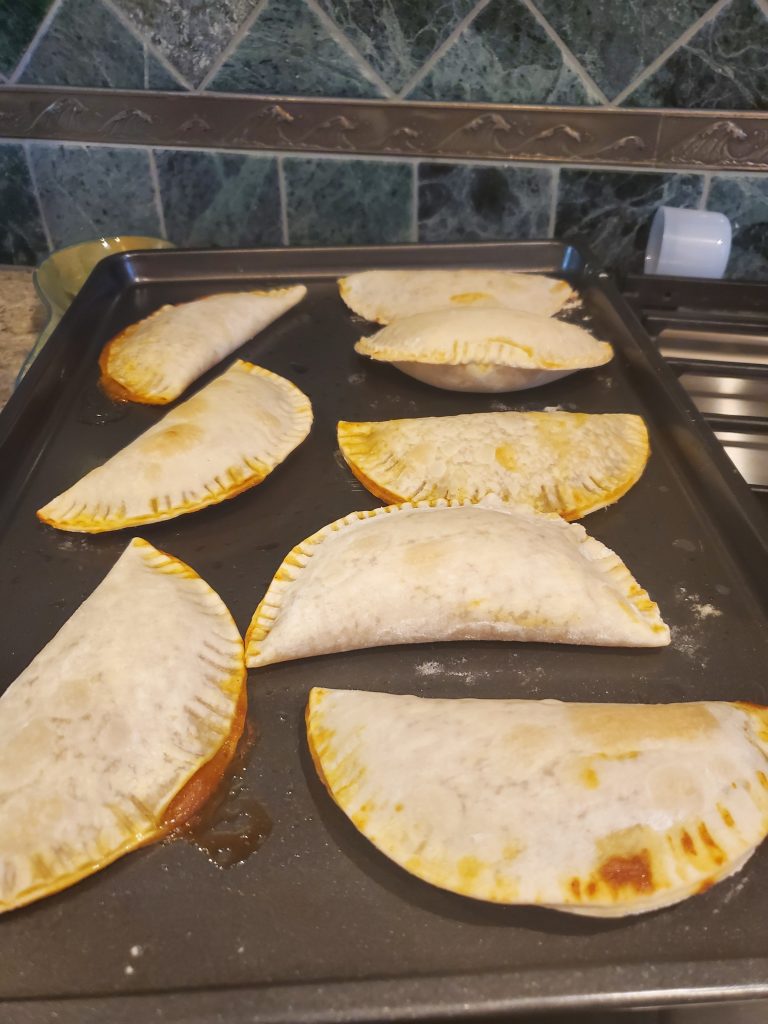 NH: After being scarred by pumpkin samosas, I vowed I could do better myself. So, drawing from my experience of one night of baking with an Argentinian abuela — and some inspiration from an online recipe — I set out to make pumpkin empanadas. Despite slightly undercooking the dough, I believe I made Abuela proud. This is everything the pumpkin samosa wanted to be. It fully embraces the sweet aspect of pumpkins. The pumpkin flavor is allowed to come through in this fun dish that can easily be made from scratch. The light seasoning of pumpkin spices and pastry are reminiscent of pumpkin pie. Imagine these delightful pastries, fresh out of the oven, a coating of butter drizzled on top with cinnamon and sugar sprinkled generously and a side of Cool Whip. I would argue this makes the pumpkin empanada a serious contender to the classic thanksgiving dessert.
Written by: Lauren O'Brien and Noah Harrel