Steve Shoemaker is a 1993 PLNU alumnus who worked for Cal Fire for 31 fire seasons before his retirement. He remains involved in firefighting and shared his perspective on the current wildfires razing the state.
The Point: Explain your affiliation with PLNU.
Steve Shoemaker: I began my freshman year at PLNC the fall of 1985. In 1987, I ran out of money for college, so I left during the middle of my sophomore year to make money and pay down my bill. A friend of mine encouraged me to join him on the Santa Barbara County Hot Shots (a firefighting hand crew). He said it was a great way to earn college money because you were too busy to spend it before heading back to school in the fall. I attended try-outs and earned a spot on the crew, only to have my rating score bested by my older brother, Scott Shoemaker, associate vice president for enrollment and retention​.
My brother and I fought fires together that summer before he left the crew mid-season to take an admissions counselor position at PLNU. I returned to PLNU in fall 1987. I then made the switch to the California Department of Forestry and Fire Protection (now known as Cal Fire) for the 1988 fire season. I continued to fit my PLNU studies in between my wildland firefighting seasons until I graduated with a bachelor's degree in accounting in 1993.
TP: Tell me about your experience in firefighting.
SS: I began my wildland firefighting career in 1987, with Santa Barbara County Fire Department on their Hot Shot Crew based in Santa Ynez, CA. In June 1988, I began seasonal employment with Cal Fire and secured permanent employment there in 1995. After 31 fire seasons, I reluctantly chose to retire November 2018. Two weeks later, the department asked me to return to my last assignment as a Retired Annuitant (RA). As an RA, I am limited to a maximum of 960 working hours per year, in alignment with retirement provisions and California's Government Code. Presently, I serve the department as a Law Enforcement Training Advisor and as a Military Helicopter Firefighting Specialist.
During the first half of my career, I mostly focused on wildland firefighting from hand crews and fire engines. During the second half, I focused on aerial wildland firefighting. I served on several statewide aerial firefighting instructional teams and worked from agency helicopters and airplanes. Though not a licensed pilot, I was expected to build the skills necessary to safely handle and land the aircraft should the pilot experience an issue. While assigned to the San Diego Helitack program at Gillespie Airport, I was one of several fire captains skilled in aerial firefighting and hoist rescue. Before switching from an aerial firefighter to the final phase of my Cal Fire career as a law enforcement officer, I attended the Interagency Air Attack School in Northern California, and after a series of training experiences on wildfires, became a qualified Air Tactical Group Supervisor (ATGS). The ATGS is essentially the airspace coordinator over the fire traffic area. The ATGS supervises and coordinates all aircraft missions at a wildfire incident.
Since 2004, I have continued my involvement with the California Military Helicopter Firefighting Program. The program is a cooperative effort between Cal Fire and the California Army National Guard. With this program, we combine our expertise as aerial firefighters with the Guard's UH-60 and CH-47 flight crew aviation experience to leverage available military helicopter capabilities to join in the firefighting efforts across the state.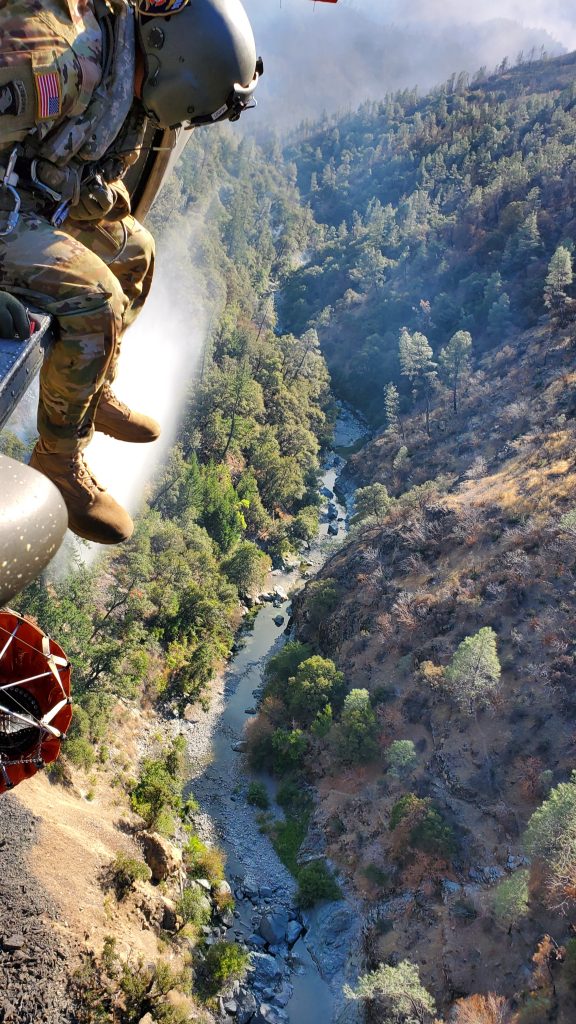 TP: How are you currently involved?
SS: When you first contacted me, I was coordinating the efforts of two CH-47s and five UH-60s in fighting fires in the Sierra and Sequoia National Forests. At the time, we were based out of the Fresno Army National Guard Base at the Fresno Airport. A few days later, we diverted all the aircraft to the North to assist with other fires including the Glass incident near the Napa Valley region.
Presently, I am at the California Army National Guard Base at Mather Airport in Rancho Cordova, CA. I have been engaged in training out-of-state Army National Guard helicopter crews on aerial firefighting procedures common to this region of the nation. The training consists of classroom training on day one, followed by flight training on a simulated fire on day two. During this August-October 2020 fire siege, we received mutual support from the following State National Guards: Idaho, Nevada, Utah, Arizona, Wyoming, Oklahoma, Wisconsin, and West Virginia. I personally fought fires with the Utah and Oklahoma crews. They both performed at a very high level as did all the aircrews we trained and brought to the fire fight.
TP: What are you seeing that average citizens wouldn't know about the California fires?
SS: The California fire problem is a very complex issue, and the fires are not a result of a single factor. Though this year is unrecognizable to me as a wildland firefighter compared to my other seasons, I experienced many "bad" fire seasons. When I was younger, we used to say, "the best way to protect structures from wildfire was to put the fire out before it gets to the structures."
Over my career, I witnessed an explosion of homes in the wildland areas as county governments approved lot splits and subdivisions abutting forested lands. This makes it very difficult to engage in fire perimeter control tactics when we must immediately devote most resources to evacuations and structure protections. If all the resources are engaged in life and property protections measures, including aircraft, then there isn't much containment line being built around the fire's perimeter; therefore, more and more fires are growing in size.
In addition to the explosive growth of homes and other structures in the traditional wildlands, the tree mortality problem in the National Forests of California is providing unprecedented levels of available dry fuels for extreme fire growth. In 2016, Cal Fire estimated since 2010, 66 million trees died in the California forest lands. In 2018, the number of dead trees had doubled to 129 million. There are multiple factors that caused the devastating mortality. Due to tree mortality, flames and radiant heat produced from extremely hot fires burning in the affected areas are too intense for firefighters using traditional tools and equipment. It would be like going to war armed with a squirt gun. Fire crews have to keep distance from the intense heat and wait for more tenable conditions or until aircraft attempt to calm the fire flanks down.
The third major reason for extreme fire growth in California is when weather aligns for dry gusty winds. When the winds line up with the other major issues I discussed, large destructive fires can result.
There are certainly more issues involved, such as the wave of thousands of lightning strikes that came through in August and ignited hundreds of fires across California. When there are multiple large fires burning, firefighting resources are tapped out quickly, and it takes time for out-of-state resources to make it here. This results in a situation where all fires are understaffed and under-equipped. Then, the fires grow rapidly.
Something barely on anyone's radar is COVID-19 mitigations in the state prisons, which created a situation where convicted arsonists, determined to be non-violent offenders by prison standards, may be eligible for early or temporary release. Anyone seriously injured by fire or killed by fire would tell you, if they could, how violent that experience was. Many 2020 fires are still under investigation and the causes have yet to be released to the public.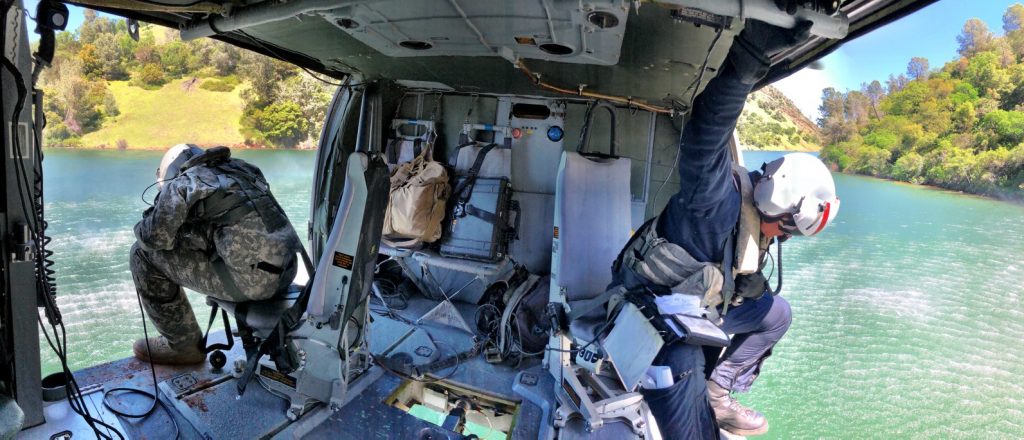 TP: In your opinion, how could the increasing casualties of the fires be avoided?
SS: There are many technologies deployed to assist the public during wildfire events.  There are reverse 911 robo-callers, state and county mobile applications to notify you of evacuations in your surrounding areas and other similar early notification systems. However, many fire victims are those who refuse to evacuate, yet are not prepared mentally and physically for what is in store. One of the biggest threats to your own safety and security in any emergency situation is panic. Fear and panic can be killers in wildfire situations.
If you want to live in the California wildland/forested areas just know your property's survival is ultimately your sole responsibility. During rapidly expanding wildfires, there aren't enough fire engines to head up each and every driveway.
Written By: Rebecca Elliott