Sodexo adjusted to the COVID-19 pandemic, taking measures to ensure meals are provided safely to PLNU campus residents.
Tim Fessler, general manager of Sodexo, said some of the measures taken in light of COVID-19 included limiting seating to two per table and adding plastic barriers at the front.
"Our Sodexo team has worked on menus that can be served quickly to prevent students from bunching up and being in close proximity to each other," Fessler said.
Students are encouraged to sit in small groups, preferably whoever they came in with. Fessler recommends "using the GrubHub app when ordering food downstairs to prevent the spread of the virus."
Sodexo's latest addition to the menu is a black-bean patty as a vegan substitute for both the beef and vegetarian patty.
Courtney Dyer, a junior living on campus, said the cafeteria improved. She said, "the meals they've been preparing are better tasting and quality than any years I've tried."
She said they have many options other than the main courses and the system makes sure people maintain social distancing.
"I think they've done a good job with offering as much as they can, making it seem like the old caf atmosphere, and [the caf's staff] have been stepping it up for the students," Dyer said.
Liam Hixon, a sophomore living on campus, described how the cafeteria has become more health conscious, but needs improvement elsewhere.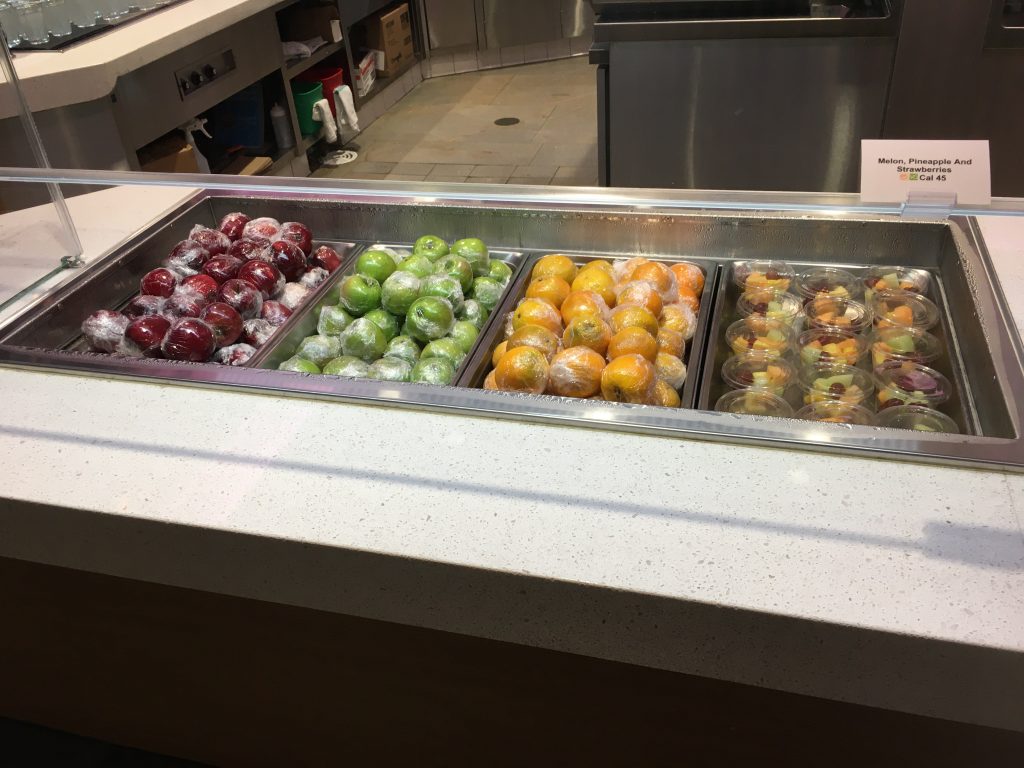 "The food is all put into single use plastic containers which is nice for taking food to go, but since everything is individually wrapped it creates a mass amount of waste," Hixon said. 
Hixon said the food quality differs by day, but it's better than usual. His favorite main dishes at the moment are the Korean pork and chicken fajita with vegetables.
Nick Kutscher, an on-campus sophomore, gave insight into the seating arrangement and how others feel about the requirements.
"No one seems to care except the employees at the cafeteria and the seating situation was very spaced out at the start of the semester, but they've been gradually opening up more tables," Kutscher said.
Despite mixed feedback, the caf continues to welcome students for meals while accommodating social-distancing regulations. Fessler invites everyone to give the new menu items a try and to stay sanitary.