Tucked away behind the Fermanian School of Business at Point Loma Nazarene University is McCullough Park — a flat grassy field located at the western end of campus surrounded by lush greenery overlooking the residential halls and ocean's horizon. A meeting spot for the students involved in the yoga intramural, where toes are sprawled on their mats, there is a sense of serenity and grounding here. More recently, this calmness has been exchanged with buzzing conversations and anticipation for a new event to start at 7:15 on Friday nights. Rather than physically planting themselves into the lawn beneath them, students sow their faith and relations with one another at Rooted, a worship night started by freshmen Jacob Margozewitz, Izzy Gendreau and Kyler Kroll.
The three identify Rooted as a community of people who are the same age doing life together, trying to know who God is and how they can pursue him. Margozewitz, a business administration-management major, said, "It's all about going back to our roots and to the Gospel, and getting realigned with our faith together."
Nursing major Izzy Gendreau added, "We made a big emphasis on making it a safe place, so ask questions and be curious."
Margozewitz first felt called to start a worship night two months ago after hearing a sermon about revival at his home church. Although he valued his time on campus last semester, he felt that God-centered conversations were missing.
"All I thought was 'Dang, we need to have some sort of revival and refocus on God here.'"
The first-year student initially thought this restoration would start out with guys in his hall through studying the Bible. But over the following days, Margozewitz felt God and the Holy Spirit calling him to start a community where a group of people would pursue God together.
This calling led Margozewitz to reach out to friends at PLNU.
"It wasn't us going and finding people, it was more people coming and asking how they could help, which was a big blessing."
This idea immediately attracted Gendreau, who said, "I like to help out and be with people of similar interests and with the same heart [and] when Jacob told me about his idea, I was like, 'Of course I'll help, like that's my thing. Will I preach? Definitely not. But will I help? Absolutely.'"
For nursing major Kyler Kroll, Rooted was an opportunity to listen to God's calling in his own life.
"I believe that everyone has spiritual gifts, and a gift I have is not being afraid to put myself out there," Kroll said. "Way back in high school, I felt God calling me to speak and I never knew how."
He attributes his biggest inspiration to the faith-based relationships he made in the sequoias at Hume Lake, which he attended throughout high school. He found great value in the connections made with new friends during cabin time after sermons and wanted to bring that to campus.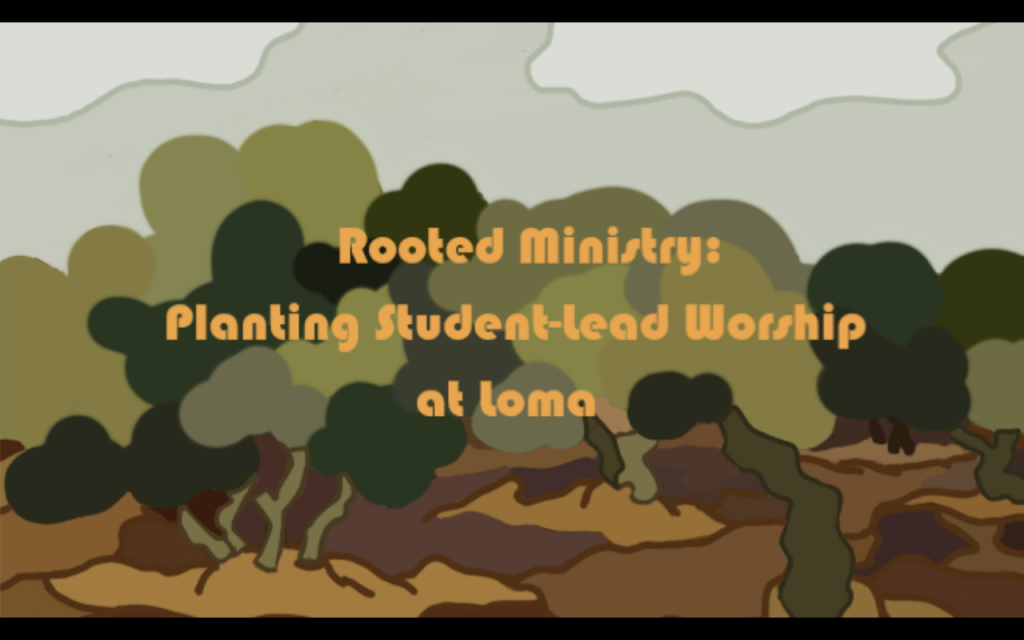 Gendreau's boyfriend, Will Hopkins, leads worship and other students have reached out to help with the planning and establishment of the event.
According to Margozewitz, the main challenge of planning Rooted was navigating how to host a social event during a pandemic.
"We went into it unexpectedly, but everyone was really obedient with social distancing protocols and wearing a mask."
Rooted carries the traditional format of other worship groups found on campus, opening with an introduction and praising through song, then leading into a sermon, praying it out, and closing with additional worship.
After, students are welcome to stay and meet new people. Margozewitz said, "It's also a place where you can come and be who you are and find people that you connect with and hang out with on weekends. It ends with social hour basically, or you can go back home to your dorm."
Kroll stressed the importance of how sharing personal ideas and faith stories is not something to be afraid of.
"After our first meeting, we had people stay for at least an hour and a half talking and discussing what was said and their faith views," Kroll said. "It was a safe place to talk, and I think that is the most important thing."
Rooted's first meeting was March 5. Many students heard about the event through word of mouth and social media. When asked how the turnout was, Kroll responded with surprise and excitement:
"Last Friday [the turnout] was easily eighty to a hundred people," he said. "In my opinion, this is one of the best ways for people to get plugged in because we are all in the same boat."
Whether you are looking for a place to imbed your own roots on campus or to branch out to new friends, Rooted is a resource, meeting every Friday night at 7:15 p.m. at McCullough Park. For students interested in attending the next Rooted worship night, the three leaders each had a personal message. Gendreau said Rooted is where students can come and learn about their creator and a place where everyone can dive back in.
Kroll said, "If you have expectations, leave them at the door. Come open hearted so God can go in."
Margozewitz ended with this: "[Attending students] are going to be welcomed, they are going to be loved and they are going to be accepted."
More information on Rooted can be found on their Instagram.
By: Katie Morris