Lady Whistledown is a fictional character from Bridgerton created by Chris Van Dusen. 
Dearest reader,
I'm back as Lady Whistledown today to share more about the engagements of this fall… It is time to reflect back on this year's fall social season and all the lovely relationships that have blossomed with it.
These past 16 weeks have been a wild ride. The summer sunshine faded with our tans as the trees began to lose their leaves and the weather became crisp.
Now the spring is upon us…Shall we dive into it? The question of the year, what you all have been waiting for…
Who did get the ring by spring?
In summer, we had engagements and weddings upon us.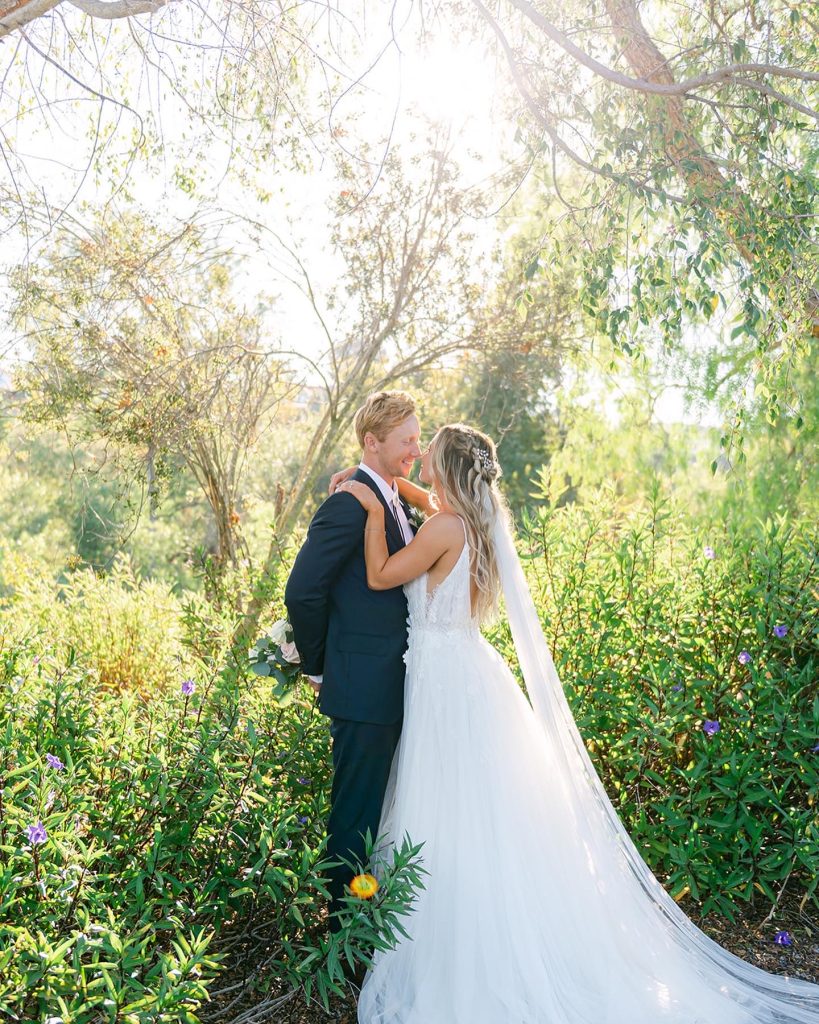 Drew and Trish Bentley
August didn't just bring the start of school, it brought Drew and Trish Bentley's wedding on Aug 27, 2022. Drew had proposed to Trish the last fall before on top of a hike. "We agreed on getting engaged during the fall semester and since it was the last day of fall semester, I was feeling pretty confident," says Trish Bentley.
"We had planned to give each other a little gift at the top of the mountain, and my plan was once we got to the top, Trish would give me my gift, and then I would tell her to turn around and I would be on one knee," said Drew Bentley. "However, there was a little hiccup. My best friend Jacoby was hiding up at the top to take pictures and when Trish turned around she just saw a man in black hiding behind a rock and started freaking out so I just hurried up and proposed so she could see we were safe and that it was just Jacoby," shares Drew.
And the wedding to follow was indeed a ball. Drew shares that his favorite part was watching Trish walk down the aisle. "My dress was a lace, v-neck spaghetti strap that was very simple and flowy on the bottom half. It had a very simple and beautifully stitched design on the top half," shares Trish Bentley. "We had a pretty awesome DJ so that made it super fun. Definitely make a good DJ a priority," shares Drew.
Drew Bentley shares that "a fun thing about this semester being married is that Trish and I commute about 25-30 minutes to school everyday. So even though our schedules are packed, it is awesome getting that time together in our car rides to and from school."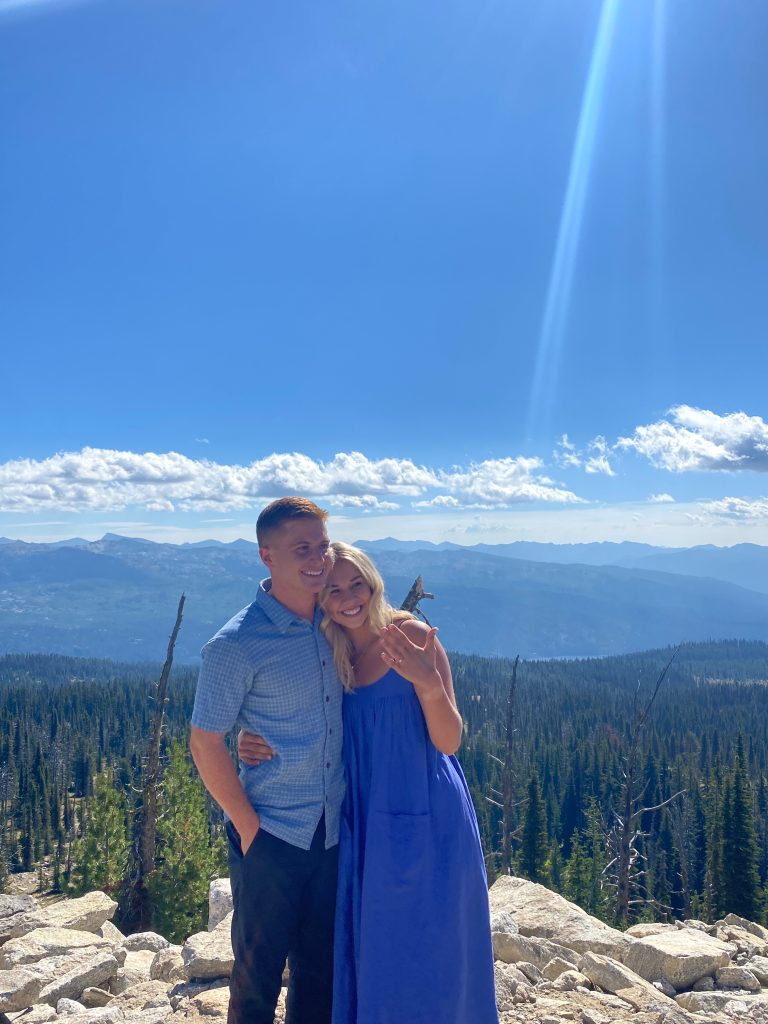 Ella Ross and Mason Verner
I did in fact get to attend one of the engagements of this summer right before school started for my good friends Ella Ross and Mason Verner in McCall, Idaho.
"It was our four-year anniversary, so he took me up to the mountain we ski at, except this was in the summer and we took the lift up to the top for a picnic. He had made a reservation for sushi so when we stood up to head back down the mountain, he knelt down on his knee. I saw our friend who is a videographer pop out of the bushes and it sunk in that I was getting engaged! He started telling me what he loved about me and how honored I was to marry him but I honestly blacked out after I saw the camera lol. I was shocked and had no suspicion at all beforehand. I said yes and he yelled "WOOOO" and then I heard cheering and I looked over and saw that all of my closest friends FLEW OUT to Boise from San Diego for the engagement! Later that day, we went to a party with all of our friends and family and people said toasts and celebrated! It was the best day of my life, until the wedding of course! I felt so very loved all day!" shares Ella.
The wedding date is June 24, 2023, and Ella was proposed to with a 6-prong crown solitaire with a golf band.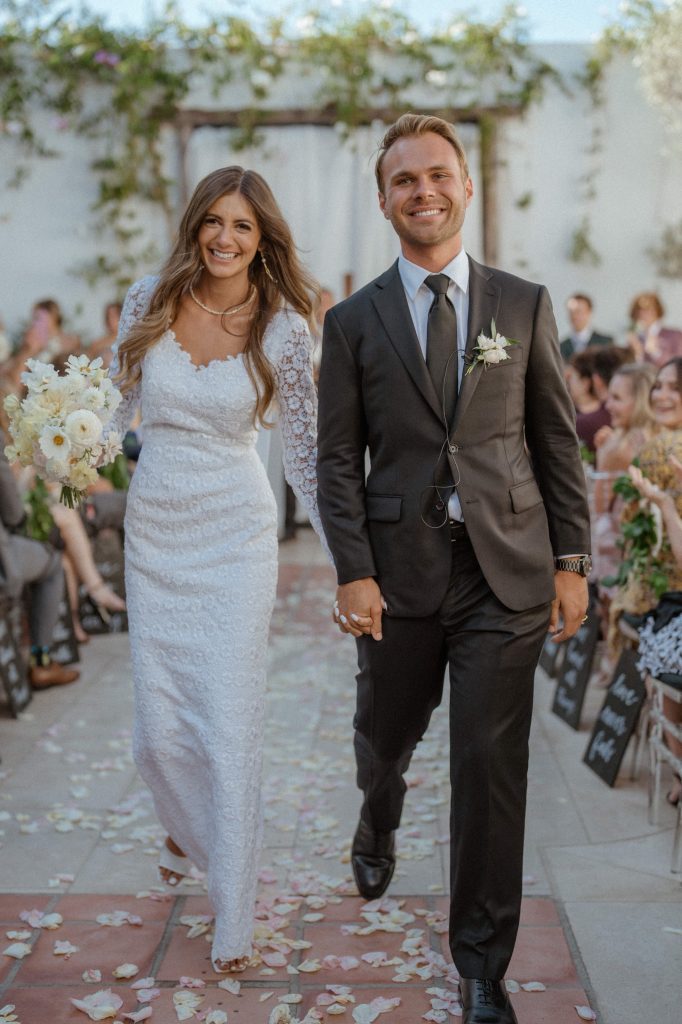 Caleb and Sabrina Crist
In late June, Sabrina and Caleb Crist were introduced as a married couple.
Both PLNU alumni, they got married at the La Ventura in San Clemente.
"I wore my mom's wedding dress and just got it altered to fit me. I didn't change the style of it at all because I loved the sentimental feeling of wearing her dress. I adore my parents' marriage and wanted to start mine the same way they started theirs," says Sabrina Crist.
And the proposal story? Sabrina shares that "Caleb brought me on his family vacation to Maui and one night he brought me to the beach and made a whole story about why we are going without his family. Once we got there he started acting weird and then I kind of knew it was going to happen. When we got to the sand he said a sweet speech and proposed. It was the best. Just when I thought the day couldn't get better, he surprised me with my parents flying to Maui to be there too! Caleb got us dinner reservations overlooking the sunset just us two after and right when we sat down we both just started crying. It was pure joy!"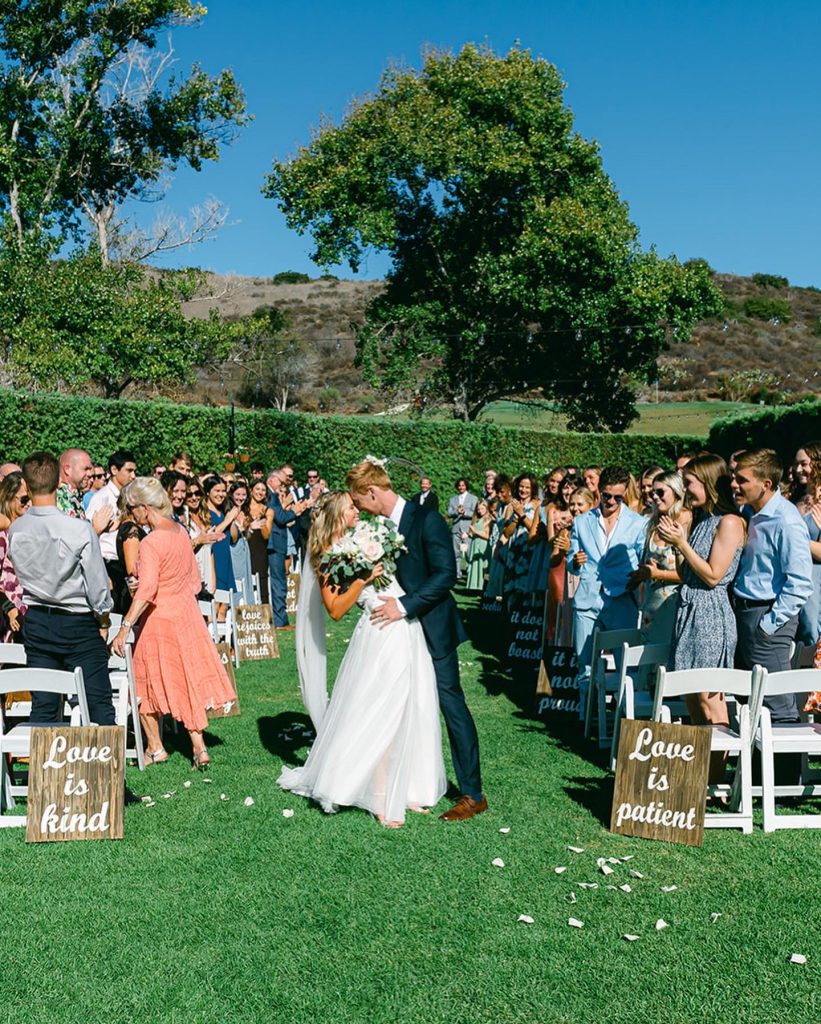 Jack Ravasdy and Samantha Gotz
Jack and Samantha graduated this past May, of 2022.
"I asked her on the beach in Coronado. Megan, my sister, and some of her friends, who are also friends with my fiancée, took the pictures for us. And we were lucky enough to have both of our parents come down and to have dinner with us afterwards."
His plans for the proposal? Jack shared that he "had been planning to ask her since right after we graduated. But the main planning only came a couple weeks before to try and surprise her as best as possible."
They will be getting married July 16, 2023 this summer.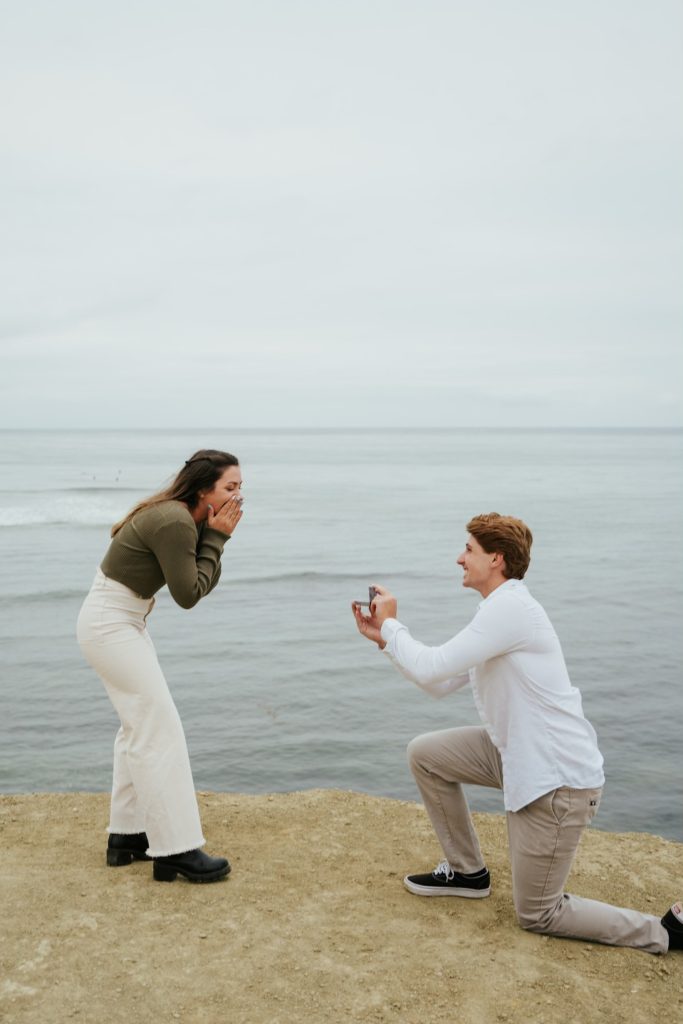 Tyler Todd and Nadia Kientz
Tyler Todd, PLNU senior, asked his girlfriend Nadia Kientz to marry him earlier this fall.
"I asked her on the cliffs of Loma while we were doing a photoshoot. We had planned this photoshoot a couple months earlier so it was perfect timing to have pictures of the moment. We planned the photoshoot a couple months before, and I knew I was going to propose when we made the date. But I didn't have the full details until about a week before. I had music playing, had my buddy hand me the ring while she wasn't looking, and then got on one knee to ask her."
They are getting married November 30, 2023.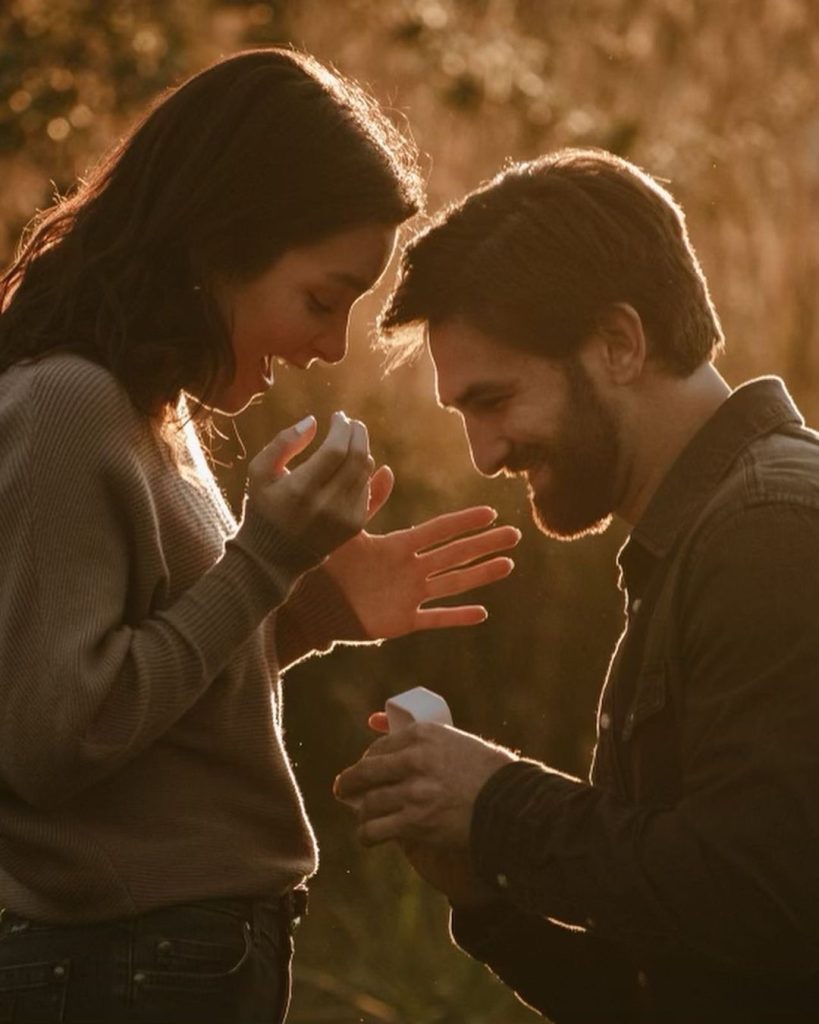 Justin Corliss and Maren Winningham
Senior Justin Corliss asked his girlfriend and recent PLNU graduate, Maren Winningham, to marry him last month. "Justin and I dated for 10 months prior to getting engaged. He asked me during family pictures, so there was already a photographer there and it was a beautiful location up in Sacramento. I knew that we were getting engaged soon, but I had no idea that it was happening when it did!"
The couple is getting married October 20, 2023. Maren has a custom princess cut diamond with a gold band for an engagement ring.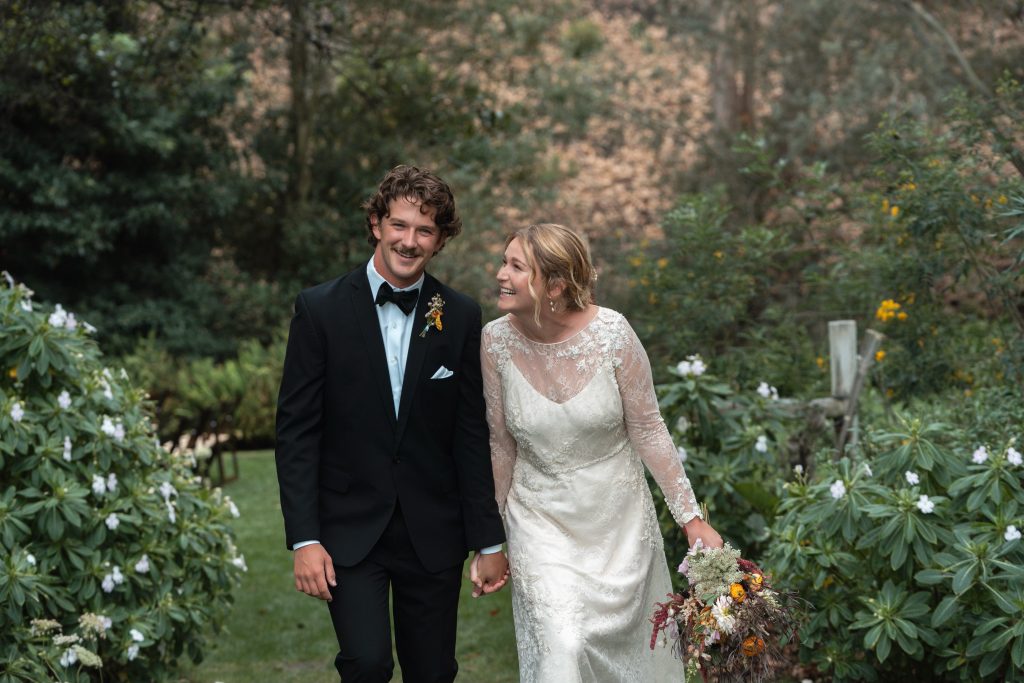 Logan and Marielle Beebe
Graduates Marielle and Logan Beebe got married October 1, 2022.
Marielle shares that they "got married at my family's avocado farm in Morro bay California. It did have sentimental value, as growing up I would also imagine getting married underneath the trees surrounded by nature. Another reason it has sentimental value is that my dad planted trees (where we had the reception) hoping one day his kids would get married under them. Lastly Logan and I would always go up and visit my family and both just loved how naturally beautiful my family's farm is and it was an easy choice getting married there."
Marielle shares that one of her favorite moments of the day was the private exchanging of vows. "Logan and I had our first look and vows before the ceremony. The day went by so fast and I was thankful for that sweet time of just the two of us being able to be together and share our vows with one another."
The couple honeymooned in Mexico in two towns called Sayulita and Punta Mita. And Lady Whistledown herself caught the bouquet!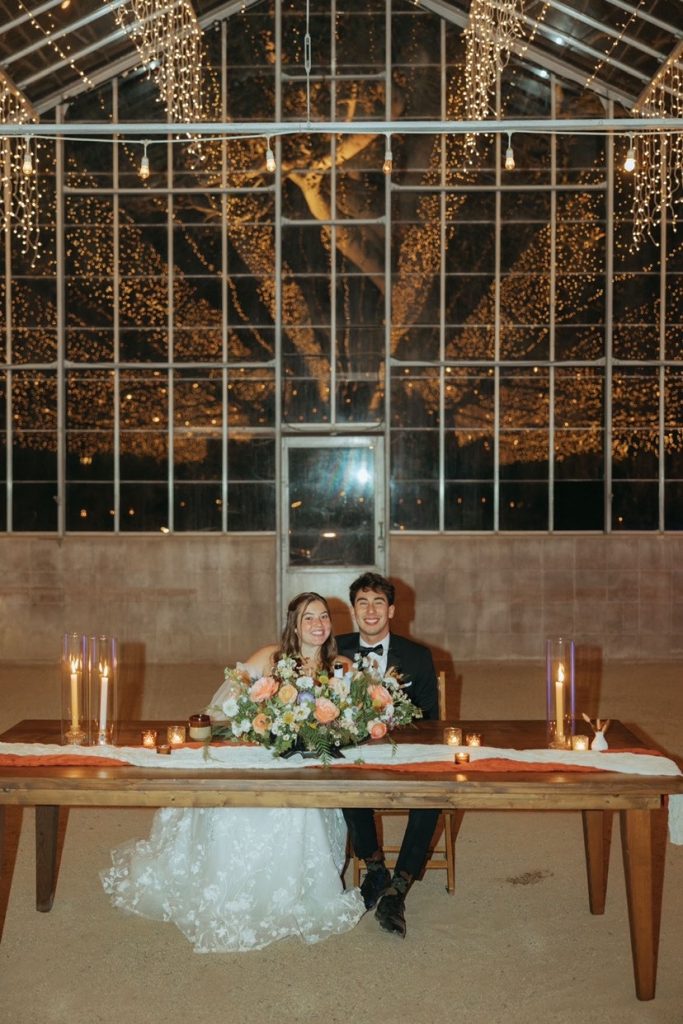 Gwen and Trent McLenachen
Gwen and Trent McLenachen, PLNU graduates of last year, wedded last month.
"My favorite part about Trent and I's wedding day, besides marrying my best friend of course, would have to be having all of our favorite people in the same place at the same time! It was so special to be with all of the people who have invested in our lives! It was surreal to be dancing simultaneously with my friends from Northern California, Trent's family from various states, all our people from Loma, and so many others. This was definitely one of the sweetest parts of our day," shares Gwen McLenachen.
This season I do say we have been so very lucky to see many true love matches grow. But what will next semester hold?
 Perhaps we will have more "rings by summer" for the students at Point Loma… Who will be next?
Written By: Olivia Cox