As we celebrate Women's History Month, we highlight all the women who sacrificed their independence like Diana, Princess of Wales, who wasn't afraid to speak after being silenced by the royal family. We now see history repeat itself with Meghan Markle, Duchess of Sussex.          
When Meghan and Harry sat down for an interview with Oprah, there was a great resemblance to an interview Diana did with the BBC called Panorama, aired in 1995. The royal family is known to follow many strict traditions and for being homogenous. Women monarchs had to dress a certain way, sit accordingly and were expected, under great pressure, to live up to the status quo.
Senior political science major and women's studies minor Maggie Valentine said, "Royal women are expected to be quiet, the only woman in the family with power is the queen, and when an outspoken woman like Diana or Meghan marries into the institution, the queen and the establishment that she upholds is threatened."
While touring the British Commonwealth, Meghan and Diana were both once adored by the British press. By following in Diana's footsteps, according to ABC News (Australian Broadcasting Corporation), "The duke said Meghan's ability to charm the public led to a turning point in the couple's relationship with the other royals, evoking memories nearly 40 years old. It really changed after the Australia tour."
"Both women were received very warmly by the people in the countries they were visiting, which was something that the queen didn't like very much," said Valentine.
The difference was Diana didn't have a supporting husband like Meghan. In fact, Prince Charles and Diana's relationship appeared to be concerned with the throne and the succession responsibilities more than true love. Mary Stout, professor of history and women's studies at San Diego State University, said, "I think he [Charles] resented Diana and also the fact that the public adored her in the beginning. He felt jealous because she was more popular in the press than he was even though he was the Prince of Wales."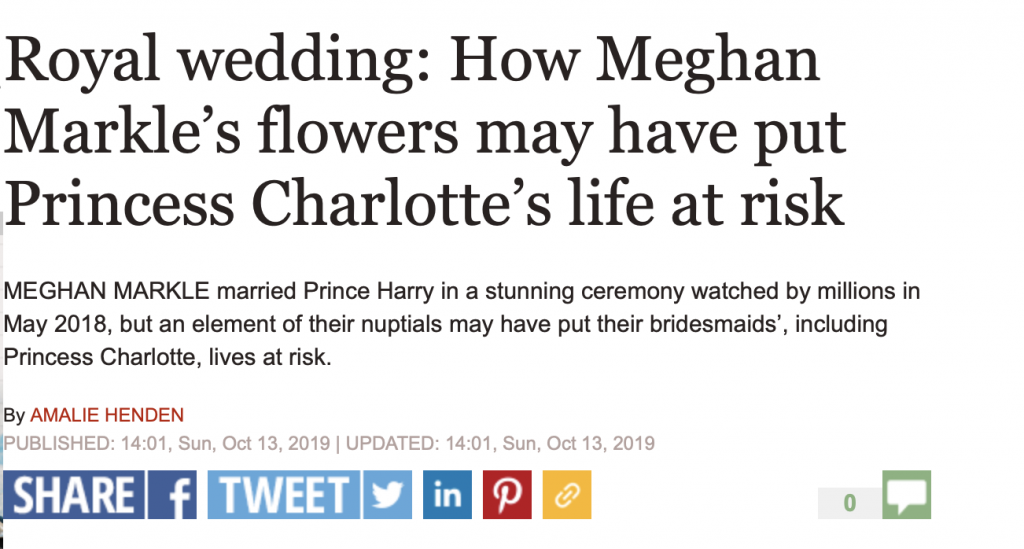 After the couple's split, the press started to judge Diana and pressured her with expectations she was supposed to maintain. Some headlines read "Queen tells Charles and Diana to Divorce," "End of the Fairytale – Charles & Diana; Can she be Queen? Will he be king?" and "Has She Gone Nuts?."
As Meghan entered the life of the British royals, she experienced similar run-ins with the press. Some headlines included, "Meghan Made Kate Cry," "How Meghan Markle's Flowers May Have Put Princess Charlotte's life at risk," "How Meghan's favorite Avocado Snack — Beloved of All Millennials — Is Fueling Human Rights Abuses, Drought and Murder."
According to several media outlets, the British press felt threatened by Meghan Markle. This was due to her being a Black woman in control of her story, according to Harpers Bazaar. The Washington Post said "she has been the target of coverage since she began dating Harry in 2016." Press coverage was extensive during her dates with Harry, the wedding, the arrival of her son Archie and many more milestones of her life.
Stout said, "Megan was given three strikes in how the press would react against her. It was that she is a divorcee, she's not from a British elite family, she is American and lastly, she is of African American heritage."
Despite all this, Meghan and Harry await a baby girl this summer and are expanding their nonprofit organization, Archewell.
"When Harry married her, I was super proud of him because he basically told the establishment in Britain that 'I'm going to marry the woman I love. I don't know whether or not you like her.' But it ended up being far more words than he ever expected," said Stout.
"At the end, the interview with Meghan brings to light how tainted the institution of the royal family is when we pull back the curtain on what happens inside the palace gates," said Valentine. "The royal family has done an incredible job of creating the perfect family facade. Still, it's time that the world begins to see the family for the corrupt, damaging institution that it actually is."
By: Taylor Nakaoka