Each Saturday, a surfeit of sticks violently bash in the air on varying fields across Southern California. These hits are followed by shouts, grunts, and banter; encompassing an interaction between two competing university lacrosse clubs in the Men's Collegiate Lacrosse Association (MCLA) and Southwestern Lacrosse Conference (SLC).
The Conference's newest addition is Point Loma Nazarene University's lacrosse club, a vision that has been in the making since 2020 by third-year business entrepreneurship major and team captain Ethan Buck.
PLNU's ASB, university alumni, and head coach and volunteer Tyler Millikan assisted Buck in starting the club fall of 2021. The club's 19 members have also pitched in their own money and fundraised over $6,000 which has enabled them to cover league dues and referee fees.
Having played the sport all four years of high school, Buck was inspired to start the club with fellow lacrosse players who also missed the competition and physicality of the sport.
"While most of our teammates played lacrosse in high school, many still have little to no experience. Whether we had played lacrosse before or not, we all had a lot in common," Buck said.
Second-year finance major Nate Wood started lacrosse in the 4th grade and played throughout middle school until he switched his focus to football in high school. Wood joined the team after Buck mentioned his desire to start the lacrosse program in the spring of 2021.
"Buck's work behind the scenes of filling out countless amounts of paperwork, making calls, fundraising, scheduling, and more is pretty incredible. Most schools were excited to schedule us even as a brand new program which is cool as we have the opportunity to get our name out there," Wood said.
The logistics of finding a field to practice were a concern for the club after they were not granted access to use PLNU's field. Natural grass fields such as PLNU's need rest between usage for games and practices. For this season, the club meets twice a week at Robb Athletic Field in Ocean Beach for practices.
Kyle Dramov, first-year mechanical engineering major, has played lacrosse since he was in 5th grade. The day before his first game junior year of high school, the COVID-19 pandemic hit, ending the rest of his high school lacrosse career.
Dramov connected with Buck through his older sister, who is also a third-year at PLNU. When he heard that the club was starting, he knew that he was going to join.
"We had a couple meetings last semester on what the club was going to look like and fundraising. We got to design our jerseys, and this year we paid a little bit extra to get our last names on it so we could keep it as our first year," Dramov said.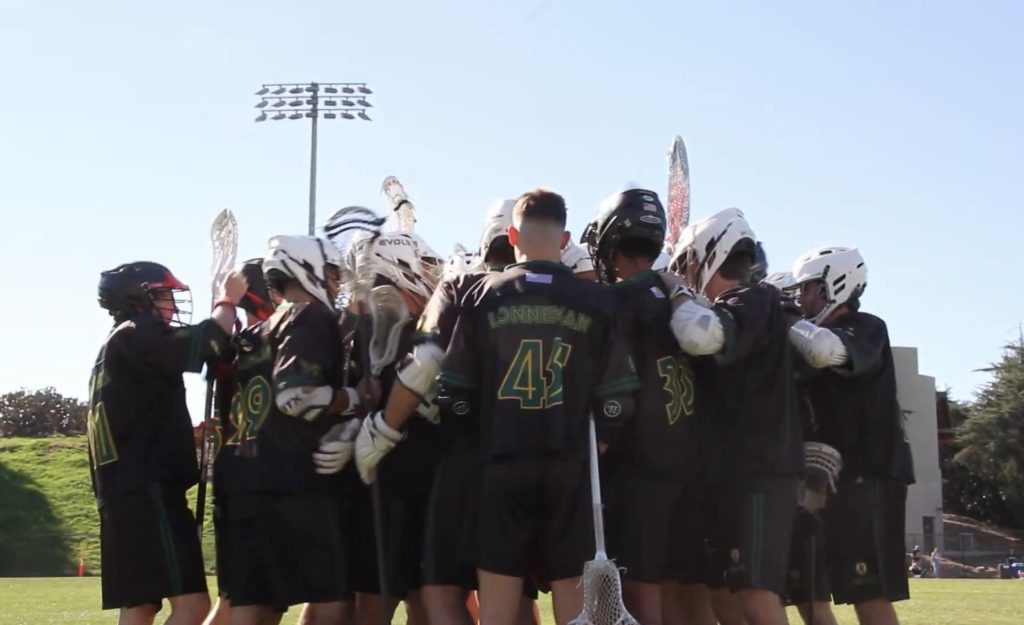 The club's first game was an away match against Biola University on Feb. 5. PLNU's lacrosse club arrived ten minutes before the match's start due to traffic to Biola. At the end, PLNU walked away with a 15-3 win.
"One of the most impressive things from our game against Biola was that Dylan Coombs, in his first year ever playing lacrosse, stepped in goal and only let three shots in the cage," Buck said.
While Dramov was subbing in as defensive midfielder, he clashed sticks with a Biola player, breaking the opposing player's stick in half.
"I got sent straight to the penalty box but that was definitely one of the sickest moments," Dramov said.
To Wood, the game gave the club the confidence to play against other competition down the road.
"Our ability to go out there and play together was huge; we didn't care who scored and how often, but there are also so many details that we're excited to improve on and get better at," Wood said.
The referee ended up giving the game's ball to head coach Millikan for keepsake.
The club lost 6-17 to California State San Marcos in their second match on Feb. 12.
Buck, who runs the lacrosse club's Instagram, has received multiple direct messages from prospective students who have asked about the program and expressed interest in the university.
"To see the club drawing this much interest with a fraction of the funding required to field a NCAA team that would traditionally attract student athletes brings hopes of a bright future for our program," Buck said.
The club is set to play University of San Diego Feb. 26.
Written By: Katie Morris