Quiet solemnity transformed into murmuring conversations and movement as the gallery filled with people and as a video art piece infused the room with certain sounds: the clack of train tracks and the stories of individuals represented in the art. However, a sense of reverence remained as the gravity of the pieces influenced the thoughts and conversations that permeated the room.
The art exhibit Hostile Terrain 94 opened on Jan. 17 in Keller Gallery. But this was not its debut. Since 2019, this participatory art project has filled spaces across the globe, recognizing the lives of both identified and unidentified individuals through a map that pinpoints the exact location where undocumented migrants died attempting to cross the U.S./Mexico border. The tags pinned to the map were filled out by the PLNU community listing the person's name (or "unnamed"), cause of death and location of death.
Scott Bennett, Spanish professor at PLNU, shared the space with the HT94 map and video. On the surrounding walls, he displayed his photography. One wall showed the lives of migrants in caravans. The other wall captured intimate moments during a "somber celebration" called La Posada Sin Fronteras at the U.S.-Mexico border between Playas de Tijuana and Border Field State Park.
The following photos of PLNU's opening night depict the community coming together to dwell on the sobering realities of the U.S.'s border relations and the impact of immigration policies.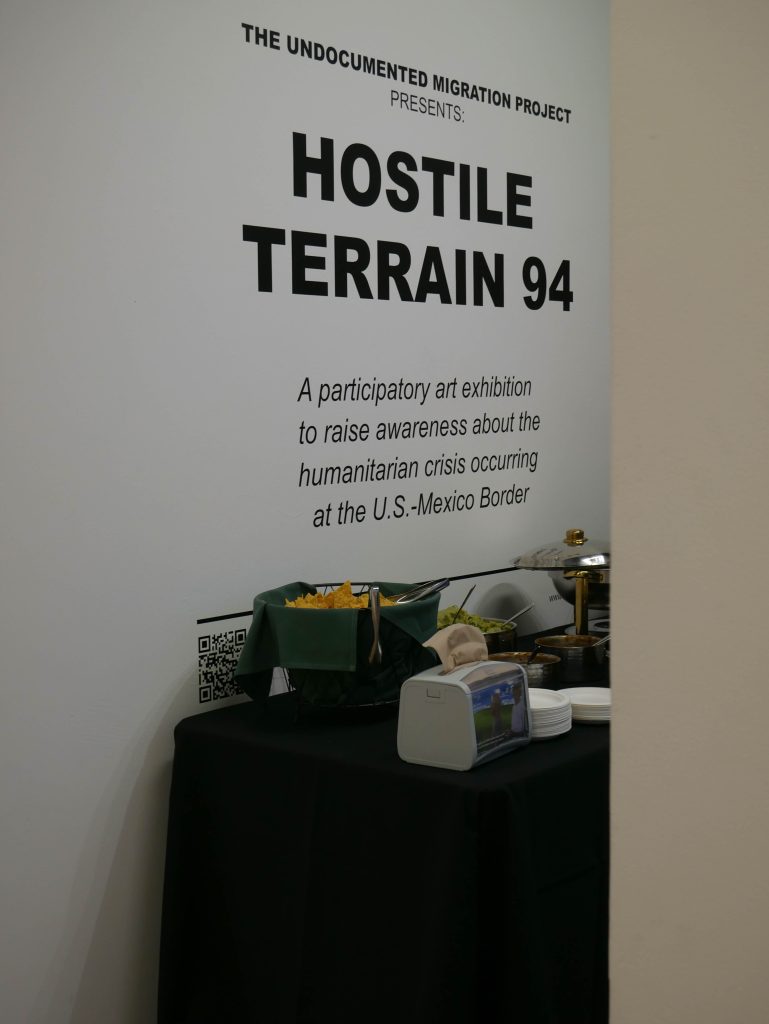 Community members hold and read the toe tags.
Stacks of the toe tags layer the wall.
Bennett's photography shows the lives of people part of a migrant caravan camped at the El Chaparral port of entry in Tijuana, Mexico.
Since 2007, Bennett has attended and documented the La Posada Sin Fronteras gathering. 
The HT94 exhibit will be open Monday through Friday from 9 a.m. to 4:30 p.m. until Saturday, Feb. 18. To learn more about HT94 visit undocumentedmigrationproject.org/hostileterrain94.