In the literature, journalism, writing and language (LJWL) department chapel at the Greek, a table littered with toe tags and printed excel spreadsheets fluttered in the wind, showing countless names and phrases like "unknown cause of death" and "death due to exposure of the elements." To an outsider these tags might have looked like insignificant pieces of orange paper; to those participating, these tags represented an educational effort not confined to Point Loma Nazarene University's campus but connected to others across the globe also participating in the Hostile Terrain 94 (HT94) art installation.
The name of this project refers to the Clinton administration's U.S. border enforcement policy known as Prevention Through Deterrence. Since 1994, the border patrol has utilized this policy in areas like the Sonoran desert of Arizona as a tool to prevent migrants from entering the U.S. According to the Undocumented Migration Project, this policy has closed off historically frequented crossing points, directing individuals attempting to cross the border to illegally enter through more remote and depopulated regions where the natural environment would act as a deterrent to movement. It has led to the death of many undocumented immigrants and migrants attempting to brave the desert and mountains.
In a July 2022 report, the International Organization for Migration (IOM) labeled the Southwest U.S./Mexico border the "deadliest land crossing in the world." Given PLNU's proximity to the U.S./Mexico border, the collaboration between the LJWL department, the art department and HT94 is bringing students into this environment of learning about border relations.
The tags students are creating for the HT94 project display the information of identified individuals and those who comprise the largest demographic in available data on deceased migrants. According to the Global Migration Data Analysis Centre, "the largest demographic in the available data on migrant deaths in the Americas is unidentified people — nearly 500 individuals died on migratory routes in 2021 and remain unidentified."
Despite these deaths, deterrence continues to be an essential part of border patrol enforcement, according to the National Immigration Forum.
The HT94 installation recognizes the lives of both identified and unidentified individuals through a map that pinpoints the exact location where undocumented migrants died attempting to cross the U.S./Mexico border. The tags are handwritten by the PLNU community listing the person's name, cause of death and location of death.
Spanish Professor Jacque Mitchell is one of the people who participated in writing on the tags at the department chapel and also spearheaded bringing this concept to PLNU's campus.
"The exhibit intends to raise awareness about the realities of the U.S./Mexico border, to memorialize the thousands of people who have died and have gone by 'unseen,' and to do it through community participation," said Mitchell via email.
Although the exhibit will not premiere until January, the project is already bringing awareness to the weight of this issue, according to Mitchell.
"It is a profound experience to hand write someone's full name, the exact cause of their death, [and] exactly where and in what condition their remains were found," said Mitchell via email. "I have prayed for each person and their family. I have shared in their family's mourning. Writing out each tag is a lament that reminds me of my spiritual bond with every human being on this earth, and my responsibility to see for their wellbeing."
On Thursday, Oct. 27, students will have the opportunity to learn about the project by hearing from the head curator of HT94, Jason De León (P.h.D). De León is also a professor of anthropology and Chicano/a studies at UCLA and the founder of the Undocumented Migration Project — a 501(C)(3) organization with the mission of direct outreach to families of missing migrants.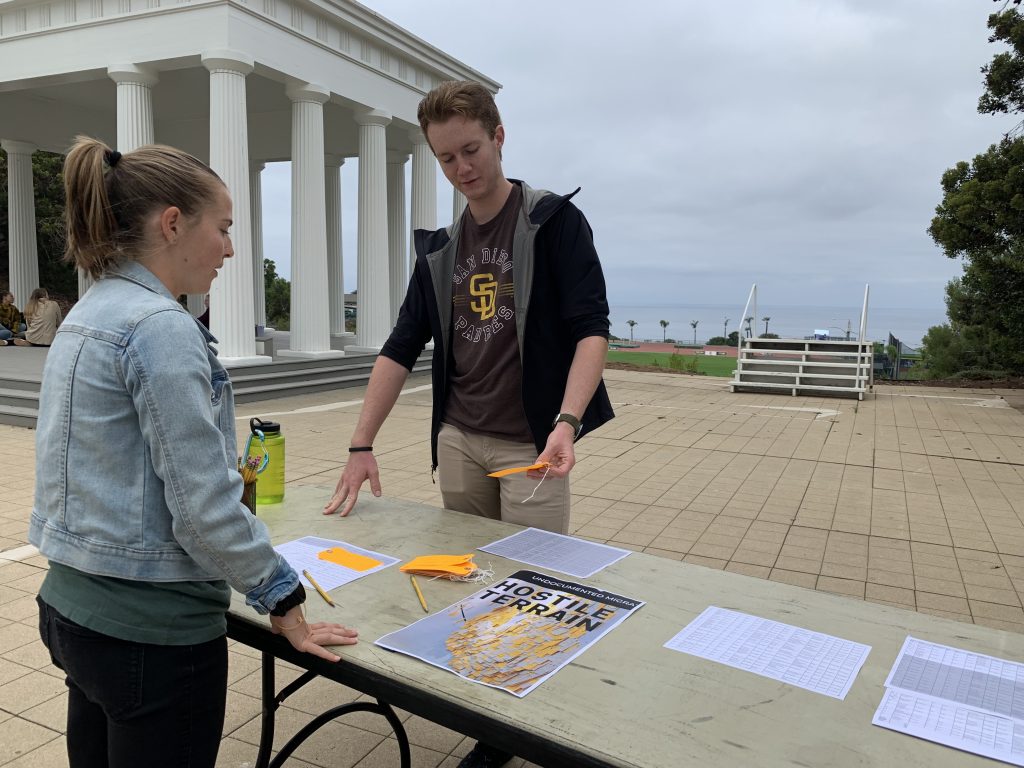 The following Q&A with De León shares his family's experiences with migration, the goals for this project and the lasting impact it has left on communities across the globe.
The Point: How does/did your own heritage and experiences inform the work that you do?
De León: It's a huge part. My mom is from the Philippines. My dad is from Mexico. I grew up in a household of immigrants. I grew up with lots of relatives who were undocumented. I spent a big chunk of my childhood moving back and forth between the U.S. and Mexico to visit my relatives. All of those experiences and background shaped my interest in this issue because it's so close to home. I think in a lot of ways, too, it's given me access to things as someone who is the child of immigrants and with Mexican heritage. Those things have helped facilitate the work I want to do in terms of language, but also having an understanding of where people are coming from. It's a personal commitment; it's not just an academic endeavor. It's something I really deeply believe in. I want people to understand what the lives of migrants are like.
The Point: How did your undergrad and post-graduate studies lead you to create the undocumented migration project?
De León: When I was growing up and when I was an undergraduate student, my background, in a lot of ways, felt like an impediment to work. I was a first-generation college student and I had to explain who I was because it often didn't fit the mold of who was supposed to become an academic. It wasn't until I started to do this work that I realized the things that made me who I am are a real benefit to the type of work I wanted to do. My undergraduate training at UCLA really was a place where they were supportive of thinking about anthropology broadly, thinking about all the different ways we can understand the human condition. What really got me through grad school was that I was surrounded by people who were supportive of the work, but also it was a place to work through ideas and build an argument.
The Point: I would love to hear about where the inspiration came about for this project.
De León: We've been doing exhibition work since 2013. A lot of the shows we had done previously were large-scale and expensive to install. I really felt like we were limiting ourselves. We had done a show in the spring of 2018 on migration. One of the elements of that was a wall map. That had red dots representing the people who died while crossing the U.S./Mexico border. We had this wall graphic up and people were looking at it, but I didn't think they quite got the weight of the whole thing. I had this idea: What if instead of making this wall of red dots, what if we printed out custom toe tags and we hand-wrote all the information of people who died and put them on this map in the exact location where these people were found?
I had students start filling out this work in my lab when I was at the University of Michigan. Immediately, I had students saying to me it was really challenging emotionally [and] mentally to sit down and write the names of the dead. I got the idea, what if instead of us building this wall map, what if we ask others to collaborate with us and build it themselves? Immediately we had like 30 hosts who wanted to do it. Then, it was 50, 75 and now it's over 150. People really picked up on the participatory element of it.
The Point: One of the project goals is "To construct an affordable, accessible and democratized exhibition." For this project, what impact do you think it has on creating a sense of community within the art?
De León: It's a different kind of way to engage with this topic. We're not inviting people to come in and look at something or be spoken to. We're inviting them to come in and sit down and actively participate. I think we've had a lot of success with folks doing these exhibitions and bringing in community members who maybe never would have come to campus. That's been really productive. I'm hoping it's helping build community outside of these exhibition spaces, but also I think in some ways it's perhaps building a community across the thousands of people who participated in this around the globe.
The Point: I read that the name Hostile Terrain 94 comes from the Clinton U.S. border enforcement policy known as Prevention Through Deterrence which happened in the '90s. What about our current context led you and your team to continue to create this exhibition?
De León: That is a security paradigm we're still using right now. It's been in existence for decades but we just never say the name out loud. Migrants are dying in Southern California. This is the result of these policies that are pushing people out into the desert and the mountains. Part of this project is to raise people's awareness that this has been going on for a long time and continues on as we speak. 
De León spoke at the Fermanian Business Conference room on Oct. 27 at 3 p.m. The following is a compilation video of De León's presentation.
Visit the Undocumented Migration Project's website to learn more about HT94 and other initiatives. https://www.undocumentedmigrationproject.org