On Friday, April 21, 2023, PLNU's on-campus radio station, Point Radio, put on a concert at Sunset Deck called, "Groovin' at the Point." Point Radio is currently under the direction of Rick Moncauskas, a professor at PLNU in the media communications department. This concert featured performer Samuel Pickerign and Saint Luna band.
The night began at 6 p.m. and continued until 7:30 p.m. An estimated 50 people showed up to the concert. Point Radio provided donuts from Spro n' Dough, free Yerba Mates, and set up a raffle in which students could win a whole case of Yerba Mates. Once everyone got their donuts and took a seat on Caf Lane, the concert began.
The opener of the night was Samuel Pickerign. He has never before performed at PLNU. He drove over 30 hours to get to PLNU's campus,and he performed a mix of original songs and covers, all on acoustic guitar. Samuel is a self-made artist, with a few singles on Spotify. He is also a sibling of current student Arielle Pickerign, second-year media communication major and staff at Point Radio. Arielle was part of the team who organized his performance at PLNU.
"I drove here from Minnesota, where I could not be wearing a t-shirt right now – we have very cold weather there," Samuel joked before his performance.
Before playing his last original song, Pickerign said, "I wrote this song this morning, and it still doesn't have a name." He then played his new song, which was a mellow pop song.
He then asked the audience to come up with a name for the song. However, the song still remains unnamed.
His set lasted for 30 minutes before he gave the stage to Saint Luna.
Saint Luna consists of five band members – Wick Hauser on guitar, Bradyn Jace on vocals, Paarsa Heidari on drums, Charlie Black on guitar and Max Katz on bass. The group members attend San Diego State University and had performed at Point Loma twice before the show on April 21. The band performed mostly originals, with a cover of the Backseat Lovers at the end. Their set lasted for an hour.
"It's tough to beat a view like this when you're performing," said Jace.
The group had to leave immediately after they played because they had another show to go to 30 minutes after PLNU's according to Jessica DeYoung, first-year media communication major and events manager for Point Radio.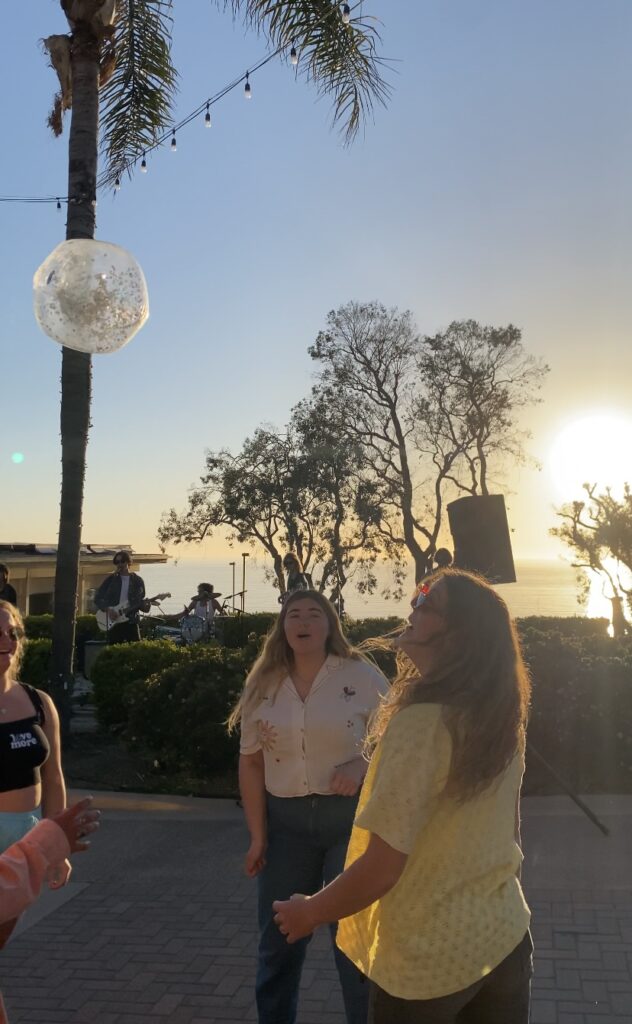 First-year student and literature major, Caden Chadwick passed through to watch the concert.
"I really enjoyed the chocolate donut with sprinkles, and my favorite song that they played was called 'Goldfish.' I really liked the guitar and the melody. I also thought their outfits were very aesthetically pleasing," Chadwick said.
Chadwick also mentioned the opener was a highlight.
"I liked hearing popular songs but sung a little differently than I normally hear them," Chadwick said.
"Today's show was one of the smoothest concert days we've had," said Becky Rookard, radio station manager and senior media communications student.
Written By: Adley Van Soest