As the end of the spring semester approaches, many Point Loma Nazarene University students are talking with their faculty advisors about the future, whether it involves creating a schedule for next semester or figuring out career plans.
For fourth-year computer science major Sara Peak, getting a well-paying job is her main goal after graduation. She came into college hoping to make a career in video game development and planned to get a master's degree in computer science. However, she has changed her post-undergraduate plans.
"At first, my [plan] was to go through undergrad and go straight to a master's," Peak said. "But I'm more focused on getting out, getting a job to help support myself and my future family down the line."
In an email interview, Sharon Ayala, vice president for marketing at PLNU, explained that students are looking to enter the job market with more experience. According to a poll from the higher education research firm Encoura, the top three things incoming first-year students are looking for in college are based on career building, she said.
"Internships are table stakes in a lot of ways. Students want to graduate from college with a more full resume," Ayala said. "In recent years, there's been a lot of talk around more practical coursework — learning in the classroom that's directly tied to career possibilities and skills. That could be group projects, credentials or certifications baked into a major or program or remote micro-internships that require real-world deliverables to real clients."
Fourth-year biology major Leia Laughlin started her time at PLNU by switching her major from biology to applied health; a major with lots of practical coursework. She planned to be a physician assistant before discovering it was not for her. She was much more interested in biology and education. Laughlin said something she has been grateful for in her education at PLNU is the ability to try different things, even if switching majors meant it took longer for her to get her degree.
"I went into college because that was the clear next step after high school," Laughlin said. "Originally it was a lot more career-driven for me, but it's become more of me finding my love for education and learning."
For Laughlin, her newly discovered love of education and learning is somewhat tied to the liberal arts curriculum at PLNU, which has allowed her to try different courses and majors, even if she didn't end up liking some of them or if they set back her career plans.
However, the additional general education requirements of a liberal arts school like PLNU do not necessarily mean a student's career is going to be delayed. Ayala said that many students do not realize what a liberal arts education entails. Yet they want to develop the attributes typically expected of students of the liberal arts, like critical thinking and lifelong learning, because employers are looking for well-rounded employees. She went on to say that regardless of major, students are looking for experience to help them in the job market.
"If you look at our most popular majors, students are most interested in health science (nursing, kinesiology, etc.), business (business administration, finance, management, marketing), the sciences (biology, chemistry) and psychology," Ayala said. "If you look at the jobs in our region that are considered 'priority,' those line up with more popular degrees like engineering, a field with a lot of job demand in San Diego."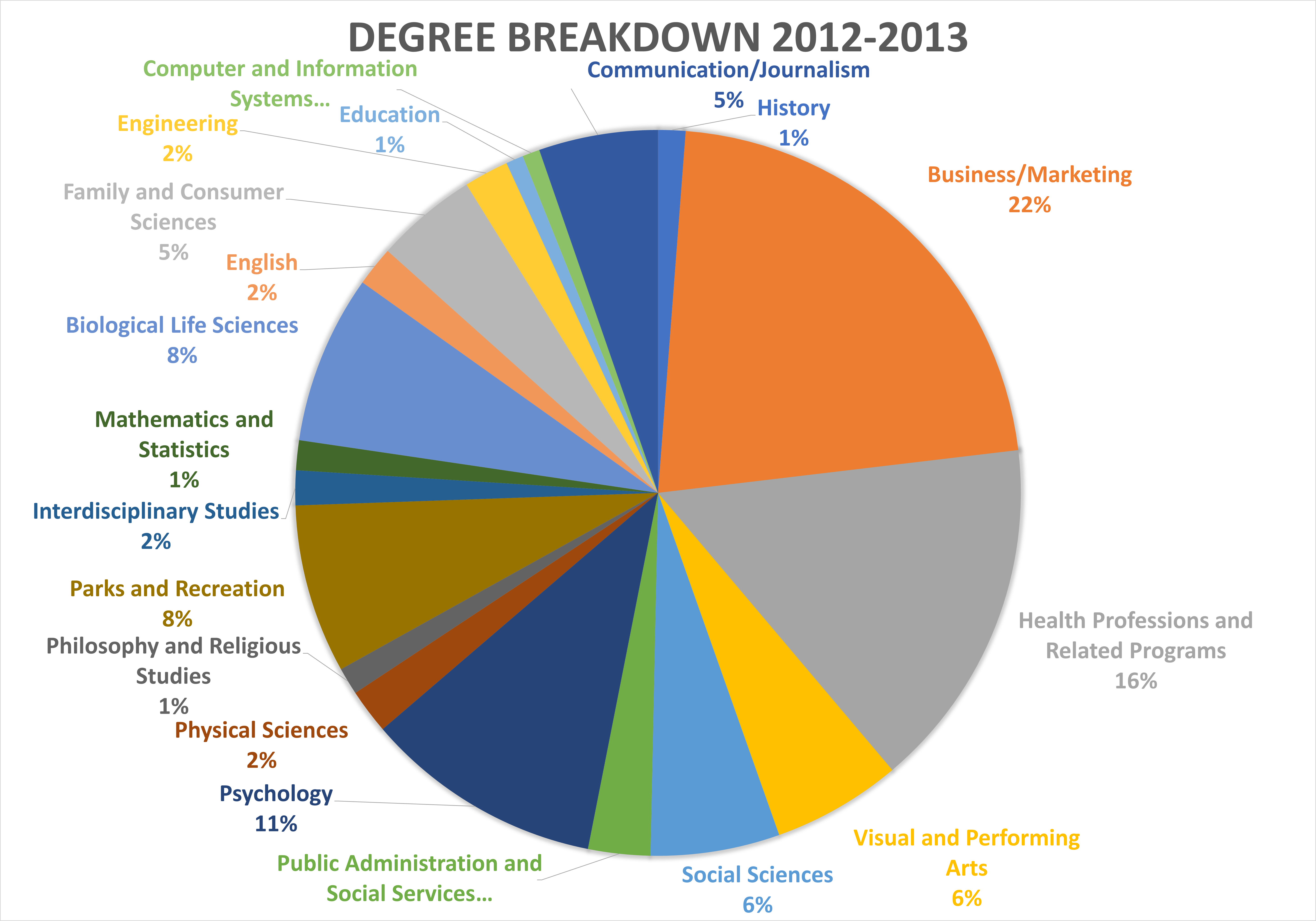 The percentage of total degrees conferred for each area of study in the 2012-2013 school year, per the institutional research common data set for the year. Graphics courtesy of Lily Damron.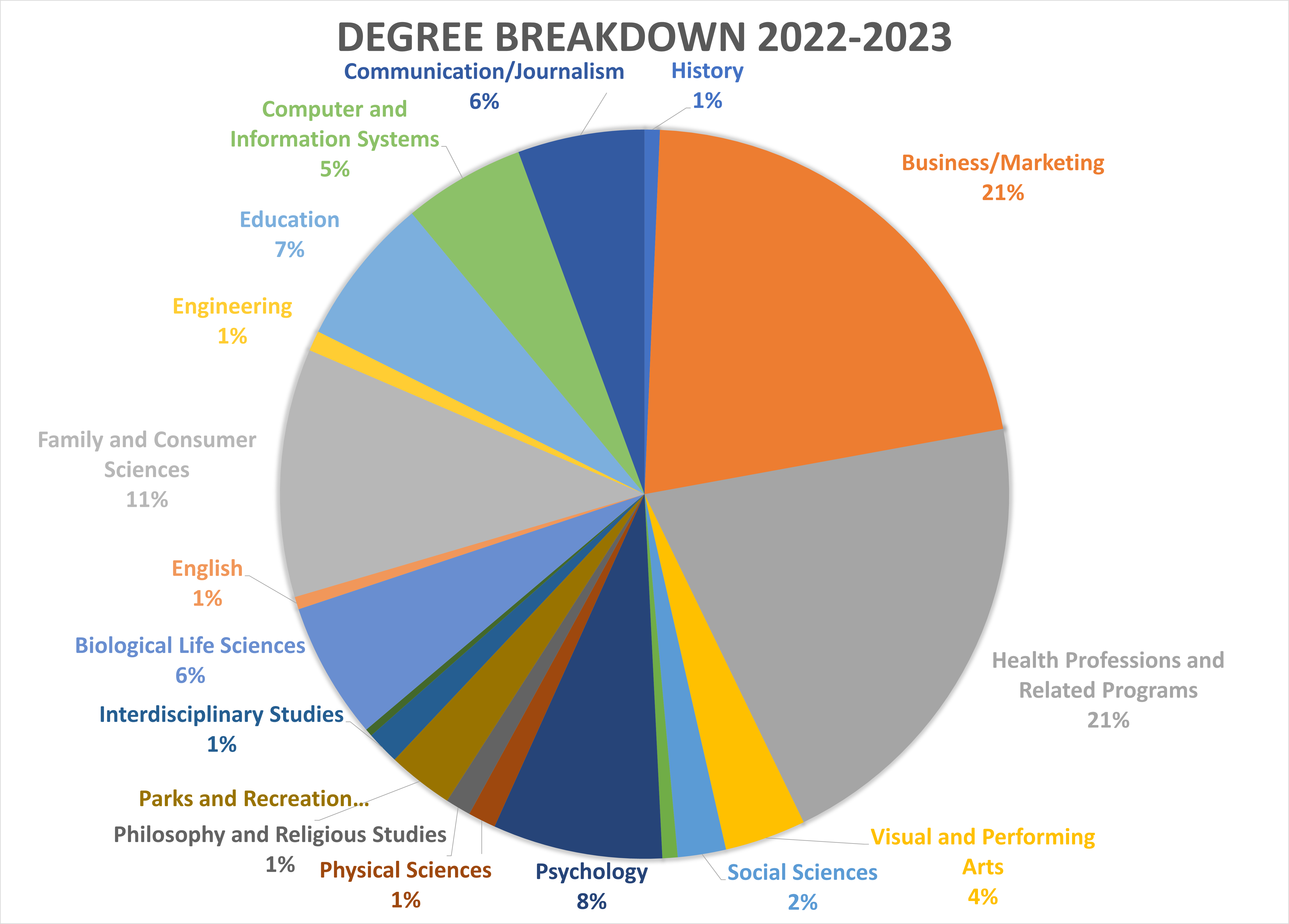 The percentage of total degrees conferred for each area of study in the 2022-2023 school year.
According to data from the Office of Educational Effectiveness, 42% of degrees awarded in the 2021-2022 school year were to students in business/marketing or health professions and related programs, which line up with the in-demand, 'priority' jobs Ayala listed. Looking at the trends in degrees over the last ten years, there has been a significant increase (of 1% or more) in the number of degrees awarded for health professions, family and consumer science professions and computer/information systems professions. There has also been a marked decrease (of 1% or more) in the number of degrees in visual and performing arts, social sciences, public administration and social services, psychology and English.
"Students are looking for all kinds of degrees, but more and more they're thinking about job outcomes first. They're asking: "What degree will help me get a job that is and will be in demand, that pays well, and that will be fulfilling for me?" Ayala said.
Written By: Lily Damron