As the sun set over the ocean, Point Loma Nazarene University students enjoyed a free dinner while singing along to "Over the Rainbow." The annual luau was in full swing outside of Young Hall, an evening full of food, games, music and a hula performance by Kūhai Hālau o Kawenaokalā'īokalani Pā 'Ōlapa Kahiko (also known as SD Hula Academy) on Friday, April 14. Hosted by PLNU's Hui 'O Hawai'i club in partnership with the university's Associated Student Body (ASB), the event was packed with students ready to enjoy a free meal and watch the sunset.
Hui 'O Hawai'i is one of the clubs under Multicultural Opportunities for Students Actively Involved in the Community (MOSAIC), and has hosted a variety of events this past year, including a paint night and a panel on indigenous culture in the fall.
MOSAIC club events often blend entertainment with some type of educational experience or conversation.
Fourth-year biology-chemistry major Miya Rutz is the current president of Hui 'O Hawai'i and helped organize the event along with other students from the club.

"This event really helps set up for next year because it gets the club a lot of exposure," Rutz said.
Rutz said that the meal tickets for this year's event, which were free of charge and available online ahead of time, sold out at 400.
"I like seeing how many different people are here," Rutz said. "ASB sponsoring the event helps with the money and publicity aspects."
Students from the club helped run the event by serving plates of food to those in attendance, including chicken katsu, teriyaki beef and kalua pig.
Second-year nutrition major Kaya Goodwin, who is from Hawaii, said she thinks the food is probably L&L Hawaiian Barbeque, a restaurant chain based originally in Hawaii.
"It's cheap, it's good, you can go in and get a plate lunch," Goodwin said. "So this is a little homey."
Goodwin said she is glad that the club puts on events like this for the PLNU student body.
"We have a small community here, but this feels like the community at home," Goodwin said.
After eating and playing games, students watched a hula performance by Kūhai Hālau o Kawenaokalā'īokalani Pā 'Ōlapa Kahiko. At the end of the performance, some students were invited to come to the front and learn some of the routine together.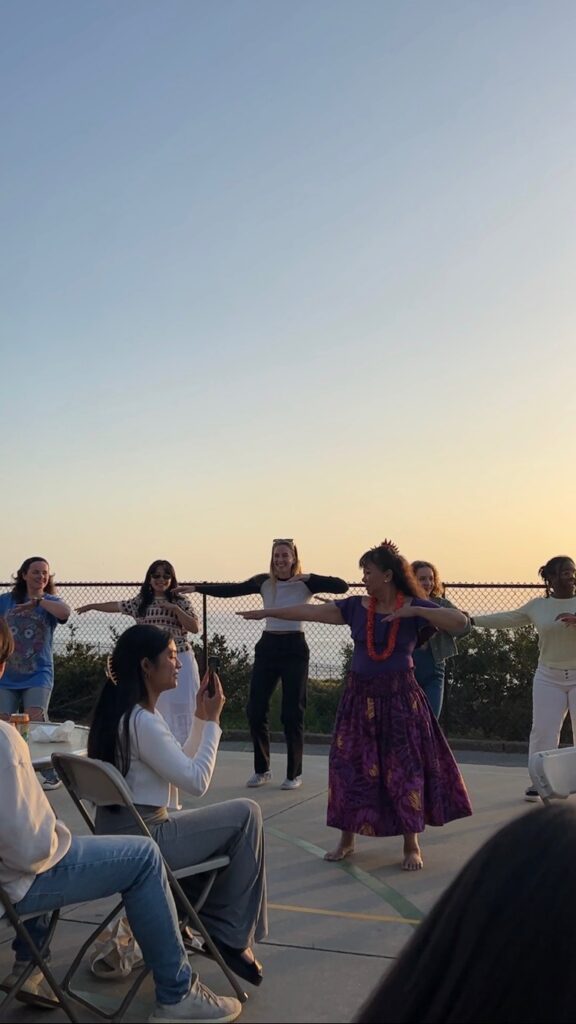 Second-year applied health science major Lauren Smuck went up to learn part of the hula routine at the end of the night.
"I went up there with my friend, and we had a blast," Smuck said. "I'm glad they had us go up and learn. Either that or the food was the best part of the night."
To learn more about upcoming Hui 'O Hawai'i events and club meetings, visit https://www.instagram.com/plnu_hawaiiclub/?hl=en. 
Written By: Reyna Huff