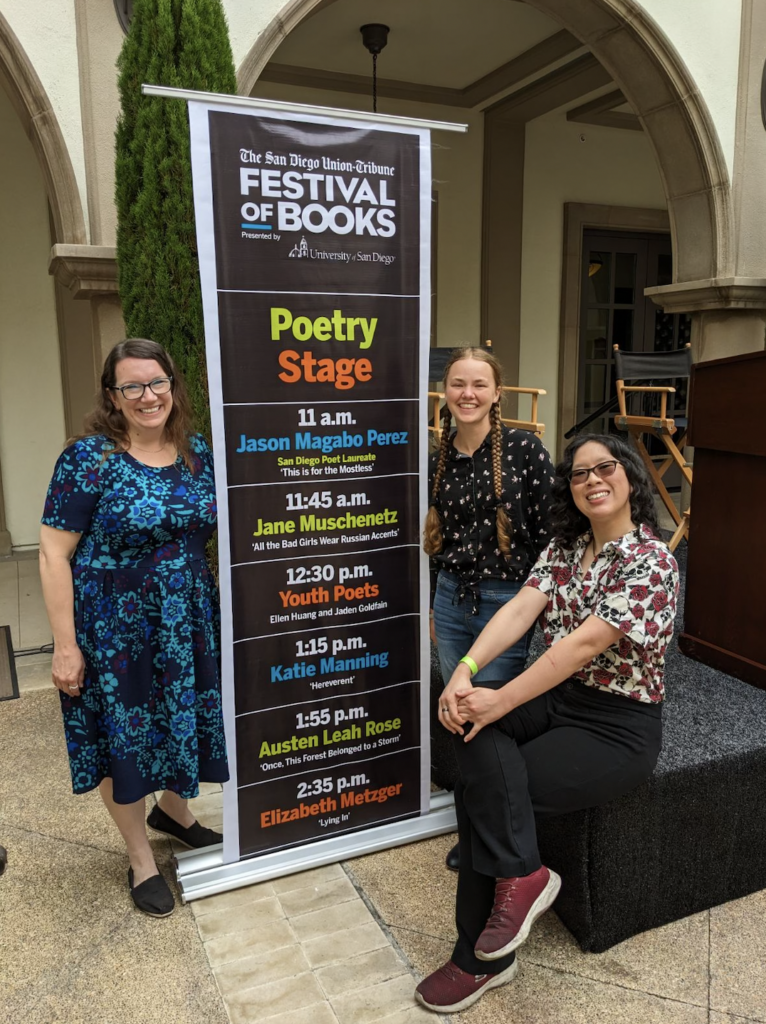 From poems inspired by beloved board games to fairytale stories, Point Loma Nazarene University alumni and faculty shared their work at the annual Festival of Books' Poetry Corner.
The Festival of Books took place on the University of San Diego's campus on Saturday, Aug. 19. The fair was open for all to attend, celebrating the community of literature and poetry fans. PLNU alumni Jaden Goldfain and Ellen Huang, as well as PLNU writing and literature professor Katie Manning, were selected to read their poetry during the afternoon of the event. Huang described the event as "an adult version of the Scholastic Book Fair."
However, this isn't the first year PLNU stepped into Poetry Corner at the Festival of Books. In years past, Manning as well as other PLNU students had the opportunity to share their poetry.
"This year, they invited me to read at the Poetry Corner stage and they once again asked if I'd recommend a couple of my students," Manning said via email. "I was thrilled that they wanted to invite PLNU students to participate in the Poetry Corner again!"
For Goldfain, this was her first time reading at a public event.
"This [was] a brand new experience for me, as I've never participated in a public reading before — all of my readings have been for my classmates or professors," Goldfain said via email. "As I head into Loma's M.A. of Writing program to specialize in poetry, what better time than now to experience how the public poetry community shares their art and supports one another?"
Manning said this sort of event is a moment to really connect and applaud the creativity found in the writing community.
"There's such a good celebratory vibe at the festival," Manning said.
For Huang and Goldfain, both said getting to read with their previous professor is both an honor and an exciting opportunity.
"It's wonderful to be reading in an event she's reading in too — and it's also not the first time," Huang said via email. "I've been honored to be invited to read at her book launch for her latest chapbook 'Hereverant,' as well as a few online readings with an audience of people from all over. It's a heartwarming experience seeing how 'real' poetry and other creative written works can get, seeing and hearing human reactions in real time."
Goldfain said reading alongside a professor whom she has looked up to was a surreal experience.
"I spent all of my undergrad admiring not only [Manning's] mastery in this craft but the tenderness and transparency with which she constructs her poems," Goldfain said. "She's truly a wonderful artist, and it's an honor for my voice to be heard alongside hers."
Huang read selections from her fairytale poems.
"I chose those because they are opportunities to show different fictional voices and characters and also because fairytales are so interwoven into our cultural collective psyche that it's easier to get the contexts I'm exploring deeper into," Huang said. "I also enjoy imaginatively romanticizing life however I can, even with dark humor. Myths and fairytales range so widely in emotional experiences. They aren't just the prince and princess falling in love."
Goldfain shared poetry from her recently completed senior honors project entitled "Alētheia: Poetry as Phenomenon" and other poems written since the completion of that project.
"I wanted this set to feel fresh for me, so I could stay present and engaged with the audience, so, with the exception of one piece, I [had] not read any of these to an audience before," Goldfain said.
Manning read several poems from 'Hereverent' (her newest book that came out in April), 'How to Play' (her chapbook that was published last year), and 'The Gospel of the Bleeding Woman' (her first published poetry collection).
The community that came together is just a small portion of the greater literature and poetry scene found in San Diego, according to Manning.
"The poetry community in San Diego is wide and varied!" Manning said. "There are so many different pockets around the city. I think there's been a lot more communication and connection across those communities in the last few years, but I also think it's great that there are so many different readings, open mics, organizations, publications, etc. Whatever your style or your interests, there's something for you here."
For Huang, the Festival of Books was an opportunity for her to step back into the writing community after a pause in gathering with the community in person.
"I'm an introvert so it can be a more heightened challenge for me to go seek community and 'skip the line' to talk about what really interests me, but events that bring together the nerds, writers, and bookworms help establish that context already," Huang said. "Events like this Book Festival bring that energy even more out into the open so more people are invited into created worlds of book and shared music of poetry."
To learn more about these poets, visit their websites.
Katie Manning: https://www.katiemanningpoet.com
Ellen Huang: https://worrydollsandfloatinglights.wordpress.com/published-shorts/
Jaden Goldfain: https://www.linkedin.com/in/jaden-goldfain