Many local businesses in Point Loma closed their doors due to the lack of customers during COVID-19, but some businesses adapted and continue to operate under the new pandemic regulations.
One of these local businesses that stands strong is OB Beans Coffee Roasters. Maddison Holly, an employee at OB Beans, gave a statement on how business changed recently. According to Holly, business is good and the shop seems mostly unaffected by the virus and regulations.
"It's been different and there's some anxiety just working, making sure you're checking all the boxes to follow health codes, but we've been doing pretty well," Holly said.
She said OB Beans has a lot of devoted local customers who visit often, which helps them stay afloat.
"For us, everything has been grab-and-go. We have three seats inside right now that just got put in today," Holly said.
Despite the new health and safety measures, Holly found a positive aspect in the situation, saying she enjoys seeing customers' creative masks.
"The funniest masks I've seen are the ones with fake teeth," she said. "Some people match their mask with their skin tone which throws me off, and we've also had people come in with swim trunks and underwear on their face. Another person tried coming in with a notebook over their face."
Becca Mescaro, a junior at PLNU who goes to OB Beans often, said she noticed less people coming in.
"I feel bad for OB Beans, but I also think they have a lot of regulars that'll keep them open during the pandemic," Mescaro said.
A local restaurant off of Sports Arena Boulevard, Kyoto Sushi, experienced negative effects from the virus. Michael Lei, the owner, said the sushi spot is struggling due to the pandemic.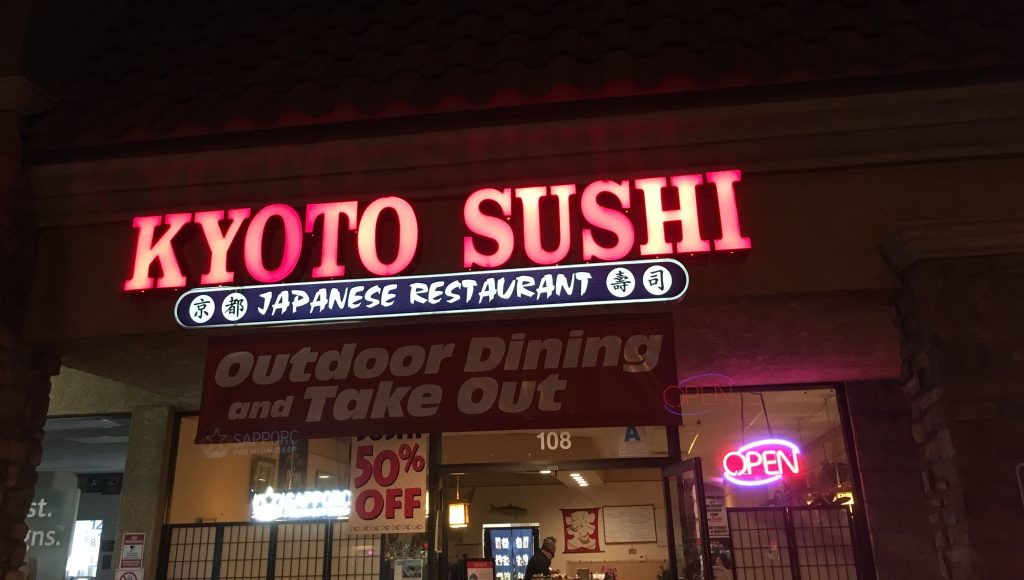 Lei said business "sucks really bad and has been down at least 50 to 65 percent depending on the day."
He said employees have to do more work, but the business generates less money. He predicted the restaurant will last, "at least another year, if we're lucky."
Northside Shack, the beloved acai spot, is a fan favorite of PLNU students. The owner, Pam Olvera said the virus actually had a positive effect on business.
"I've made more money this past August than any other year since I opened up my business seven years ago," Olvera said.
She said they had to completely remodel the shop and get rid of the outside chalkboard, which customers were allowed to doodle on, but can no longer do due to regulations.
"We've recently installed a take-out window that will be finished in about a month or so, that way the process will be easier," Olvera said.
Olvera said she thinks the business will do well as long as they adapt to regulations, and she doesn't foresee any limitations. Northside Shack recently put up a sign that reads, "no mask, no acai" and the business refuses service to anyone who won't adhere to the rules.
Jack Murphy, a junior at PLNU and local customer, said Northside Shack has been on top of everything when it comes to meeting regulations.
"They've been up and running like normal just to follow certain guidelines, but everytime I come in they're happy for the support," Murphy said.
Written by Imani Espino.