The views and opinions expressed are those of the author and do not necessarily reflect the official policy or position of The Point. Letters to the editor and opinion columns are subject to editing for length, taste, grammar and clarity. Any content provided by our op-ed contributors are of their opinion and are not intended to malign any religion, ethnic group, club, organization, company or individual.
Cassidy Klein is a 2020 PLNU alumna currently living in Washington, D.C.
On Nov. 7, a sunny autumn day, I danced to Whitney Houston in front of the White House. I jumped for joy on the very asphalt that, just months before, some of the same people around me were tear-gassed by police. I sang along to "Party in the USA" on the same pavement President Donald Trump walked along to get to the yellow church to my left where he had his blasphemous photo-op. To my right stood the chain-link fence surrounding the White House, recently re-decorated with Black Lives Matter posters to honor those who were murdered by cops. And in between — tired and relieved human beings, yearning for change and justice in this country, for something new to be made on this concrete soil.
Living in Washington, D.C. during the 2020 election season has been an experience I will never forget. D.C., where 93% of people voted for Biden according to the Associated Press, exploded with celebration last Saturday. And then, just a few days ago, the "Million MAGA" march happened on the same streets of Downtown D.C., where violence and hate speech erupted instead of champagne and confetti.
I moved to D.C. in August for a year-long fellowship with Sojourners magazine, where I've been working as an editorial assistant. I live in community with eight other Sojourners fellows in the Columbia Heights neighborhood. We share a budget, work together, cook and eat together, and figure out life together. Our work in the few months we've lived here heavily revolved around this election — fact-checking election coverage, engaging in voter protection, peace and nonviolence training and more. The work is far from over.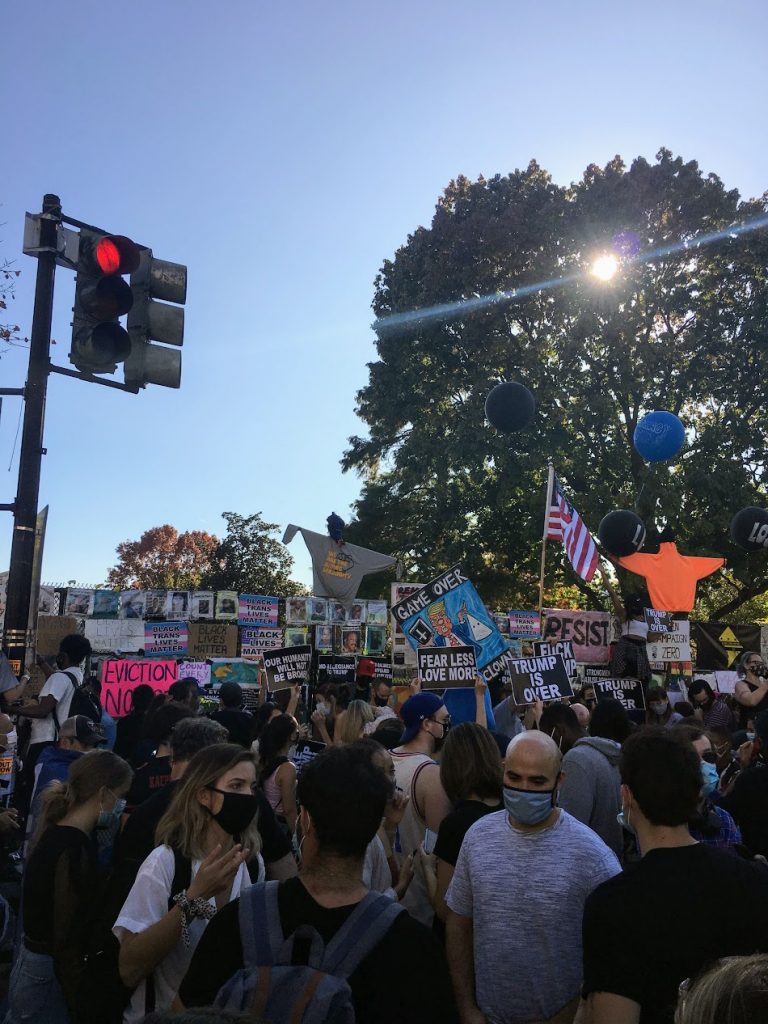 People who don't live in D.C., those who fly out here for rallies and see this place as merely a hub to reach big and powerful people, often miss out and neglect the fact that real human beings live here. Columbia Heights (though it's becoming more and more gentrified) is a predominantly Black neighborhood. From the Sunday night drum circles at Malcolm X Park to the family-owned restaurants and bookstores to the impromptu open mics on our neighbor's front porch — there is so much culture and life in Columbia Heights. This is D.C. to me.
The energy here is intertwined with power. It's easy here to get swept into the fast-paced culture of news cycles and polarization and echo-chambers, where human beings are reduced to numbers and God is used as a political tool. To live in this city with authenticity, I'm learning, means slowing down, paying attention, listening, resisting binaries and objectification, and taking anti-racism, anti-oppression and anti-empire seriously. This is work that starts with my immediate neighbors: my housemates, my neighborhood, my city.
In front of the White House, I danced remembering my neighbor Elaine, who is houseless, and the hope I have that she will consistently have a roof over her head and be given proper healthcare. I celebrate this moment remembering the folks I see sleeping on the sidewalk when I walk down 14th Street in my neighborhood. The fact that people live without homes or healthcare a few blocks from ivory government castles — this is an uncomfortable and constant reminder that there is work to be done.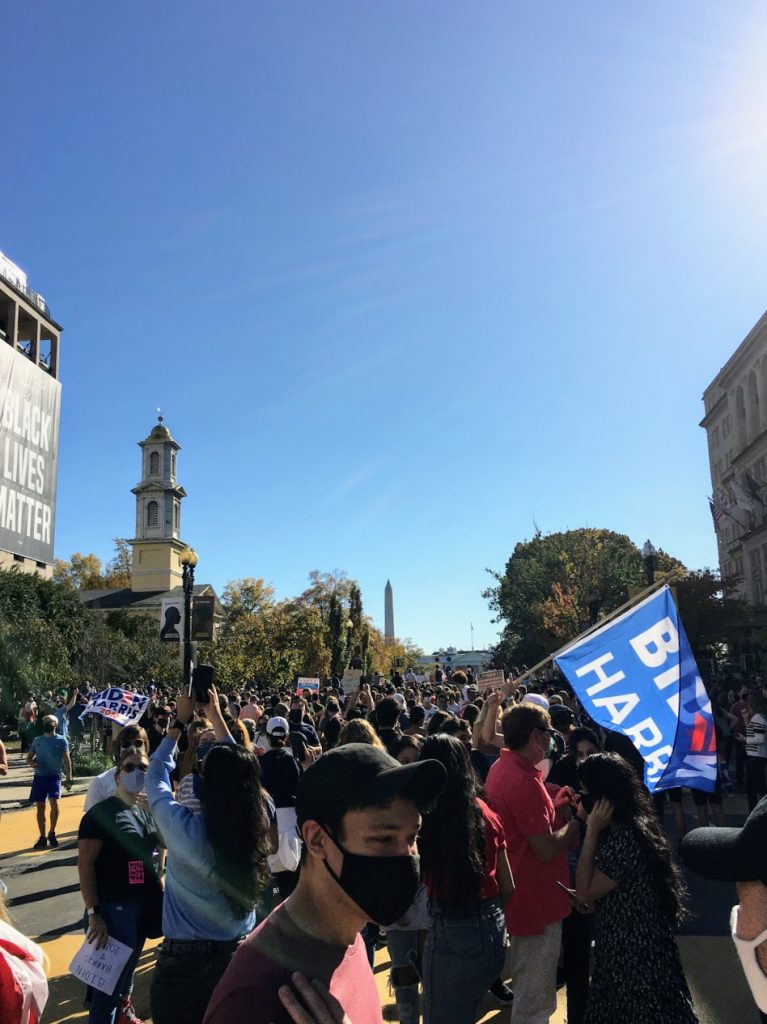 It is intimidating to live in such proximity to power, power that often feels unjust and abused. It's also an exciting honor to march on the same streets that so many social justice and human rights advocates marched on before me — and I become a small part of that legacy.
Hope is found in fleeting moments of resistance to injustice, moments of celebration that rejuvenate us so we have the energy to continue to create a world where every human being can live with dignity and creativity, as Howard Thurman said. I'm here, and I'm ready to keep dancing and doing the work.
Written By: Cassidy Klein