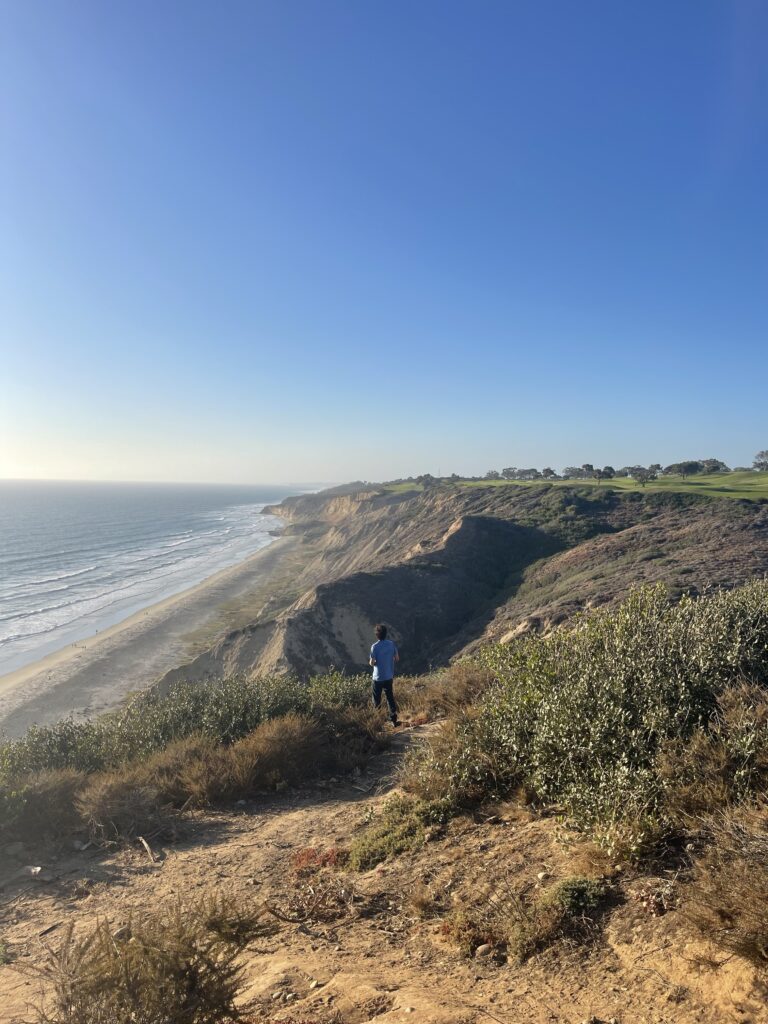 Cabrillo National Park
While only 3.4 miles from campus, entering Cabrillo National Park feels like landing on another planet. Heavy fog sits atop an endangered lichen layer creating an ethereal and alien plane. The 2.5-mile Bayside Trail boasts views from downtown San Diego to Coronado all the way to Tijuana. The trail follows an old military road with World War I- and World War II-era bunkers visible from the hike. For $20 per vehicle or $10 per walking person, you too can be immersed in the vast flora, fauna and history. However, frequent flyers may find it more efficient to opt for the $35 annual pass.
Torrey Pines State Natural Reserve
Torrey Pines State Natural Reserve sits 14 miles from campus in La Jolla. Nestled into the coastline, the rugged cliffs are home to rare Torrey pine groves and abundant wildlife. The panoramic ocean views and unique geological features help curb the admission fee which ranges from $15 to $25 per vehicle, depending on demand and parking availability. However, if you don't mind a longer walk, there is free public parking on Highway 101. The six trails range in distance from two-thirds of a mile to 1.3 miles allowing for a quick hike, or they can be looped to the desired intensity.
Potato Chip Rock
Potato Chip Rock is a quintessential San Diego hike ending at, well, a potato chip-shaped rock. The 26-mile drive is a little farther off campus, but it is perfect for those looking for a more challenging hike at eight miles and gaining over 2,000 feet of elevation. Off of the Mount Woodson trail, the hike includes breathtaking views and unique rock formations (regrettably not food shaped). The free weekday entry makes up for the longer drive; however, there is a non-resident entrance fee of $10 on weekends and holidays.
Annie's Canyon Trail
Located within the San Elijo Lagoon Ecological Reserve sits Annie's Canyon Trail. The quick, 2.3-mile hike is located 19 miles from campus in Solana Beach and boasts free, roadside parking. The flat trail quickly changes terrains as you enter into a sandstone slot canyon. While it is an easy trail, there are numerous ladders and stairs you must traverse to get through the canyon which can become strenuous. The Tatooine-esque formations make for an otherworldly and astonishing hiking experience.
Three Sisters Falls
While only 38 miles off campus, Three Sisters Falls looks like it could be in Colorado. The lush foliage opens up to three-tiered waterfalls; it is truly magnificent. This 4-mile hike has a 1,000-foot elevation increase and the terrain is rocky, making it an intermediate trek. After journeying through the rugged terrain, take a dip in the crystal clear waters and enjoy the fruits of your labor. Free parking is available at the trailhead.