Point Loma Nazarene University Alum Mike Planeta would have never pictured his early 30s consisting of reality TV and starstruck teenage girls, but after appearing as a contestant on the 17th season of "The Bachelorette," "Mike P" quickly rose to internet stardom as a fan-favorite, particularly among the franchise's Christian viewers.
Planeta graduated from PLNU in 2017 with a bachelor's in exercise and sport science and a master's in sport management. During his time at PLNU, Planeta was a member of the basketball team. Last weekend, Planeta was responsible for introducing PLNU's newest addition to athletics, Splash the Sea Lion, at the Homecoming tailgate in the Greek Amphitheater. After Splash's debut, Planeta and I sat down to discuss all things PLNU, and of course, touched on the whole Bachelorette thing.
As reality TV is my guilty pleasure, I got a little bit sweaty when I first saw the one and only Mike P in the flesh. I wondered if he would be anything like how he appeared when he was on the show. Was he really humble? Did fame change him? Are his eyes as mesmerizingly blue as they looked on the show? How would he react to being interviewed by a 19-year-old amateur journalist wearing an Elvis costume using the voice memos app as a recording device?
Well, I'm here to report that Planeta really is all that and a bag of chips. He didn't bat an eye when he learned that his interview would be conducted by a female Elvis impersonator, and was quick to crack a joke surrounding the absurdity of his "fame." He was gracious and honest, and even gave me the chance to experience a real "can I steal you for a sec" moment when an adoring fan interrupted our interview for a photo op. Planeta described himself as "an open book," and proved true to his word, answering all of my questions with honesty and grace.
Planeta was quick to express just how much Point Loma and the PLNU community truly mean to him.
"I love this school, I don't think people realize how much I love this school," Planeta said.
His biggest takeaway was that how you treat people matters.
"Starting from the top all the way down to the bottom of the students, everyone here really strives to treat others with respect, and if they don't, people will own up to it. What I love about this campus is that there really is a sense of humility, and I actually took a lot of that when I went on [The Bachelorette]," Planeta said.
Speaking of "The Bachelorette," Planeta revealed that prior to being on the show, he had never watched an episode, "The first time I knew who Katie was was when I stepped out of the limo. I didn't know anything about her, I didn't know her, but I'm always willing to give somebody a fair shot."
This time last year, Planeta had four separate dating shows reach out to him via Instagram within the span of ten days.
"I actually had gotten reached out to for about four years and I thought it was a joke so I never answered," Planeta said.
This bombardment was the last straw for Planeta, so after being reached out to by "The Bachelorette" a second time within a week, he "looked up into the sky" and asked for God to make clear whether or not he should go on TV. Three weeks later he was in quarantine waiting for the season to start.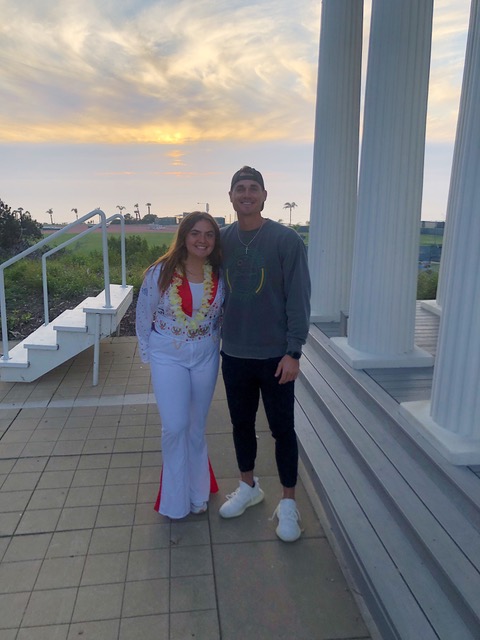 Many people in Planeta's life questioned his motives for going on the show, as The Bachelor franchise has a very secular reputation.
Planeta said part of his faith was being tested in the sense of whether or not he was answering the call to go where God wanted him to go.
Once he got the discernment he was looking for, Planeta knew that God was going to use him during his time on the Bachelorette, whether that meant being put into uncomfortable situations or being a target due to his openness surrounding celibacy and his faith. All that mattered to him was that he was showing up and being the most authentic version of himself.
"I didn't know whether or not people had ever experienced Jesus on the show, so I wanted them to not only see me, but to see Him through me, and the only way that was going to happen was if I treated them with respect and showed up for them," Planeta said.
Planeta strived to carry himself with humility, serving people in the best way possible and hopes that is what others were able to take away from his presence on "The Bachelorette."
Planeta credited PLNU for teaching him the importance of serving others and being authentic. A few of the professors that impacted him during his time as a student were Bob Smith, Brad Kelly, and Matthieu Rouffet, as well as Ted Anderson. Senior Associate Athletic Director Brian Thornton was also named as a positive influence during Planeta's days at PLNU.
If he could give one piece of advice to current PLNU students, Planeta would urge them to "be present, because you don't realize how fast your time here goes. Don't let stress stop you from investing in the people around you because this campus really is a diamond in the rough. I don't want people to be so focused on things that really aren't going to matter in the grand scheme of things."
As far as future plans, Planeta hopes to use the platform he gained from his time on "The Bachelorette" for good and hopes to inspire others to find their purpose. He plans to continue to talk about his relationship with Jesus, as he cited his faith as his biggest purpose in life.
"All I care and what I do is that people get to experience Jesus," Planeta said.
Written By: Lila McNeal