Walking around our campus can feel like a walking meditation sometimes with panoramic views of the ocean, layers of coastal cliffs and peaceful nooks and courtyards all throughout. But where can you sneak off to get a solid view, solitude or just stable ground for practicing yoga?
With the busyness of the fall semester, we could all use a go-to spot where we can retreat and take in serenity.
Whether you are looking for a place to do some quiet reflection and journaling, or trying to find a spot where you can do yoga uninterrupted, here are some spots where you can engage in personal connection.
The hidden swing on Sunset Cliffs
This hidden gem right on the edge of campus is the perfect place to find solace and reflect after a busy day. It's also partly a treasure hunt which makes it more fun. It's located in the backyard of Young Residence Hall, only a short walk down the trail entering Sunset Cliffs. Here you will see behind the parking lot an off-shape tree leaning to the left. Walk down the trail and make a right until you see the crooked tree.
Sunset Cliffs – The Cove on Adair Street
A hop skip and a jump away from campus, check out this particular cliff spot on Adair Street which is a lot less crowded than the main sunset spots. It offers a level, bump-free ground for you to roll out your yoga mat and look out over the serene ocean bluff. Tip: This is adjacent to Little Lion, a great coffee and breakfast spot to grab a bite after your yoga sesh.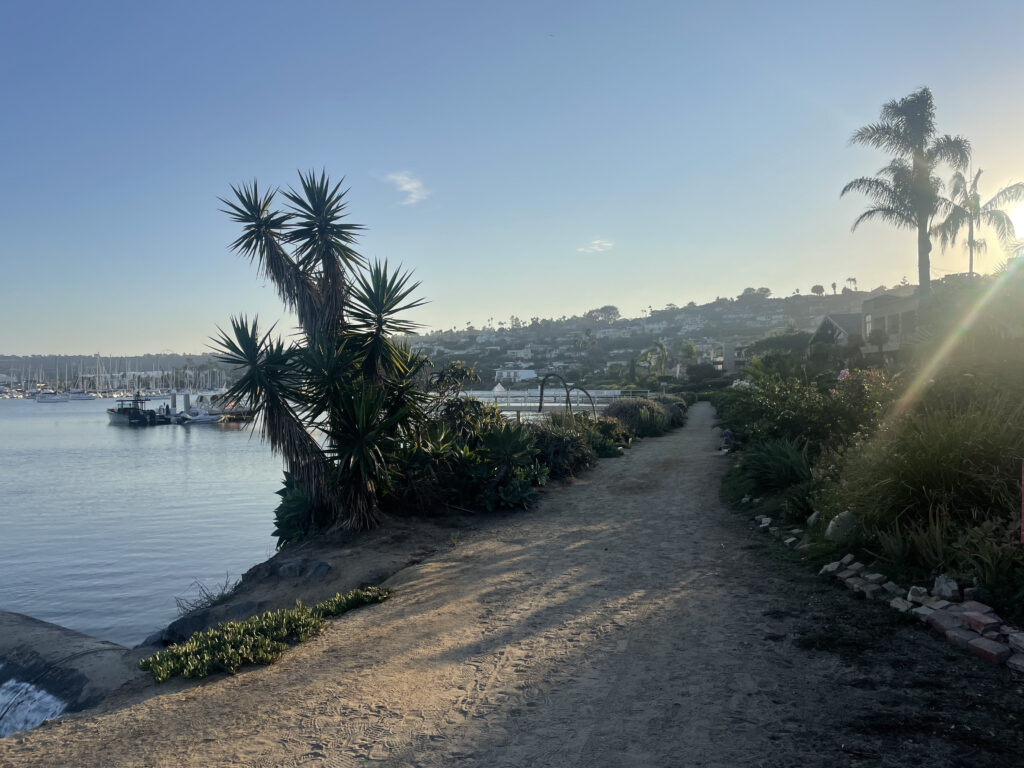 This spot is perfect for taking a nice, little hike away from campus, but also to not stray too far. Bessemer Bench is a historical San Diego landmark great for sitting and overlooking the bay, but with the bonus of a walking trail with flowers and greenery throughout. It is also at zero elevation, making it perfect for a walking meditation.
Stairs to look out Sunset Cliffs
This spot is great for those looking to take in the beauty and energy of the ocean while meditating or practicing breathwork. You can bring a towel or yoga mat and sit on the bluff overlooking the water, or head down the staircase to look at the marine life inside the tidepools. Just remember to watch your step while walking on the slippery ocean rocks!
What's better than cute dogs? Fields of grassy pasture where you can splay out your yoga mat and do some yoga under the trees. Dusty Roads is a short driving distance from campus and offers an expansive grass area where you can dog and people watch. It's a great place to breathe, journal and ground yourself.
The Prescott Chapel
Though it might be an obvious option, Point Loma Nazarene University's Prescott Chapel deserves mentioning. Renovated in 2018, this chapel right in the heart of campus provides a fresh and serene environment to practice silence and contemplation. It offers small sections for quiet prayer and reflection along with natural lighting that pours in from a mixed wood ceiling. It's a great place to be inspired and take solace while connecting with your breath and God.
Always keep in mind that your daily yoga and meditation practices can be as simple as taking deep breaths on your way to class or paying close attention while you get dressed in the morning. Whether or not you decide to check out these yoga and meditation spots, mindfulness at PLNU is always within reach.