Since the moment their seasons concluded at the end of last fall, Point Loma Nazarene University's fall sports teams have been preparing for their 2023 seasons. After trips, camps and countless hours of practice, women's volleyball, women's cross-country, women's soccer and men's soccer are ready to show off their talents this fall.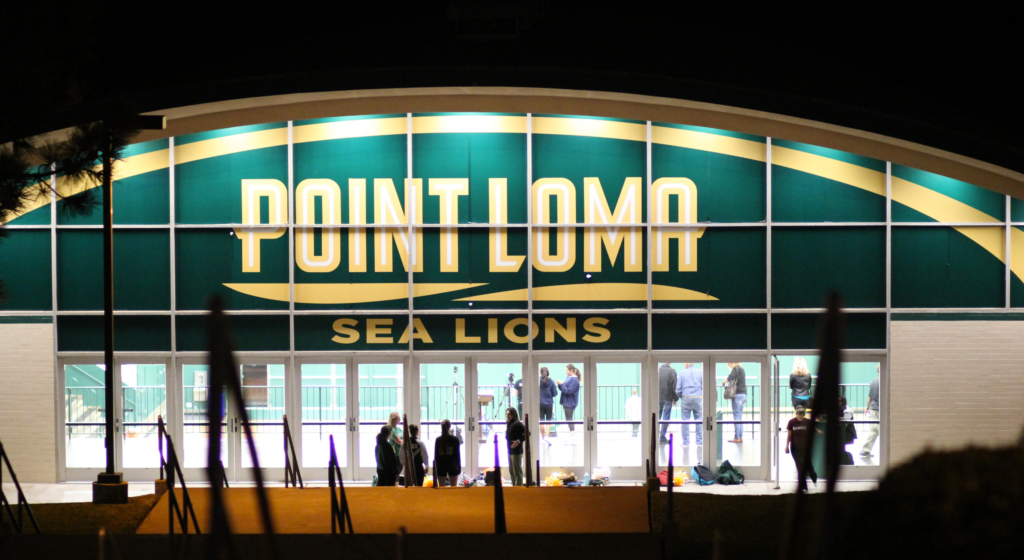 Women's Volleyball
Heading into this year, women's volleyball is feeding off the momentum from its 2022 season — the team's best season since joining the PacWest Conference in 2012.
Since then, led by head coach Jonathan Scott, the team has kept on rolling, welcoming six new players — five first-years and one graduate transfer — and getting touches whenever they can. While much of their summer training is on their own, this summer the Sea Lions went on a foreign tour, which allowed the players to train and play together for a portion of the summer.
"We were super blessed with the opportunity to go to Rio de Janeiro, Brazil," said fifth-year MBA student and middle blocker Grace Hicks. "This was an amazing experience that allowed us to play against some of the local club teams and be a part of a beautiful culture."
Not only have the players been perfecting their craft, but they have been teaching it to others as well. Most of the team worked volleyball camps for high schoolers over the summer.
With a base of summer training under their belts, Hicks said the team is "on a mission to accomplish something great."
"Those who have been to our games in the past know that we are a high-energy team who won't bow down to anyone," Hicks said. "And for those who are new, you will see how exhilarating it is to be in the gym."
First local competition: Friday, Sept. 1 at 5 p.m. at PLNU's Golden Gymnasium versus Seattle Pacific University.
Women's Cross-Country
After an 18th place finish at NCAA Division II Regionals last fall, the women's cross-country team has not slowed down its pace.
Right when cross-country season ended in the fall, every member of the cross-country team transitioned into the distance squad for the PLNU women's track and field team. Once track and field ended, head coach Landon Bright presented the team with their summer training plan to gear up for cross-country again.
"We got workouts sent for every day from Coach Bright," said Sarah Pratt, fourth-year runner and biology major. "We had a lot of just building up our mileage to prepare for more intense training during the season."
With hundreds of summer miles logged and eight newly-added first-year runners, the cross-country team is ready to start its journey to the PacWest Championships and beyond.
"We're a pretty young team, so I'm excited to see how we grow throughout the season," Pratt said.
First local competition: Cougar Challenge, Saturday, Sept. 23 at California State University San Marcos' Mangrum Track & Field.
Women's Soccer
Last fall, the women's soccer team put up an overall record of 13-3-4, barely missing the second-seed honor of hosting the NCAA West Regional, and made it to the second round of the regional for the fourth-straight full season.
However, the Sea Lions' run ended in the second round with an all-too-familiar loss at the hands of Western Washington University. Having been eliminated from the NCAA West Regional by WWU for the third-straight season, the women's soccer team is hungry for a different outcome this year.
"We hope to continue playing into December and are looking forward for what this season has in store," said fourth-year marketing major and defender Emma Thrapp.
Part of the formula for a different outcome means bringing in new talent and filling in gaps left by athletes who graduated. Head coach Kristi Kiely bolstered the Sea Lions' roster with nine new players — six incoming first-year students and three transfers.
Another part of the formula is consistent training. Much of the team's summer training is individual, but the Sea Lions did get to be together sporadically for summer ID camps, their training camp last week and their trip to Africa in May.
The Sea Lions visited Uganda and Kenya where they worked with those in need, performed manual labor and ran soccer clinics with 100 children from the community. The trip prepared the team with tools for the season that go beyond just soccer techniques.
"We were greeted with such joy and love and hope to bring these things with us into this season," Thrapp said. "We play a lot of very talented teams this year both in preseason and our conference, and we are looking forward to the challenge."
First local competition: Saturday, Sept. 2 at 3 p.m. at PLNU versus California State University Los Angeles.
Men's Soccer
The men's soccer team finished its season last year on a high note with a win over the first-placed Dominican University. That win secured a third place finish in the PacWest Conference for the Sea Lions, pushing their overall record to 9-6-3 and their PacWest record to 6-3-1.
Looking to improve the team's record this year, head coach Phil Wolf and assistant coach Brett Evans, who serves as the team's recruitment coordinator, brought in 18 new players, three of whom were able to enroll in January and have been practicing with the team since the spring.
Of the 18 new athletes, 12 are incoming first-year students this fall, promising a bright future from what Coach Wolf told PLNU's athletic communications office is his best recruiting class during his time at PLNU.
Fifth-year winger and business administration major Austin Lavell agrees with Coach Wolf, calling this year's team "one of the most competitive teams we've ever had."
With the new athletes meshing with the returners during the team's brief summer training camp last week, the Sea Lions are ready to introduce the new team to the PLNU community and start the competition.
"Whether they want to believe it or not, students being at games can truly help us win," Lavell said. "We're hoping to bring the first league title to Loma this year for men's soccer."
First local competition: Thursday, Sept. 7 at 4 p.m. at PLNU versus Seattle Pacific University.For each team's complete fall schedule, visit plnusealions.com.