Point Loma Nazarene University's surf team claimed its seventh national title on June 18, 2023, at the National Scholastic Surfing Association (NSSA) National Championships at Salt Creek in Dana Point, California.
After the team fell short of winning the state championships in Huntington Beach on March 5 of this year, stakes were set higher going into the NSSA National Championships.
The team used the disappointment they felt from the state competition to fuel their performance at nationals, finishing with a team score of 115 points and beating the second place team, Saddleback, by a total of nine points.
"I am very proud of my teammates and the work we put in last season," said third-year finance major and surf team co-captain Neil Piper. "Seeing the team succeed is one of the best feelings."
PLNU students Kennedy Butler, Ethan Mudge and Noah Kawaguchi placed in the top five of their divisions.
Kawaguchi, a third-year business major, placed first in the men's shortboard division after advancing through five rounds to get to the finals. Prior to this competition, Kawaguchi had never made it to the final round for men's shortboard.
"I didn't even make a final the whole college season," said Kawaguchi. "I just bogged at every contest and didn't get any good results, until it came to the final nationals competition."
This is one of the reasons why this win was so special to him.
"I was tripping, it didn't even feel real. I can't describe in one word how it felt. I was baffled," said Kawaguchi.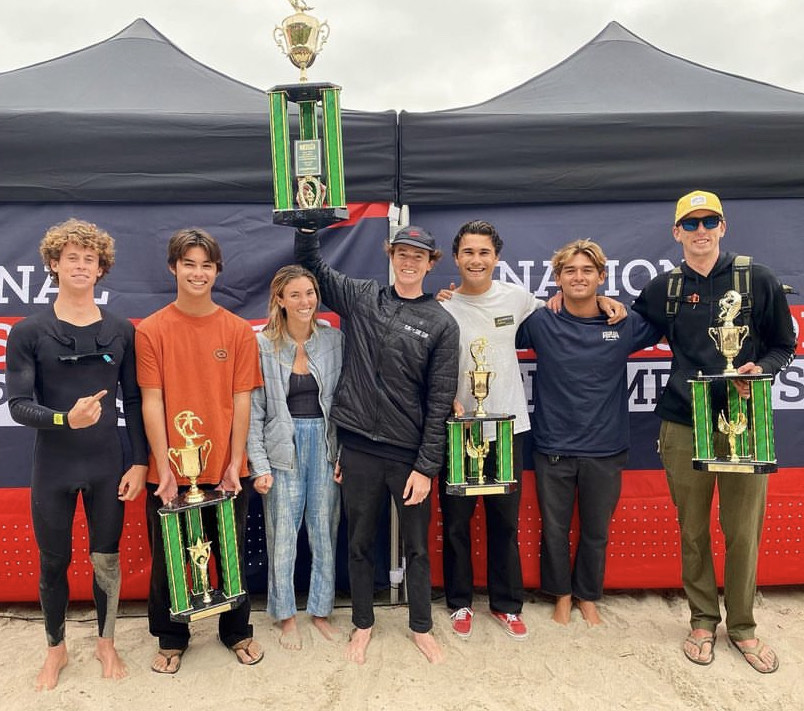 Leading up to the event, Kawaguchi was unsure if he would be able to attend the championship because of prior commitments. However, he said when his schedule cleared, he knew he would be making the flight from Hawaii to California just to compete.
"I knew I wanted to surf the wave, and I felt good about the way I had been surfing," Kawaguchi said. "I had a good feeling about the event."
On top of a freshly claimed national title and a trophy, Kawaguchi received a $1,000 prize check courtesy of the Dr. Doonan awards. Kent and Bryan Doonan are twin brothers who both won the National Championships in 1992 for the University of California San Diego. Now, the brothers are both doctors and offer awards for the College Men's National Champion and the National Open Men's Champion.
"I didn't save it. I spent it all to buy a new laptop," said Kawaguchi. "It was a good investment. I got to make my new video on it."
"Reform" is Kawaguchi and third-year business major Cam Winkleman's latest surf video. It is expected to premiere within the next couple of weeks. Updates regarding the film will be posted on their Instagram accounts @noahkawaguchi_ and @cameriiin.
Looking toward the future, Piper and co-captain fourth-year applied health science major Jaden Rea hope that last year's success will spark the interest of new students and keep the team motivated to have another fortunate year.
"It feels great going into a new season after our nationals win," said Rea. "It gives the team a great boost of confidence and also gets the new and upcoming surfers fired up to be a part of a team of this caliber. We hope to continue our streak of success into this new season."
Although NSSA college events don't begin until mid-October, the team has a few events coming up for the beginning of this school year.
"We are looking forward to our upcoming team tryouts, meetings, practices and events," said Piper.
This year's tryouts will be held on Sept. 23 at Sunset Cliffs. Sign ups have already been closed; however, spectators can gather on the Cliffs to watch whomever may be added to the reigning national champion surf team.