Hello readers, welcome to the second edition of Loma Drives. My name is Wesley Aring; I am a second-year multimedia journalism major, and this time around, I introduce you to second-year commuter Nicholas Pinuelas and his 1960 Ford F100. It's a single-row bench seat pickup with an iconic and well-named "mileage maker" 3.7-liter straight six.
For Pinuelas, this truck was a gift for himself. He said he wanted a truck for himself that he could pour into.
"Do I buy a new car that I'm going to hate myself when I look in the mirror as I drive it? Or, do I find something that's really nice, and that I can do all the work on it myself, and actually enjoy it?" said Pinuelas while explaining his philosophy behind buying the older truck.
That began a five-year journey for Pinuelas and his truck.
"I was looking for something aesthetically pleasing, with just the right amount of love to it, so I could take that and run with it," he said.
An essential and interesting part of this specific third generation of "The Ford F-series" is its in-betweenness of body styling. The early Ford pickups featured classic round swooping edges on the fenders and hood of the truck, which really stood out as an elegant post-war car design.
Then, in the years directly following, the "third-gen" pickups varied in bodywork by year in some cases. The designs from 1958 to1966 slowly morphed, leading up to the boxiness of car design in the 70s and 80s, and those in-between trucks are the host of some interesting design choices. It almost seemed like Ford designers were searching for an identity in their pickups at the time.
This identity really shone clear through around 1967 when we got that classic tall-looking box of a truck that we all know (and some) love today, despite the modern Ford pickup's reputation regarding reliability.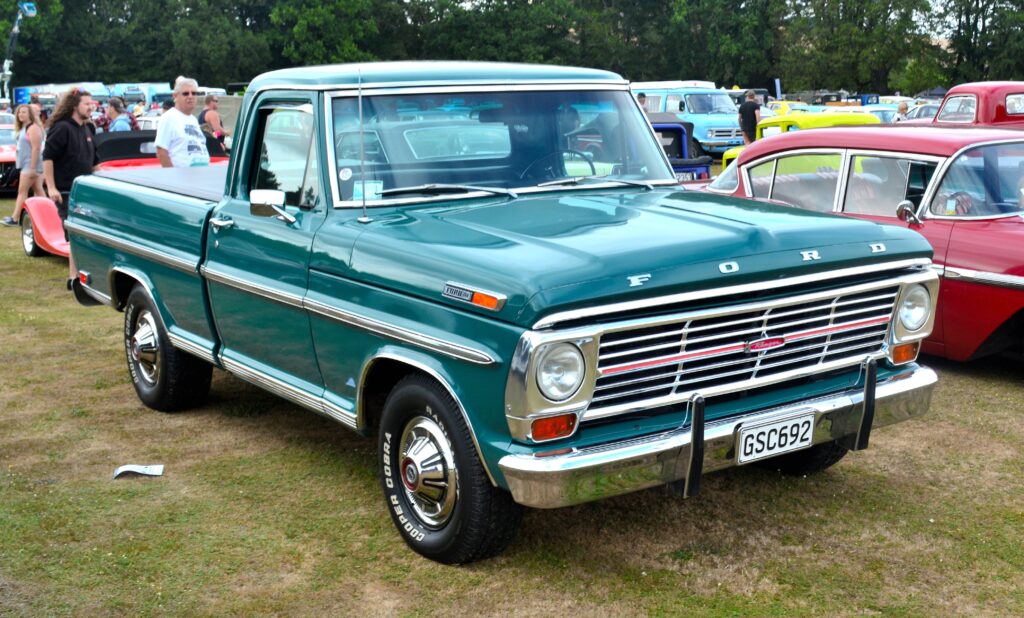 Interestingly, this truck makes a strong argument for the idea that the economical design of cars is cyclical. Today Ford, GM and Dodge trucks all have "economical" engine options that typically render more power at higher pressures (the result of turbochargers) but have the offset of seriously overworked engines that leave the door open to dubious longevity. It seems that the designers today just get it wrong.
Even though Pinuelas's truck doesn't have a burly V8, it does have a great sounding, reliable, efficient straight six that puts out somewhere between 115 and 137 horsepower. He even said that on a trip to Temecula recently he was able to drive up and back on three-ish gallons of gas. Message boards online point to similar mileage claims with the "mileage maker" straight six.
For other students considering owning a truck like this 1960 F100, Pinuelas said that people shouldn't be afraid.
"What keeps other people from buying old cars like this is not being able to work on it."
Pinuelas urges folks young and old to give older cars a shot. Despite the somewhat daunting possibility of having to do tons of work on a car that you just bought and waiting for parts to come in, at the end of the day, older cars have more manuals and years of other people's understanding that can be accessed on the internet in forums and chat rooms. There is a wealth of information to help folks interested, and Pinuelas urges readers to seek out the older more experienced voices in the car community saying, "They just want to talk."
Written By: Wesley Aring