This past Saturday students and alumni came together to run the third annual We Are Loma 5k at Point Loma Nazarene University's annual Homecoming. As the brisk air brought people out in sweatshirts, one team was donning gear that could be spotted from a mile away. Decked out in Pride gear and shirts spray painted with the words "PLNU Alum & Allies for Equality," the LGBTQ and Allies team is the first of its kind.
Over 50 alumni, students and staff signed up for the 5K as part of the LGBTQ team out of the over 190 total donors. Donations support The Loma Fund which contributes to student scholarships.
The team was assembled as a space for queer alumni and students, including allies, but also as a means to look toward the bigger picture. The team announced its goals in a press release:
"The goals of the team are simple: Be Visible, Be Heard, Be Understood and urge PLNU to adopt policies that are more inclusive and welcoming to members of the LGBTQIA+ community."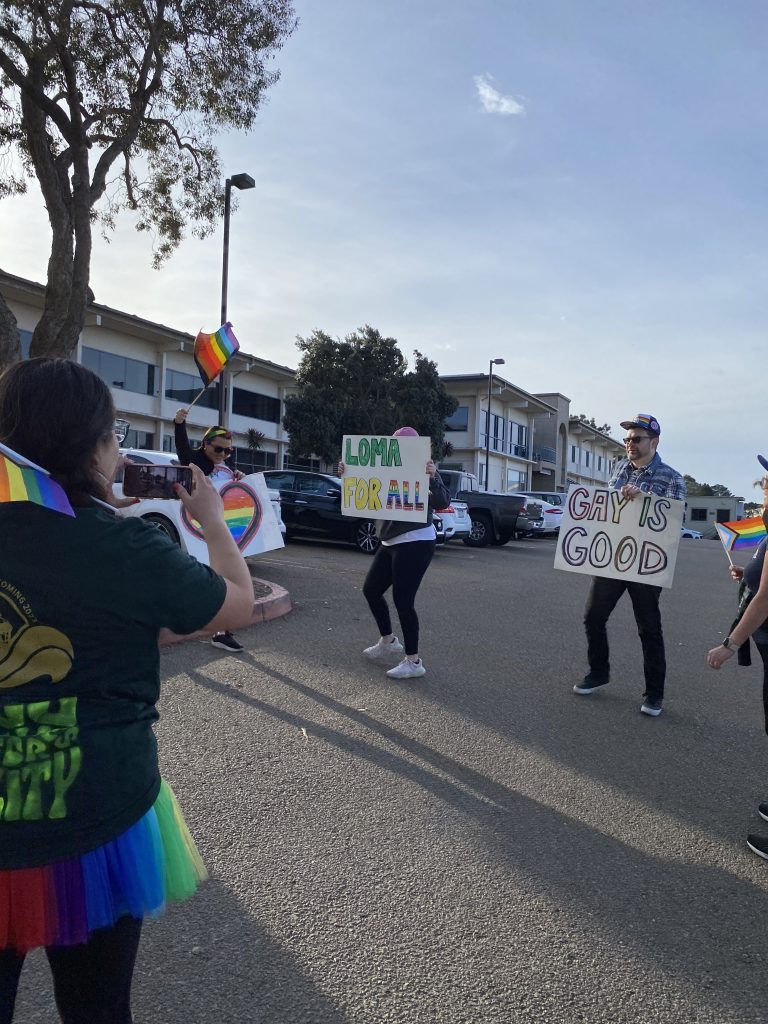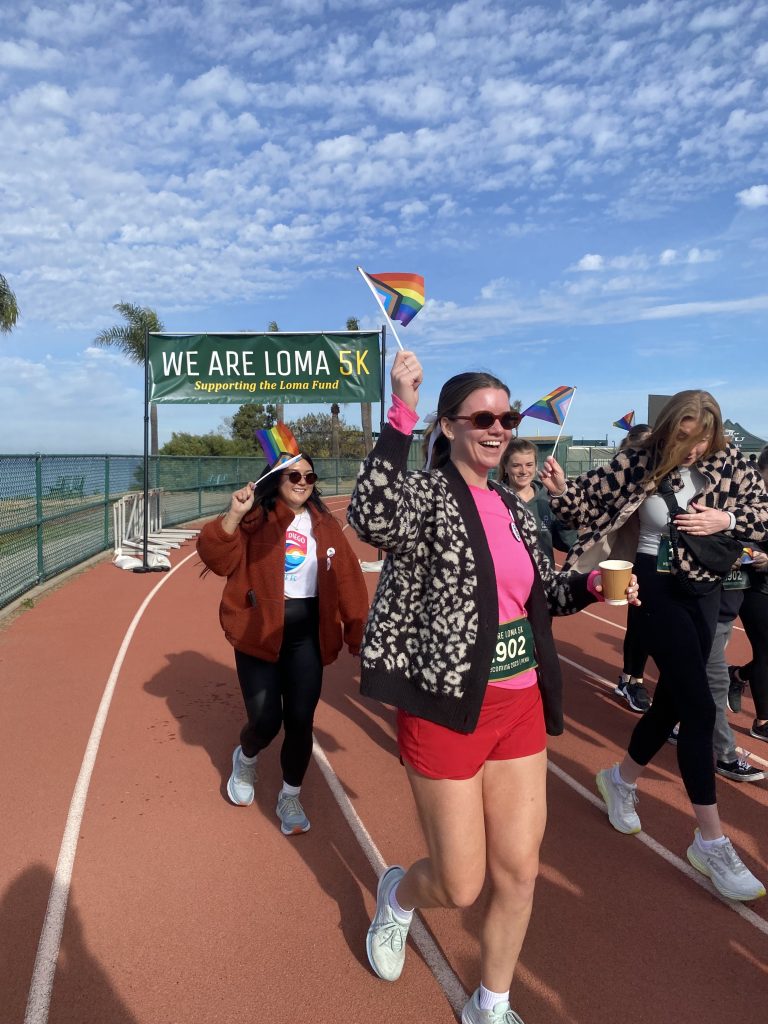 Many PLNU queer alumni hid their identity as students out of fear, according to several 5k attendees. One of these alumni was Jen Lebron, class of 2008.
For Lebron, the 5K event was the first PLNU event she felt safe attending.
"This is actually the first alumni event that I've ever been a part of because knowing my identity and being proud of it, I didn't think I was necessarily always welcome back at Point Loma Naz," said Lebron.
Lebron said that she felt hiding her queer identity kept her safe from judgment and being kicked out of the university.
The 2022-2023 Personal Conduct document does not permit sex in the LGBTQ context.
"Students are expected to abstain from sexual intimacy outside of heterosexual marriage."
When speaking directly on LGBTQ+ students the handbooks says, "PLNU seeks to be a community where lesbian, gay, bisexual, transgender and intersex persons are treated with dignity, grace, and holy love in the Spirit of Christ. We recognize the complexity of current issues related to sexual orientation and gender identity. The university desires to faithfully care for all students while engaging these conversations with respect, care, humility, courage, and discernment."
Many of the LGBTQ members said they joined the team out of love for the school and a desire for it to be a space for all.
"I really love this school so much and I had a lot of friends that came out right after graduating and that's when it really hit me that they didn't feel safe to be their true authentic selves here and that really breaks my heart," said 2018 alum Courtney Pittam.
Organizer of the event and 2019 alum, Lauren Cazares, hopes that this team sends a message to those currently experiencing life at Loma.
"I hope current LGBTQ students at PLNU, out or not, see that alumni care about them," said Cazares. "We haven't forgotten the pain. We haven't forgotten about the beauty. We see you. We are so proud of you. We will continue to fight for you."
Cazares said that one reason for creating the team was because her request for an official LGBTQ alumni network was denied.
Executive director of alumni relations and annual giving, Kendall Lucas, responded to The Point's request for an interview via email; however, she did not mention the LGBTQ team's presence at the race.
Cazares said the team's fight for visibility and acceptance does not end with the race.
"I'm aware that there are trustee-level conversations happening at PLNU regarding revaluation of the university's stance on LGBTQ students, staff and other related policies such as the community life agreement," said Cazares. "I am growing increasingly concerned that PLNU is going to tighten and double-down on these harmful policies, especially in regards to transgender students. I will not stand by and allow my alma mater to unjustly discriminate against students, staff, faculty or future students."
Other team members, like Pittam, said that ignoring their existence, even as alumni, will not silence them but rather encourage their fight toward their goals.
"So I really just want to change that for future generations and let Point Loma know that the LGBTQ community and allies have always been here, they'll always be here and you can't just ignore us and hope that we go away like we're gonna be louder and prouder if you do that," said Pittam.
The team can be found on social media by the hashtag #WeAreLoma5KLGBTQ and the alumni instagram page can be found at @PLNUAlumni. 
Written By: Tessa Balc and Sarah Gleason