What is college like in the midst of a global pandemic? Scary — that's how San Diego State University freshman Josh Dillon described the rapidly increasing cases of COVID-19 among SDSU students.
As of Sept. 2, SDSU will transition to online learning, delaying the continuation of in-person classes due to the increase of COVID-19 cases. Since Aug. 24, the SDSU Student Health Services confirmed 562 cases and four likely cases among students, making the case count 566. Students living off campus in the San Diego area make up 75% of the cases.
"I am absolutely disappointed in all the outbreaks of COVID in my school," said an SDSU freshman, who wished to remain anonymous. "I have paid way too much for some kids who can't hold in their inner extrovert and have the urge to party during a pandemic to ruin my already minimal college experience."
Della Trupp, another freshman at SDSU, said, "I think that students are being stupid by having large gatherings and parties right now, but I kinda figured it would happen."
According to Trupp, students at SDSU are not tested regularly. "They aren't making testing mandatory for us, so you can get tested however often you want to," she said.
Just 16 miles away at PLNU, 600 students moved in over the weekend of Sept.12. Dean of Students and Director of Residential Life, Jake Gilbertson, relayed information about the newly developing cases of COVID-19 at SDSU in an email to on-campus residents. He encouraged PLNU students to make smart decisions and avoid attending parties and social gatherings.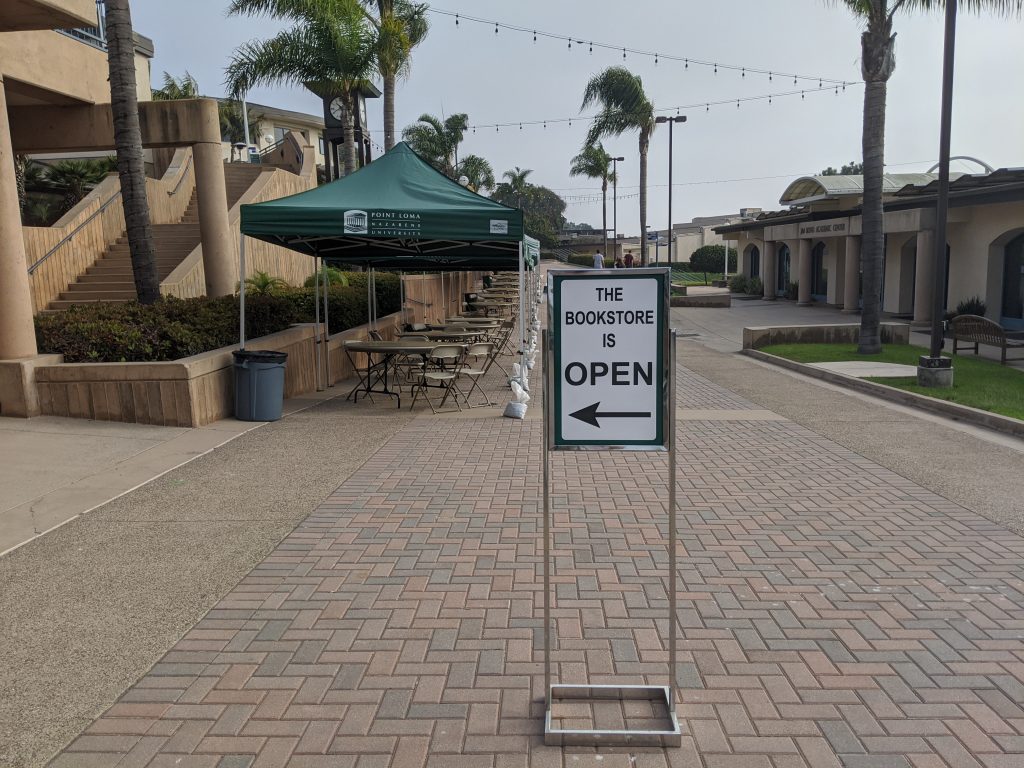 "It takes a collective effort to ensure that we can continue to operate with students on campus throughout the fall semester," Gilbertson said in his email. "A significant number of students contracting COVID-19 presents the very real possibility of PLNU needing to shut down residence halls and send all students home. If we learn of individuals engaging in risky behaviors and/or not following health guidelines on campus, it is likely that those students would lose housing for the remainder of the semester."
What does this mean for the 600 incoming students? A wellness assistant from the PLNU Wellness Center told The Point Weekly that everyone at the center was too busy to comment, as they were preparing to test the 600 students in the next two days.
According to Jake Gilbertson, PLNU will house just under 800 total students for the remainder of the semester.
"We know how important it is to make friends, memories, and the most of this college experience," Gilbertson said in his email. "We need you all to make the right decisions on campus and as you go out into the community."
This year, student housing is undeniably different, and Gilbertson emphasized responsibility. In obtaining on-campus housing, a student is responsible for protecting themselves and others from the risk of COVID-19.
"The reality of this pandemic is that decisions you make not only protect yourself, but those around you, Gilbertson wrote in his email. "When you opt into safe social settings and avoid risky situations, you're helping ensure the safety of everyone on PLNU's campus. You're also helping to protect a residential experience for all students. You're part of something bigger than yourself by opting to live on campus, and it takes all of us making good choices for this thing to work."
School administration like Gilbertson seem focused on encouraging good choices, while many students find motivation in working toward an in-person learning experience.
"I hate Zoom," PLNU freshman Dezi Wells said. "It's just weird to live here. It doesn't feel like a campus. I feel like I'm living in a hotel and just using their WiFi. I am missing human connection."
Wells struggles to find the balance between her need for connection and the need for safety against COVID-19 to ensure PLNU will remain open.
"I'm excited about all the people here and I'm glad it will feel more like a campus," Wells said. "I just think [PLNU] should have moved a smaller number of people in at a time. An outbreak and a lot of exposed students is going to lead to a shut down."
Written By: Charis Johnston