As tensions continued to rise surrounding the COVID-19 pandemic, PLNU students were preparing to completely transition to a new age. As a move to online learning and living arrangements was developing on the mainland, Concert Choir was on their tour in Oahu, Hawaii. Little did the group's director Dr. Daniel Jackson know that hopping on that plane would bring about the group's last performance.

This group's tour was ministry-focused as they sang at multiple local churches and schools, and, "in spite of the coronavirus, it was the best tour we have ever had," Jackson said. These nine days on the island, March 7-16, had their ups and downs as updates on the state of PLNU amid the coronavirus continued to develop and the choir members continued to perform and minister to their audiences around the island.
PLNU announced that the rest of its Spring 2020 semester would be moving to online formats on Friday, March 13, causing many on the trip to realize that if the tour had been scheduled just a few days later, the whole trip may have been called off.
Audrey Stillwell, a junior information systems major, said she was speculating what was going to happen to PLNU when she had heard word from her parents about other schools in the San Diego area turning to online methods of instruction.
Emily Delmont, a freshman applied health science major, said no one had thought that returning from the tour meant that they would be returning to pack up their rooms. But this is the new reality that they, as well as the rest of the PLNU community, has come to face.
So how did this tour, with all of its added complications, end up being the best one ever, according to Jackson?
The group's first full day in Oahu was focused on the excitement of their first concert and being in Hawaii to sing for people. The end of this first concert included a time of prayer. This prayer time would conclude the rest of the choir's church service performances in the coming week.
Julianna Suel, a freshman applied health science major, was able to experience people in the audience also praying over her. She said she had approached a man with his family and "they didn't even hesitate to talk to us and ask how we needed help for this week, too," she said. "I thought that was such a blessing to have somebody offer that. It's really special."

Junior child development major Hannah Kredit had been on the choir tour two years previous but said none of them were quite as special. Kredit said she has loved the diversity that comes with going from a church service to a school concert, and the way the music is appreciated differently. 
"For the older people, they have experienced a whole lifetime with all the ups and downs of life," she said, "so maybe they can relate to the lyrics and what we are singing a little deeper. The children may look up to us as Christian role models and are beginning to learn about music, inspiring them as they grow older."
The students attended a luau on March 9 at the home of choir member Jordan Klein, whose family lives on the island. Freshman psychology major Ethan Vahle said he enjoyed the refreshing time to not be in a choir setting and hang out.
Tuesday, March 10 was the students' first free day — a full day without any concerts or scheduled group plans. The continuing developments of coronavirus did not stop these students from exploring the island and partaking in numerous activities, including hiking, surfing and experiencing local food. 
Concert Choir continued throughout the week with their varying performances, singing for children at a variety of schools and churches. Jackson said he wasn't anticipating their performance at Wahiawa Church of the Nazarene on Friday, March 13 to be their last one, but this turned out to be the case as The Bridge Church canceled their Sunday morning service for the sake of social distancing — the last concert on the choir's tour schedule.
Jackson said the bus ride to Wahiawa Church was pretty quiet. In an attempt to be able to commemorate their very last concert together, as the rest of the semester will not allow them to meet for rehearsals or perform at their preplanned performances, Jackson asked someone to record it. But he said he was deeply saddened at the abrupt conclusion of it all.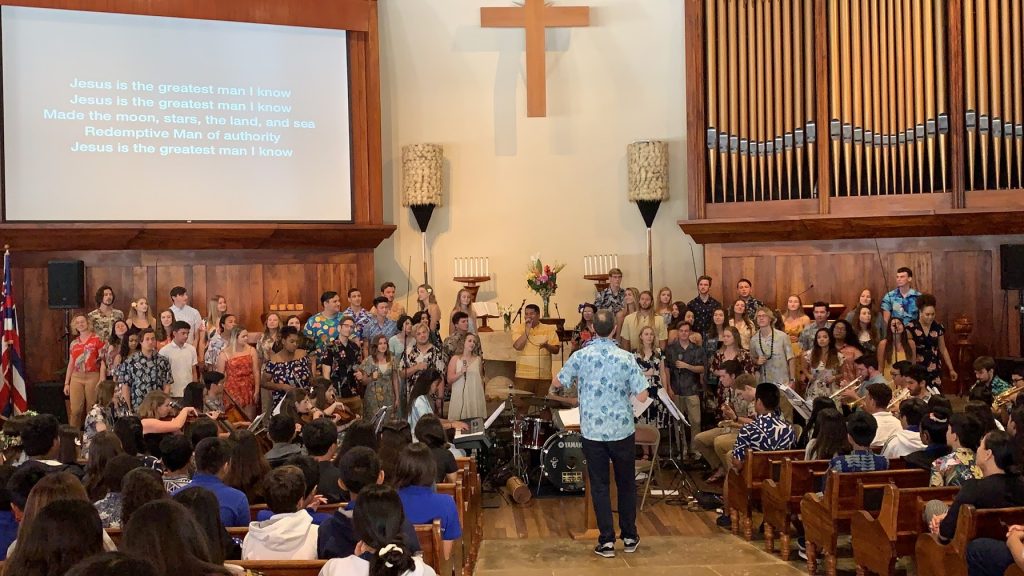 Senior Jack Shelby, a bass and Music major as well as Concert Choir president, said he had the same thought going through his mind as he never expected his senior year could end in potentially not seeing his school and choir friends again. 
"At first, I was pretty devastated," he said. "But at the same time, it imbued that final concert with such a sense of emotion, camaraderie, and spiritual renewal that I ended up being very thankful for it. It was beautiful for that last concert to be our grand finale."
Despite the varying emotions, Shelby said he was proud of the group's accomplishments in ministering to as many people as possible and bringing uplifting music and testimonies to Hawaii. 
Stillwell said she was saddened as well, but is holding onto the hope that the group could perhaps perform their songs from the tour during concerts in the next school year. Regardless, she said she is "really glad that our semester ended with the tour and performing what we had already prepared for all of the churches and schools."
Stillwell said she felt that their last concert went really well despite being the most emotional performance of them all. She said that it felt "so spiritually strong and so emotionally strong" due to the knowledge that it would be the group's last time singing together. "We all just wanted to make it the best performance we could."
According to Jackson, every church concert began and ended with a time of prayer, allowing Concert Choir to meet in private to pray over their coming performances. It was a time to discuss concerns but also to dwell on gratefulness and memories that had been made over the course of the trip. For Jackson, he felt that this prayer time on Friday was "the turning point" when they were able to apply the music they were singing to their current situation. He described the concert after that "private time" to have caused the songs to "make sense for the first time."
"I thought that I was picking the music for me," he said. "But I was picking it for the students. I really believe that the choir got God's perspective." 
Stillwell also recalls a prayer time that the group shared on Sunday as "a time of happiness and gratitude as well as sadness and goodbyes" as the group recognized the senior members.
Now the members of Concert Choir have returned to their homes all around the country. As unexpected as their parting was, Jackson said the group's music was able to impact their various audiences. 
"If you think about it," he said, "all of the schools that we sang at are not meeting this week. We are one of the last things that they saw and experienced. We had God's grace upon us and I think everybody felt it."
By Meghan Coley and Emma Wilhite