Whether it's the introduction of new menu items or the availability of Moniker coffee at the beverage station, the Point Loma Nazarene University community is noticing the changes to the Caf.
This academic year, a change in meal plan options now limits the number of meal swipes allotted for students. In years past, on-campus students had the option of selecting an unlimited meal plan with $100 dining dollars; however, this year, the largest meal plan offers 320 meals each semester with $100 dining dollars.
Additionally, the meal plan that was previously 15 meal swipes a week, has now transferred to 240 meals a semester with $100 dining dollars. Dining dollars are a form of payment that can be used towards getting food or beverages at Bobby B's, Point Break Cafe and the general store on campus.
Other meal plan options for on-campus students can be found on the university's website.
Tim Fessler, general manager of Sodexo, said via email interview that the 320-meal-per-semester plan enables students to attend every meal served in the dining hall. Sodexo is the company that provides food services to PLNU.
With this meal plan, students will be able to use all of their meal swipes if they go to the cafeteria three times a day on weekdays and twice a day on Saturdays and Sundays, which is when the cafeteria is open for brunch and dinner. Students who are used to a diet of three meals a day will run out of swipes before the end of the semester if they choose to have three meals on weekends.
Third-year marketing major Jay Raatjes, who is on a bulking diet, said that he typically swipes into the cafeteria five to six times a day. Raatjes has the 320-meal-per-semester plan and said that he will run out of swipes by the end of the semester.
With this new meal plan, students are also no longer able to swipe guests or family members into the cafeteria.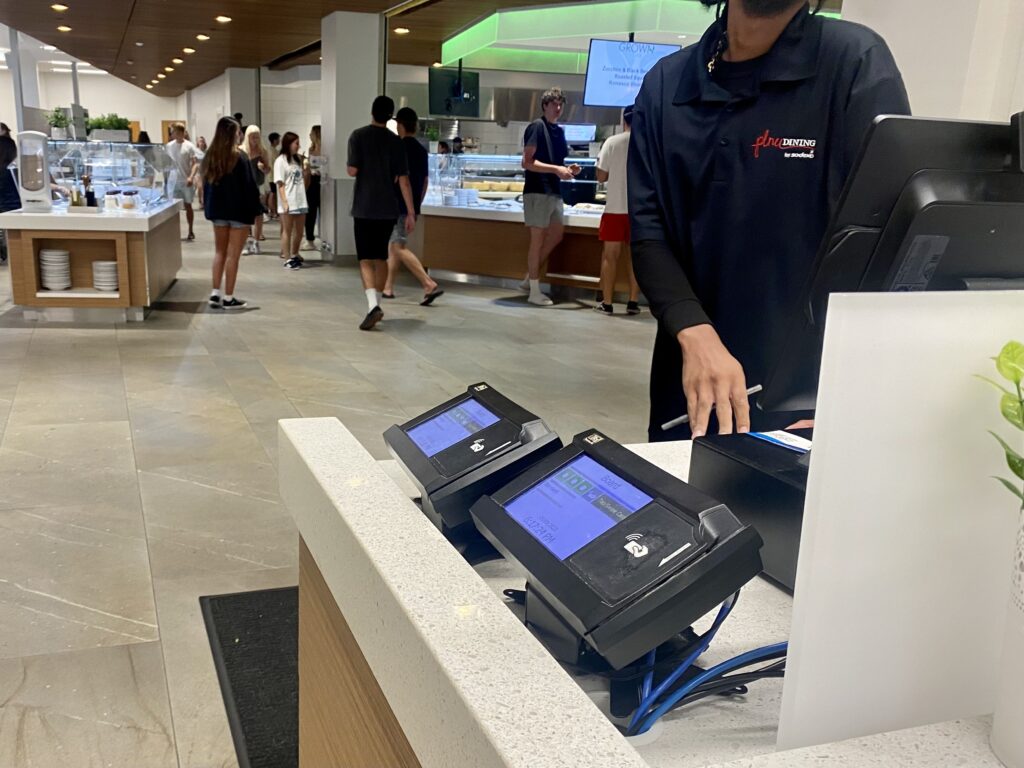 "The university wanted to return to the original intent and design of the meal plans (your meal plan is for you and not transferable)," Fessler said.
In previous years, students were able to treat their visitors to a meal at the Caf by using one of their own swipes for the week or simply using their unlimited swipes.
Sodexo has also decided to reduce the amount of napkin dispensers present in the cafeteria; however, bulk napkin dispensers can still be found near each food station.
Fessler said the decision to remove the dispensers was to "reduce napkin waste and facilitate the cleaning and reset of the dining tables. Those individual dispensers were difficult to restock (and there were 100 of them!)."
Although this new decision has decreased napkin waste produced by the cafeteria, some students have expressed frustration toward the altered napkin dispenser availability.
Third-year business major Cam Winkleman said that since the napkins are located across the cafeteria, he's had to "high five" his friend with greasy hands.
"It all could have been avoided if they just had napkins at the table, but now two of us have greasy hands," Winkleman said.
Second-year media communications major Karlie Anthony said she faced a similar experience when her friend spilled her coffee on the cafeteria table.
"There was nothing to clean it up and it dripped all over the seat. There was coffee all over the floor and her clothes, but if there were napkins right there, the problem would have been solved," Anthony said.
While these new changes have upset some students, the cafeteria staff and supervisors are brainstorming new ways to improve the food to better accommodate all students' diets.
"We have rebranded our serving stations for a fresh new look, as well as enhanced the menus at 'Grown' (our vegan station) to have more customizable bowls," Fessler said. "The dining team truly cares about all of our students and staff, as they [have been] our family for multiple years. We love to hear about things we are doing well as well as things we can do better."
You can reach out to any of the team members with your questions or concerns, via email through the PLNU dining Sodexo website.