For this year's annual Spring Chapel Event, Point Loma Nazarene University's chapel, which is put on by the Office of Student Life and Formation, brought in Garden Music (MSC) to play on March 16. In hopes of creating a space where students could be vulnerable, Associated Student Body Spiritual Life Director and fourth-year Christian studies major, Judith Hernandez, organized a night full of worship, poetry, and scripture in Brown Chapel. The night began at 9 p.m. on Thursday, just like "Time-out" chapel typically does, but had a very different intention and structure than usual.
Hernandez said she wanted it to be, "a night of surrender." She suggested the idea of a white flag, symbolizing the posture of surrender. There were many opportunities for students to do so. On the sides of the stage were stations where students could come up and express their need to surrender to God.
To the left of the stage was a table full of candles that students could light to signify that they had let go of something they were previously holding onto. On the right was a table with papers and pens, where students were encouraged to write a prayer, surrendering a desire. Once it was written, students were asked to place them in a fence of chicken wire, as an act of physically giving up what they had written down.
Students filed in lines and spent the rest of the night at the front participating in these activities. The altar was full of students who wrote, prayed, sang and talked with each other.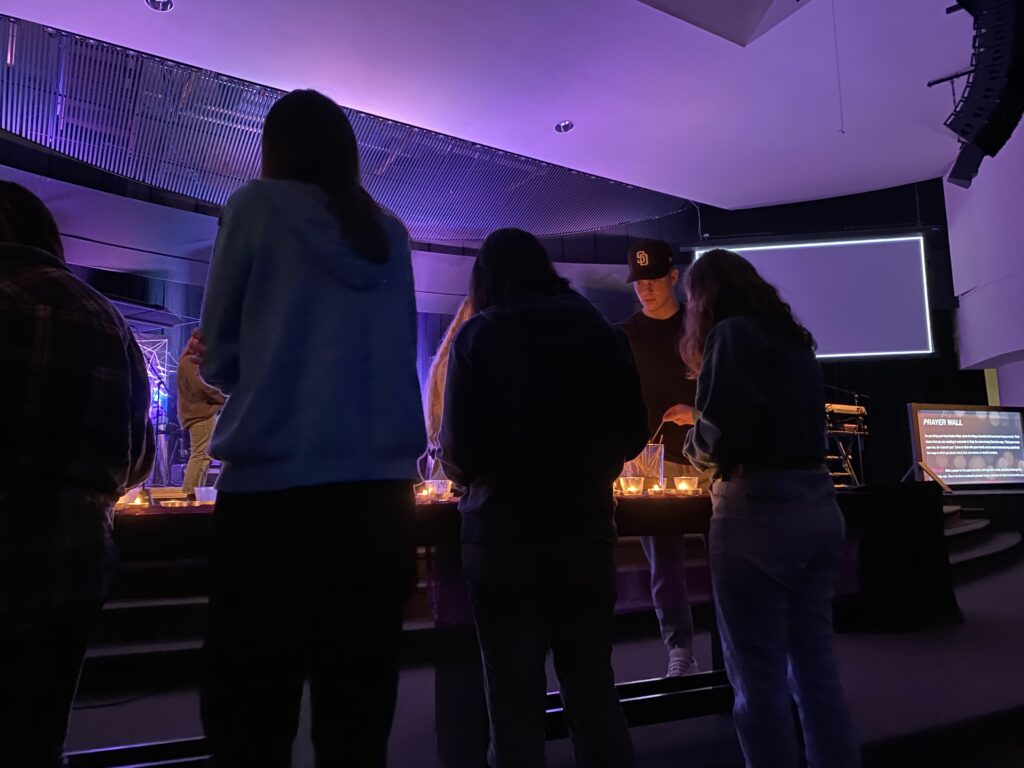 The wings of Brown Chapel were lined with interns who were ready to pray for students that needed prayer. Tess Schrupp, second-year communications major, recalled her experience at the event.
"There were so many students that asked for prayer near the altar," Schrupp said.
Throughout the night, Garden MSC, a seven-person band based out of San Diego, played an hour-long setlist. Their music consisted of covers, featuring Christian artists like Maverick City Music and Brandon Lake.
Their lead singer, DJ Brennan said, "All of my family except for me is affiliated with Point Loma, so it is exciting to partner with the school for this event."
In between sets, Brennan gave a demonstration of surrender, as he held his fists tightly in front of him, and then released them as an indication that he was surrendering his worries to the Lord.
To exemplify this in another art form, two students —second-year Christian studies major Jazmyn Collins and fourth-year psychology major Annica Bennette— were given the opportunity to read poetry of their own.
"My poem was written well before Judith asked me to share it, and it goes so perfectly with Annica's," Collins said.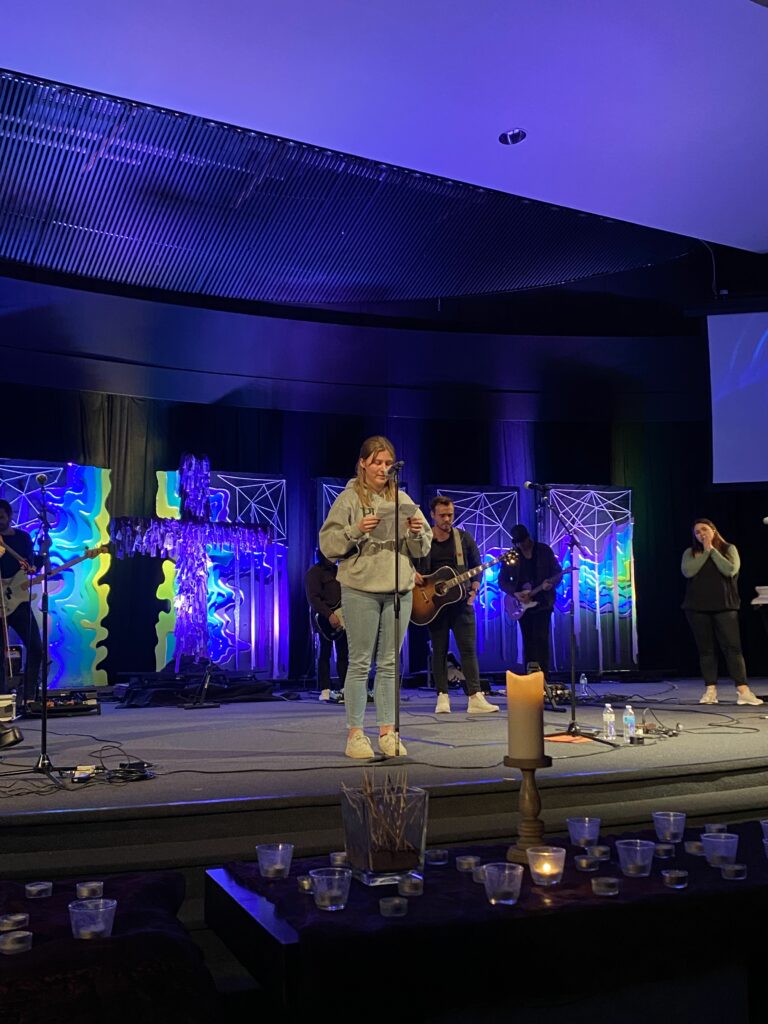 Both Collins and Bennette shared their poems in between worship sets, each named "Open Hands."
As the band wrapped up, Brennan prayed over the chapel and the school.
"If you feel joyful while you are worshiping, it is because that is what you were made to do," Brennan said.
Hernandez concluded the chapel with a prayer and sent the students off with the hope that they would be vulnerable enough with God to surrender something to him willingly.
The chapel had a lot of student engagement and a large turnout for a Thursday night chapel.
"It was a really successful night, and I'm proud of the work we put in," Hernandez said.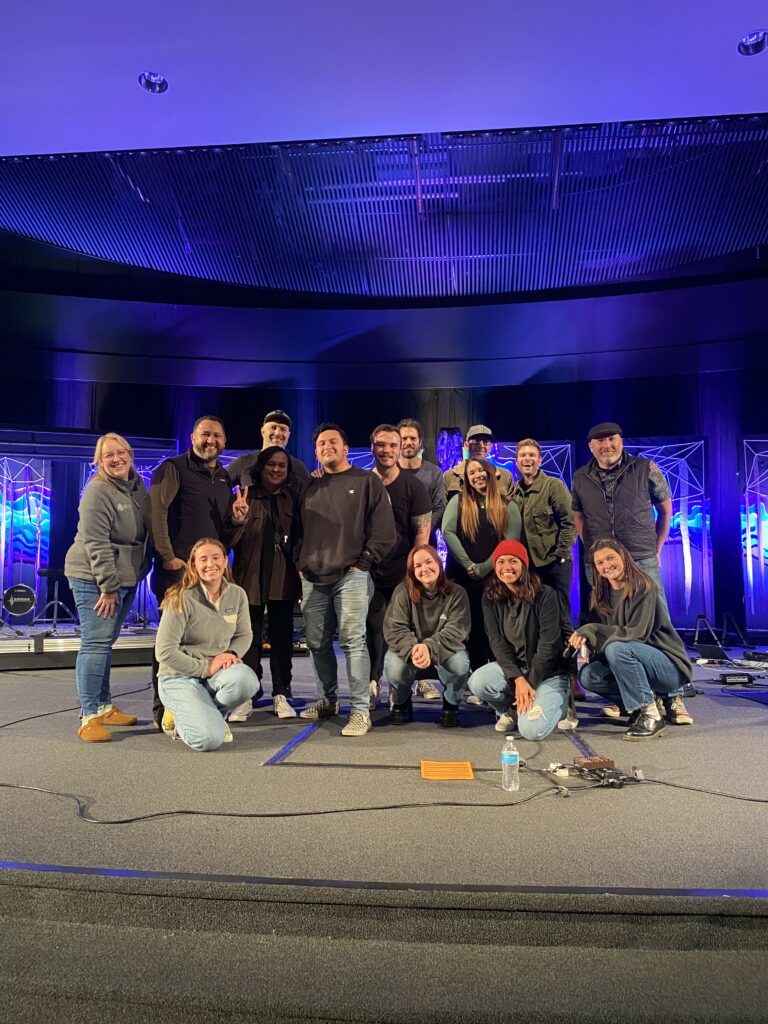 Written By: Adley Van Soest